Two years after the inception of Lancaster's Zagster bike share system, ridership remains well short of what was hoped for.
But adjustments made over the past year have boosted the numbers enough that the initiative's backers remain optimistic.
"We didn't hesitate continuing our support," said Alice Yoder, executive director of community health at Penn Medicine Lancaster General Health, one of the program's sponsors.
Altering habits takes time, she said: "It's more of a journey than a sprint."
More changes are planned this coming year. In particular, the city plans to switch to Zagster's dockless "Pace" system, a move that those managing the program think will boost ridership significantly.
Slow start
Branded as "Bike It Lancaster," the bike-share debuted in October 2017 with six stations and 30 bicycles.
It's a collaboration between the system's vendor, Zagster; the city, which coordinates the program; and sponsors like LG Health, who offset the operating costs. Initially eight sponsors were secured.
But people took just 981 trips in the first 13 months, less than 30% of ridership in comparable Zagster deployments. Of those, 937 trips took place between Nov. 1, 2017, and Oct. 31, 2018.
Why so few? Users complained the docking stations were too scarce. Moreover, urban Lancaster isn't that conducive to leisure riding, which is what dock-based systems are best suited for, according to Karl Alexander, Zagster market manager for central Pennsylvania.
To address the first concern, Lancaster installed six Red Rose-style bike racks at chosen locations this summer to serve as "virtual docks." Like the regular docks, they're flagged in the Zagster GPS system, so bicycle drop-offs and pick-ups can be logged.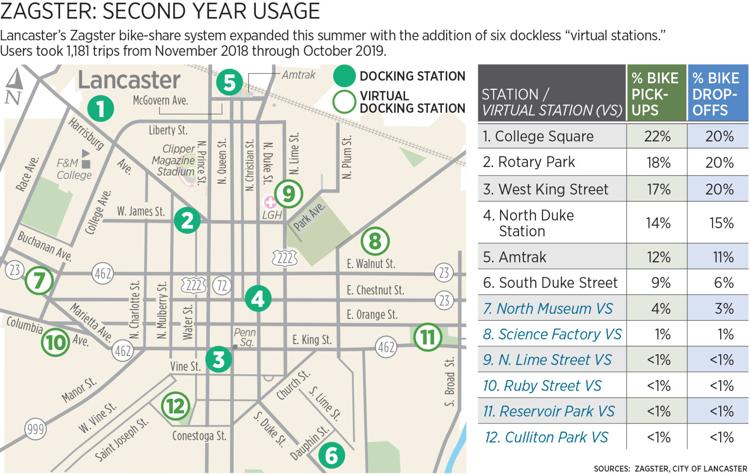 Second, the city collaborated with Intercourse Bike Works to map out four self-guided bicycle tours, posting them on the Ride With GPS website and printing up flyers.
It also promoted Zagster memberships in the summer with special deals, such as a "first four rides free" offer. Meanwhile, Lebanon Valley College came on board and sponsored 15 additional bicycles, bringing the total to 45.
The moves paid off, said Karl Graybill, the city employee who oversees the Zagster program. Year-over-year ridership increased 26%, with 1,181 trips taken from Nov. 1, 2018, through Oct. 31, 2019. Summer ridership increased 50%.
That "convinced us to continue," Graybill said.
Setting the 'Pace'
Adriana Atencio is the chairwoman of the Lancaster Bikes Coalition. She strongly supports Zagster.
The city's ongoing buildout of bike lanes should help encourage ridership, she said, and she's excited about the changeover to the Pace dockless system.
With Pace, bikes can be picked up and dropped off at designated docks and racks — but also, for an additional "off-station" fee, essentially anywhere else it's legal to park and lock a bicycle.
Zagster says when it field-tested Pace in Rochester, New York, it saw an eightfold increase in ridership versus dock-based systems.
In Lancaster, Pace is scheduled to roll out in mid-March. It will include a full complement of brand-new bicycles, Alexander said.
In the meantime, the bike-share is offline for the winter: The bicycles came off the street shortly before Christmas.
The city and Zagster plan to continue their promotional outreach next year, with an emphasis on targeting college students, Graybill and Alexander said. LG Health will join in the effort via "all our communication outlets," Yoder said.
Atencio thinks additional tweaks could boost ridership even more. She'd like to see Spanish-language support and outreach to the Hispanic community, signage clearly identifying the Red Rose virtual docks as Zagster stations and the unification of Lancaster's program with other Zagster systems nearby, such as those in York and Harrisburg, to create a single regional bike-share that's seamless for users.