Like any new mayor, Danene Sorace  was considering the makeup of her senior administrative team well before taking office. 
A few months after her 2018 inauguration, she made three key appointments. Two were in public safety: Scott Little was named Lancaster's fire chief; and acting police Chief Jarrad Berkihiser was named police chief.
The third was the hiring of Milzy Carrasco as director of Neighborhood Engagement, a new position Sorace had pledged to create when she ran for mayor.
This year will bring more senior appointments.
The Department of Public Works needs a new director. As of June, so will "EDNR," the Department of Economic Development and Neighborhood Revitalization, which is to be reorganized and renamed the Department of Planning and Community Development.
In addition, Sorace will be looking to hire a chief of staff. Matt Johnson, who served in 2018, resigned at the end of the year, due to pressing family matters.
Ebb and flow
Asked about the changes, Sorace said it's all part of the ebb and flow of city government.
"Time marches on," she said.
People switch jobs. Their personal circumstances change, for one reason or another. They retire.
Especially, they retire. When she became mayor, one of the first things she received from the city's personnel department was a lengthy list of pending retirements, Sorace said.
---
The faces of Lancaster city government: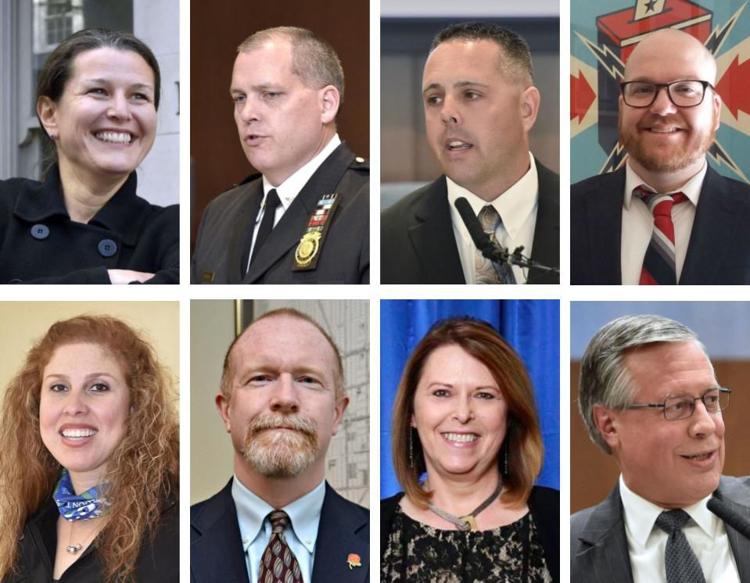 ---
One high-level change does stand out from the others. That was the sudden departure of Charlotte Katzenmoyer as head of public works at the end of October. Katzenmoyer joined the city in 2001, the fourth year of Mayor Charlie Smithgall's eight-year administration, and was the only holdover to remain during Mayor Rick Gray's tenure, serving throughout Gray's three terms.
Gray's senior team had unusual stability and longevity. The only change after the summer of Gray's first year in office was the appointment of Keith Sadler as police chief in 2008.
When Katzenmoyer and the city parted ways, she told LNP, "Things were not working out between me and the new administration."
Sorace hasn't commented and says she can't because it's a personnel matter.
Other staff changes
The other senior staff changes under Sorace are as follows:
• Berkihiser was named acting police chief when Keith Sadler, appointed by Gray, left to take a job with the state Attorney General's Office toward the end of 2017.
• Little replaced fire Chief Timothy Gregg, who left at the start of 2018. Gregg actually had retired the year before but was rehired as acting fire chief, an arrangement set up under Gray in order to avoid recruiting a new fire chief less than a year before the election of a new mayor.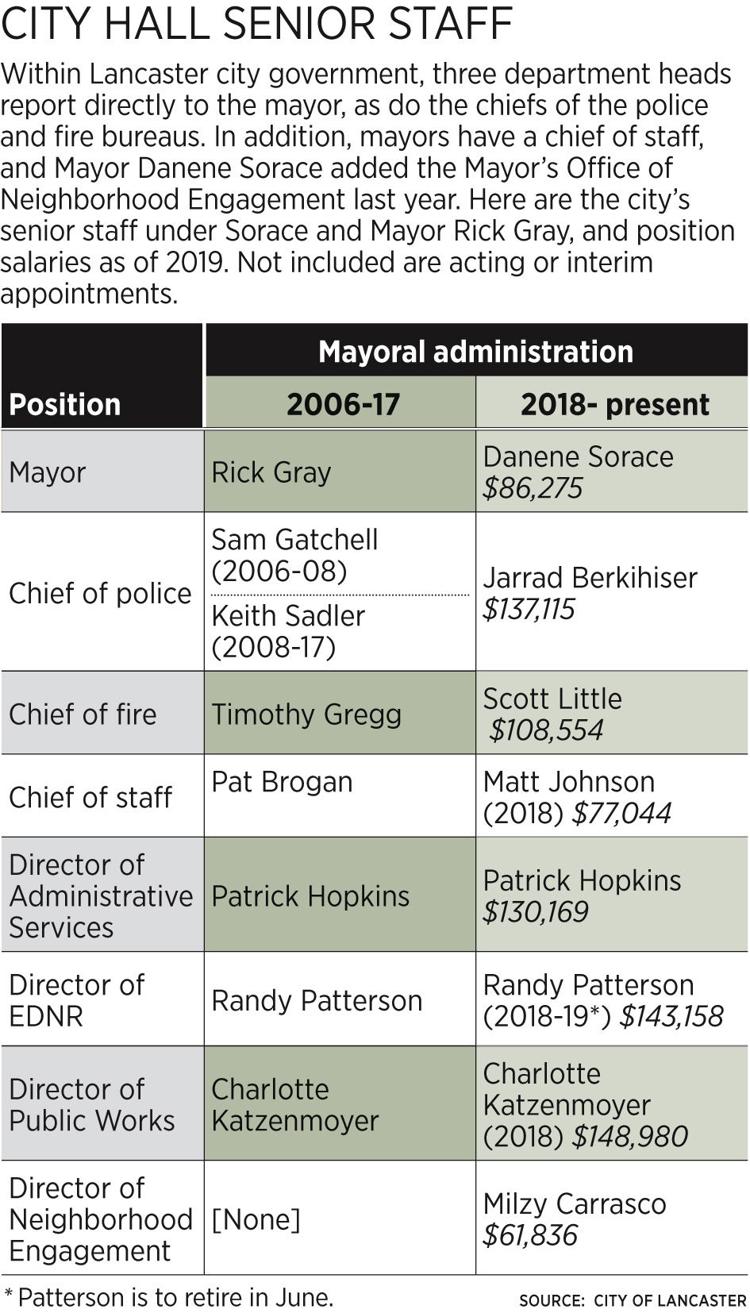 The idea didn't sit well with the firefighters union, which filed a lawsuit over it. It was withdrawn once Gregg stepped down the second time. Deputy fire Chief David Amico served as acting chief from January 2018 until Little's appointment.
• Randy Patterson, the EDNR director, alerted Sorace before she took office that he intended to retire, though he didn't have a firm date, the mayor said.
He was the first person to hold his position because the city merged its economic development and its neighborhood development departments when he joined. Because of the upcoming reorganization, he will also be the last.
Patterson's departure will leave one senior staff holdover from Gray's administration: Patrick Hopkins, director of administrative services.
Hopkins said he fully intends to stay on, and that, at age 51, retirement is "far down the road."
Recruitment plans
Sorace said she expects the recruitment process for Katzenmoyer's and Patterson's successors to take three or four months.
The searches are being done at the same time, she said. The two appointees will be working closely together, and Sorace said she'll be thinking a lot about the candidates' mutual compatibility as she makes her final decision.
The city has retained a local consultant, Samaritan Business Consulting, to help with those searches and one other: A replacement for retiring facilities manager David Schaffhauser.
Samaritan is being paid $30,000 — a discounted fee, Sorace said — plus expenses.