Your current school property tax rates may be lower than they were a year ago, but don't expect to pay any less.
In fact, all 17 local school districts have raised taxes in their approved 2018-19 budgets.
This year's rates were based on the new assessed home values after the county reassessment. Because the majority of homes were assessed at higher values, and since reassessments must be revenue neutral, tax rates were adjusted downward after the new property values were determined.
But districts then had the option of increasing the adjusted rate for the new budget year. And each one did so.
As a result, 2018-19 property tax rates are increasing between 0.5 percent and 6.3 percent, depending where you live in the county, as school boards continue to struggle with unfunded state mandates and construction costs.
Warwick adopted the smallest increase (0.5 percent) while residents in the Lancaster portion of Octorara Area, which straddles Lancaster and Chester counties, will see the highest increase (6.3 percent). Penn Manor has the second-highest tax increase at 4.6 percent.
'Shocking' pension costs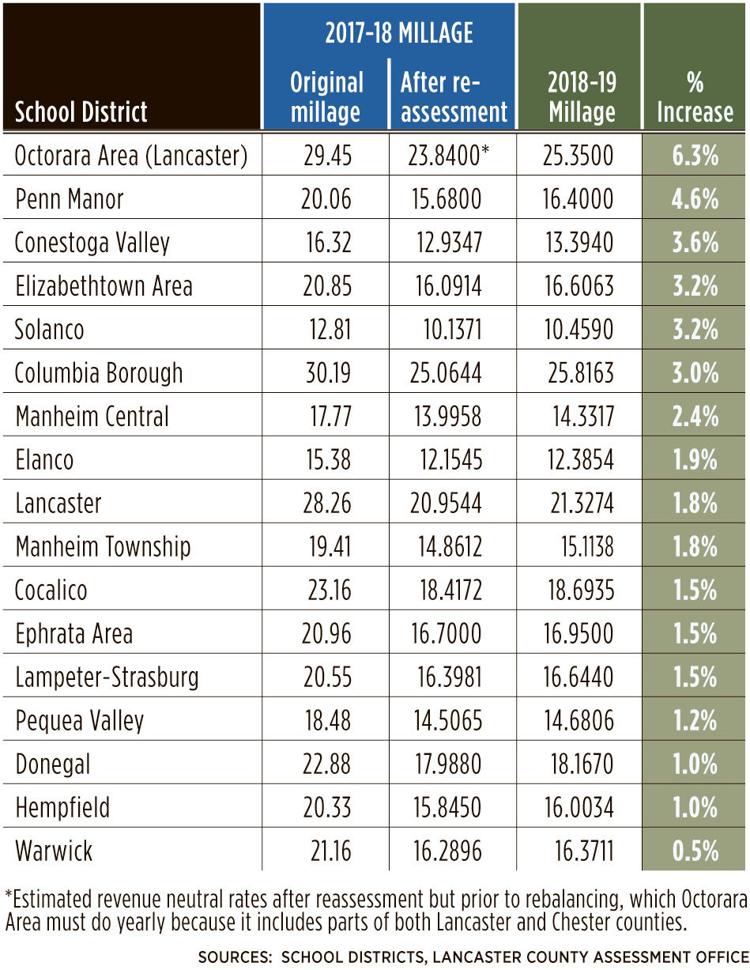 Construction and pension costs have caused Penn Manor to increase taxes at an uncharacteristic level the last two years — including a 4.1 percent increase last year — Superintendent Mike Leichliter said.
"Penn Manor's tax increases have (usually) been in the lower third in the county," Leichliter said; however, with a major high school renovation project looming and an unrelenting pension obligation, school board members, in a lot of ways, have their hands tied.
The board has been setting money aside for an estimated $87 million high school construction project, Leichliter said. Homeowners, he added, are impacted the most, since Penn Manor doesn't have the amount of business and industry of, say, a Manheim Township or Hempfield.
In addition, Leichliter said, retirement costs continue to climb at a "shocking" rate. During his tenure as superintendent, the school district's payments into the Pennsylvania Public School Employees' Retirement System has increased from 1.4 million in 2009-10 to 11.2 million in 2018-19.
Employer contribution rates for pensions are expected to plateau by 2020-21.
Special education costs
Another concern school administrators have expressed is the cost for special education. In Columbia Borough, home to the county's highest millage rate of 25.82, special education costs have increased by 15 percent, from about 6 million to $6.9 million, business manager Keith Ramsey said.
"We can't tax our way out of it," he said, "so we need to find ways to provide the same services at a lower cost."
To balance Columbia's budget, the school board agreed to pull about $500,000 out of its general fund balance or "rainy day" fund. Columbia's fund balance is now budgeted at about $2 million, Ramsey said, which is less than 8 percent of its total expenditures for 2018-19 ($26.8 million).
A general fund balance equal to 8 to 12 percent of expenditures is around the "sweet spot," according to Pennsylvania Auditor General Eugene DePasquale.
Fund balances
"Not surprised" by the tax increases is Marc LeBlond, senior policy analyst for the Commonwealth Foundation. He says general fund balances remain too high. Not including Octorara Area, Lancaster County school districts have amassed $214 million in general fund balances, he said.
Instead of raising taxes and putting some of the money aside, LeBlond said, money should "follow the child."
"The one thing that everyone could agree on is that you shouldn't lose your house over property taxes," he said. "The root of the problem is spending, so we really need to curb spending."
Note: Manheim Township's tax increase is 1.7 percent. It is incorrect in the accompanying graphic.