The more than 1,600 drunken drivers pulled over every year in Lancaster County can still expect fines, license suspension and maybe even jail time.
But starting Oct. 1, the way they enter the justice system will be streamlined with an eye to saving money and perhaps lives.
President Judge Dennis Reinaker and District Attorney Craig Stedman at a news conference Wednesday announced the creation of a DUI Central Court that will fast-track routine DUI cases and divert many from clogging court.
It will also reduce the time police officers spend in court.
Most common crime
Driving under the influence is the most common adult crime in Lancaster County, accounting for about 30 percent of all cases.
"Anything we can do to improve the efficiency of moving them faster through the system, and that's exactly what this will do, is going to save resources and benefit the taxpayer," Stedman said.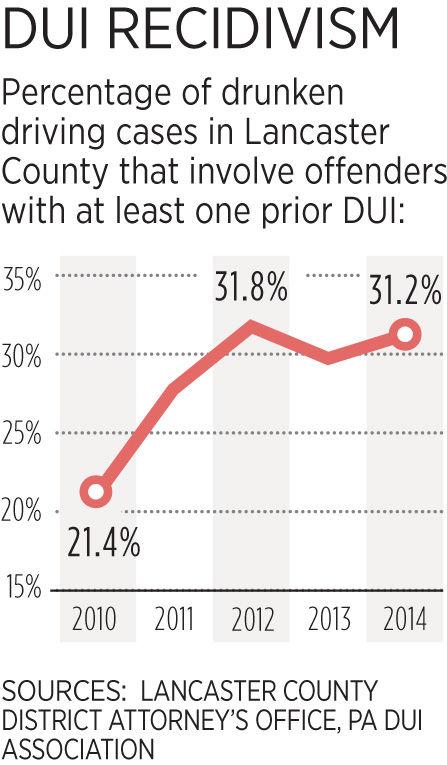 While the number of DUI arrests probably won't decline, no longer will all of the DUI defendants go to the office of a magisterial district judge as the first step of a wasteful, time-consuming legal process.
Instead, about 30 days after the arrest, they will go to DUI Central Court, a one-stop shop at the courthouse presided over by rotating magisterial district judges two Thursdays a month who will be empowered to resolve many of the cases.
"By getting these cases out of that mix, we'll free up a lot more openings" in the court calendar for other, often more serious crimes awaiting trial or guilty plea court, Reinaker said.
At DUI Central Court, assistant district attorneys will review the evidence and a defendant's record to decide who is eligible for a special, trial diversion program for first-time offenders called Accelerated Rehabilitative Disposition.
Public defenders will also be assigned to unrepresented defendants and will help them decide how to proceed.
Speedier justice
Those who give up their right to a preliminary hearing and complete the ARD program's requirements can have their record cleared. Many first-time offenders choose that option, and under the new system it will happen faster, Reinaker said.
Because most defendants in routine DUI cases give up their right to a preliminary hearing at which an MDJ decides if the evidence merits a trial, police and witnesses often show up but aren't needed.
That inefficiency is eliminated under the revamped system. DUI Central Court achieves savings because prosecutors won't have to travel to far-flung MDJ offices and because police officers and witnesses won't be summoned for an offender's first appearance.
Defendants at DUI Central Court who want a preliminary hearing will get one at the courthouse two weeks later.
"The way this is designed is we'll only be calling witnesses and police if there really is a very high likelihood of a hearing actually taking place," Stedman said. "That is a monumental benefit to the county."
DUI Central Court will also accept guilty pleas from first-time defendants not eligible for ARD, helping to further reduce the backlog of cases in county court.
An incentive to plead guilty at DUI Court will be house arrest instead of 48 hours in jail, Stedman said. Prosecutors won't repeat the offer to those who plead guilty later in the process.
Guilty pleas, however, won't be accepted at the special court if the charge involved injuries, damage exceeding $500 or children in the vehicle.
"One other intangible benefit (of DUI court) is uniformity and equal justice," Stedman said.
Attacking repeat offenses
Another benefit is reducing the time between arrest and consequence, a factor that makes offenders less likely to drive drunk a second time, Stedman said.
"If a person has a substance abuse problem, the sooner you get them to face that problem, the less likely they'll re-offend and maybe kill somebody, kill themselves or just have another arrest," the district attorney said.
Under the old system, a year or more could pass before a defendant faced consequences. As an example, Reinaker said, he accepted a DUI guilty plea Tuesday for an offense from July 2014.
The new, speedier way of resolving routine DUI cases should also reduce the likelihood of defendants failing to show up for long-delayed proceedings and bench warrants being issued, the judge said.
DUI Central Court began operating on a partial basis Aug. 31 for offenses in southern parts of the county.
A typical DUI Court session will handle between 75 and 90 cases in a day.
Cumberland and Adams counties already run similar DUI courts.