An uptick in the number of smoggy days is contributing to Lancaster County residents breathing some of the most unhealthful air in the country, a new report shows, although the long-term trend shows considerable improvement.
Meanwhile, particle pollution — also known as soot — is another aspect of air quality that, unlike smog, has gotten better in the past couple of years.
The American Lung Association offered the good and bad news in its latest State of the Air report, released today.
The reduction of soot, while a positive change, reflects marginal improvement and offers little cause for cheer, Kevin Stewart, director of environmental health at American Lung Association of the Mid-Atlantic, said.
Lancaster County still has the 15th worst particle pollution in the country, tying the Johnstown area. The county did improve from eighth worst in last year's report.
The report gave Lancaster County two grades of 'F' — for 10 high ozone, or smoggy, days and 10 high particle pollution days in the 2015-2017 three-year span.
Among Pennsylvania counties, only Allegheny had worse numbers: 25 high ozone days and 27 high particle days.
Fewer farms, but growing sales. A loss of cropland, but increasing property values. Less mil…
Distant pollution
Poor air quality and scenic farmscapes seem a mismatch, but it's a long-standing problem as pollutants from distant cities and coal-burning plants mingle with the local emissions from cars, homes, farms and industry.
Fresno, California, an even bigger agriculture powerhouse, is the worst area in the country for particle pollution.
The Lung Association says air pollution matters because the invisible emissions damage even healthy lungs and pose grave risks to the very young, the elderly and people with lung diseases and other severe health conditions.
"We are seeing more asthma, and I think air-quality awareness is a good thing," said Dr. Shakeel Amanullah, a Lancaster lung specialist who advises at-risk individuals to go to airnow.gov for air-quality conditions in their communities and to take precautions when levels reach unhealthful ranges.
Experts advise all people to avoid outdoor physical activity during high ozone days. Those with health issues should stay indoors, where ozone concentrations are significantly lower.
"When it comes to asthma, avoidance (of poor quality air) is as good as treatment," Amanullah said.
Stewart of the Lung Association said the public can help reduce air pollution by using less electricity, driving less and not burning trash or using fireplaces. He said parents should advocate for non-diesel school buses to reduce harmful exposure to children.
Ozone rise
The 10 high ozone days in Lancaster County in the latest three-year report is almost a doubling from 5.5 days in the report from two years ago.
Lancaster County's ozone rating has jumped from 84th worst in the country two years ago to 58th worst in the current report.
What's going on?
Stewart said hotter summers may play a role. Greater heat from sunlight sparks the reaction that turns nitrogen oxide and volatile organic compounds into ground-level ozone, even as cleaner vehicles and power plants are producing less of those pollutants.
But the good news is Lancaster County is experiencing less fine particle pollution as measured by two methods:
— The annual average level has dropped from 12 micrograms per cubic meter to 10.8. A measurement below 12.0 means it meets the federal standard.
— The daily particulate measure fell to 3.3 days of high pollution a year, down from 7.5 days.
"The explanation in general is fewer emissions from power plants as well as vehicles," Stewart said, particularly from cleaner diesel vehicles that are supplanting older models.
Changes at the coal-fired Brunner Island power plant in York County may also be a factor. Soot emissions are coming down because of federal requirements and a partial conversion to natural gas.
Emissions also are falling from the P.H. Glatfelter paper plant in York County, also a major pollution source for Lancaster County.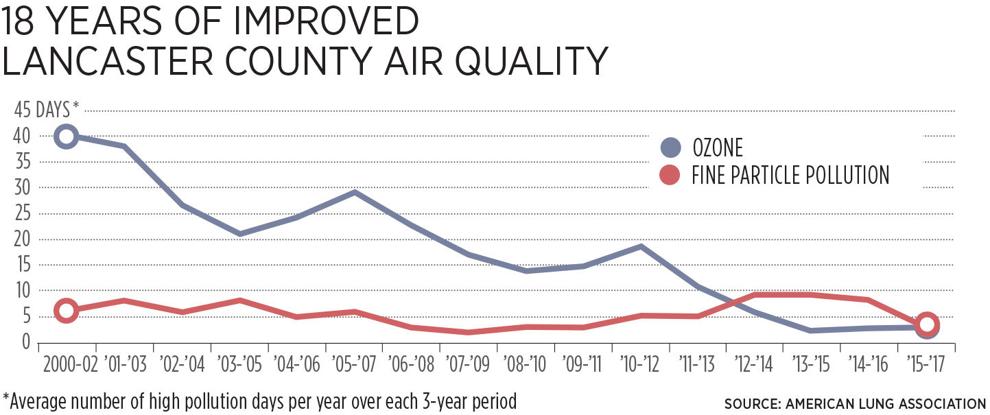 Progress made
Although the report has its share of bad news, Lancaster County's air is considerably cleaner today than it was when the Lung Association released its first reports two decades ago.
The 2000 report documented 49.5 high ozone days here, and the 2004 report documented six days of high particle pollution a year and 17.1 micrograms per cubic meter of fine particles.
Lancaster County's air quality is measured at two sites: Lancaster's Lincoln Middle School and in farm country near Intercourse.