Lancaster County's president judge confronted a police officer after being pulled over for tailgating and may have suggested his identity would make a difference to the officer, video obtained by LNP shows.
President Judge Dennis E. Reinaker acknowledged he was stopped in April by an East Lampeter Township police officer but, in a written statement to LNP, denied that he used his judicial position to alter the outcome of the traffic stop.
"I neither expect nor deserve any special treatment and made no such request on this occasion," Reinaker said.
East Lampeter Township police Chief Stephen Zerbe said Reinaker was tailgating the officer.
"The driver got out and was irritated," Zerbe said in a phone interview. The chief said he had not seen the footage but was familiar with the incident.
"(The driver) wanted to bring to the officer's attention who he had stopped," Zerbe said.
The Pennsylvania Judicial Code of Conduct prohibits judges from seeking a benefit from their office.
The video
LNP obtained dashcam footage of the incident through a public records request to East Lampeter Township.
The video shows the view from an unmarked police car on Pitney Road in East Lampeter Township on April 26. After pulling into a turning lane to allow Reinaker to pass, Officer Chad Snader initiated a traffic stop of Reinaker's black SUV.
After the two cars pulled into a parking lot, Reinaker put his vehicle in park, got out of the car and approached the officer to inquire about the stop.
"What do you think you're doing pulling me over?" Reinaker asks. "For blowing my horn?"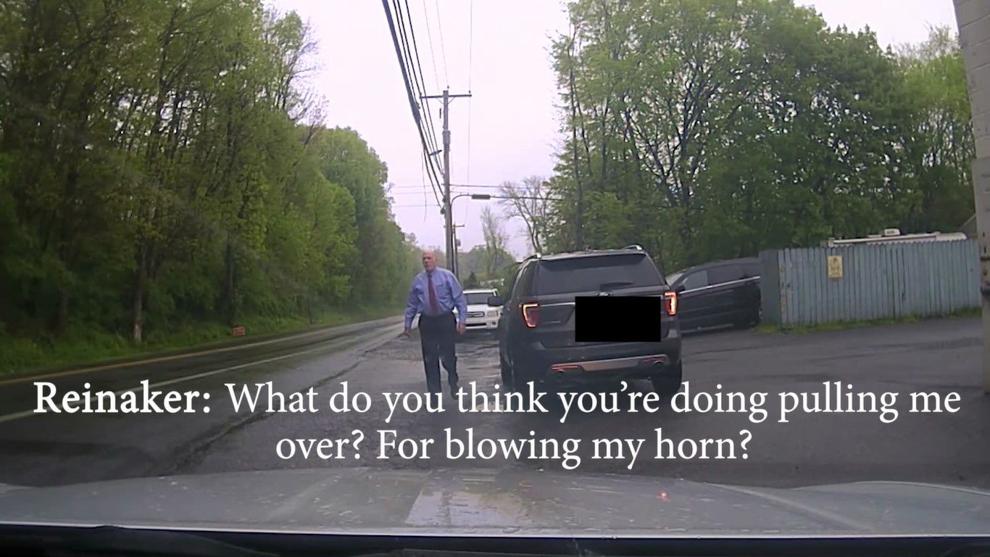 The officer exited his car and instructed Reinaker to return to his vehicle.
Reinaker turned back toward his SUV but made another remark before he returned to his car.
"You better check the registration on this plate soon, mister," Reinaker told the officer, while pointing to his own car's license plate.
Snader returned to his vehicle and less than a minute later approached Reinaker's car and said, "Have a good day, Judge."
Snader did not respond to multiple requests for comment.
The dashcam video shows that after the officer checked the registration, he released the judge without explaining why he was stopped.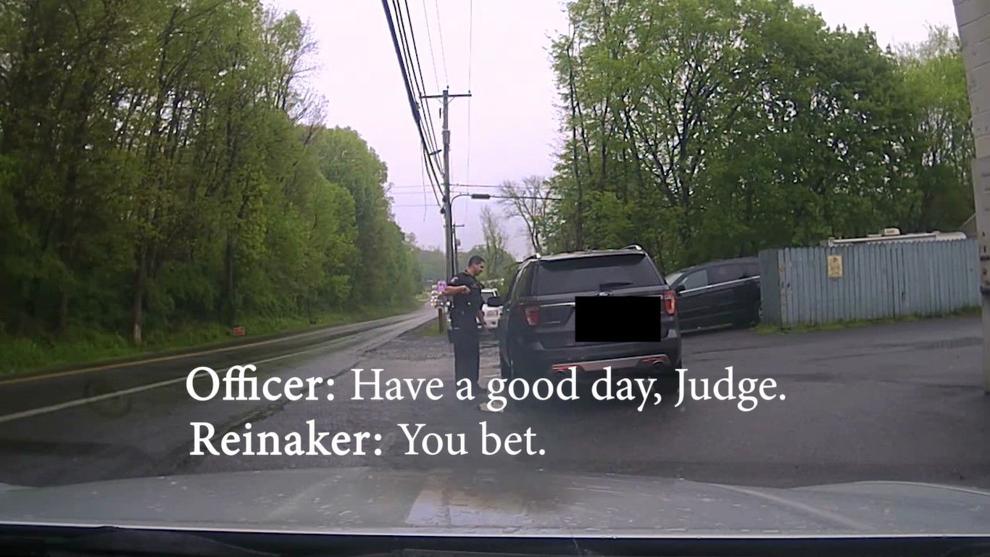 Zerbe said he did not speak to the officer or Reinaker about the incident and did not comment on why the officer used his discretion not to cite Reinaker.
The chief said "following too closely" (a summary offense under the state vehicle code) usually does not result in a citation unless it is connected with another incident, such as an accident.
Reinaker's response
In response to questions about the incident, Reinaker sent the following statement:
"I respect and greatly appreciate the hard work of our law enforcement officers in Lancaster County. Any parking or traffic citations I have ever received were paid without objection. I neither expect nor deserve any special treatment and made no such request on this occasion. However, I am not immune to an instance of mild frustration during a morning commute. In this case, it was not clear to me why I was pulled over. I obeyed the officer's directives and intended no disrespect."
Asked to clarify what he meant when he instructed the officer to check his registration, Reinaker said he knew the officer would be checking and wanted to get on his way as soon as possible.
"If my intent was to tell him who I was, I could certainly have done so," Reinaker said.
Code of conduct
Sam Stretton, a Chester County attorney with over three decades practicing judicial ethics law, said Reinaker's statement seems to imply he should receive special treatment as a result of his position.
"That would be improper use of the office, even though he didn't say he's a judge, because he implied," Stretton said.
Stretton pointed to provisions in the Judicial Code of Conduct, which prohibit judges from seeking benefit from their office. For example, Rule 1.3. of the Judicial Code of Conduct — "Avoiding Abuse of the Prestige of Judicial Office" — states "A judge shall not abuse the prestige of judicial office to advance the personal or economic interests of the judge or others, or allow others to do so."
A comment explaining the rule states: "It is improper for a judge to use or attempt to use his or her position to gain personal advantage or preferential treatment of any kind. For example, it would be improper for a judge to allude to his or her judicial status to gain favorable treatment in encounters with traffic officials."
---
This story was developed as result of a tip from a reader. You can submit a tip to LNP here. To learn how to submit materials anonymously, click here.
---
The state's Judicial Conduct Board investigates complaints filed against Pennsylvania judges asserting violations of ethical rules, among other complaints. The board is an independent entity within the state's judicial branch. Richard W. Long, the board's chief counsel, declined to comment on the incident.
Stretton said the officer's release of the judge without a ticket or warning meant he took away a message from the comment about checking Reinaker's registration. "And (Officer Snader) understood," Stretton said, adding that such incidents can lead to distrust of the office if the public perceives a judge sought to benefit from his or her position.
John Leubsdorf, a law professor at Rutgers University and an expert in legal ethics, noted judges in other states have been reprimanded for similar instances, citing cases in Illinois and New Jersey. However, in those cases the judge directly asserted their position and there were other contributing circumstances that led to the discipline.
Related articles