Finishing a Pall Mall outside the Lancaster Public Library on a breezy, 45-degree afternoon, Jake, 58, took a seat at an outdoor table to talk to a homeless outreach worker.
He had agreed to take Kristin Labezius' survey assessing his risk of dying on the streets.
It was five pages of questions, some quite personal, but Jake cooperated, knowing it could be the key to getting a place to live three and a half years after losing his housing in Lititz.
The encounter was significant because Jake is one of the last chronically homeless individuals still on the street in Lancaster County. The community could soon become the first in the country to end that category of homelessness.
The Lancaster County Coalition to End Homelessness has made impressive progress in tackling homelessness, including achieving "functional zero" for veterans. It means the coalition, since July, has the capacity to house any vet within a month of becoming homeless.
Now the local coalition is closing in on similarly ending chronic homelessness, which is the sub-category of people who are homeless for long periods and who pose the greatest challenges to obtaining housing.
And Labezius' outreach has been a part of the success of the multi-agency approach to tackling the problem here.
---
Related stories:
Homelessness in Lancaster County continues to decline as new strategies take effect
Number of homeless Lancaster County veterans reaches zero, officials say
Budget motel rooms have become homes of last resort
In a bold bid to end homelessness, a Lancaster coalition pushes rapid housing over shelters
---
The government has a precise definition of the chronically homeless. They are individuals who have a serious impairment, and who have stayed in a shelter or on the street for 365 or more straight days or have had four episodes of homelessness adding up to 365 days over three years.
Jake fits the description.
He is an unemployed, long-time alcohol abuser who once blacked out and slammed a Ford Escort into a dump truck. A metal fabricator looking for work, he's had problems keeping a job because of drinking.
"I have a friend's garage to go to sometimes if it's wet," said Jake, who spoke to LNP on the condition his real name not be used because of the stigma of being homeless.
Jake is bearded and wears layers of clothing, including a gray scarf knitted by a woman concerned about his well-being. Usually, he told Labezius, he sleeps at a covered, out-of-the-way loading dock or inside a bus stop shelter. He makes do with a sleeping bag and a couple of blankets on top of a length of cardboard pulled from a dumpster.
"This winter, with all the snow, it's a little much to be taking in, you know?" he told Labezius. "I'm too old for this."
In January 2010, the coalition's one-day countywide count tallied 69 people who met the government's definition of chronic homelessness. By last week, the number had fallen to four, including Jake.
If Jake and the other three are housed soon, Lancaster County could become the first in the nation to end both veterans and chronic homelessness. Two communities — Bergen County, New Jersey, and Ann Arbor, Michigan — are also closing in on chronic homelessness. But those communities haven't yet solved veterans homelessness.
The successes keep Lancaster County moving toward a goal of ending all homelessness by the end of 2020.
Problems snowball
Often, the chronically homeless are people who experienced a crisis that snowballed into other problems, said Michael Foley, the nonprofit coalition's chief operating officer.
"They get hurt. They can't work. They get evicted," Foley said. "They now have bad credit, so it's harder to get landlords to rent to them. They're spending more time on the street, and their health declines even more."
Mark is a 46-year-old father of three whose story illustrates the type of problems that lead to living on the street.
He suffered heart attacks in 2011 and 2012, leading to coronary bypass surgery. After a falling out with his long-time girlfriend, he lost his housing in the summer of 2012.
Depression set in, and Mark, who also spoke on the condition LNP not publish his last name, turned his back on Labezius whenever she visited Binns Park in downtown Lancaster to try to engage the homeless. She listens to their stories and hands out water bottles, sunscreen, even underwear.
"I didn't trust anybody who had anything to do with that stuff," Mark said. "Part of it was I didn't want the help. Part of it was I had been let down so many times. It took awhile for her to even get me to talk to her, let alone give her my name and all. Her persistence is what finally paid off. I started paying attention when she was talking to some of the other people, and things were changing for them."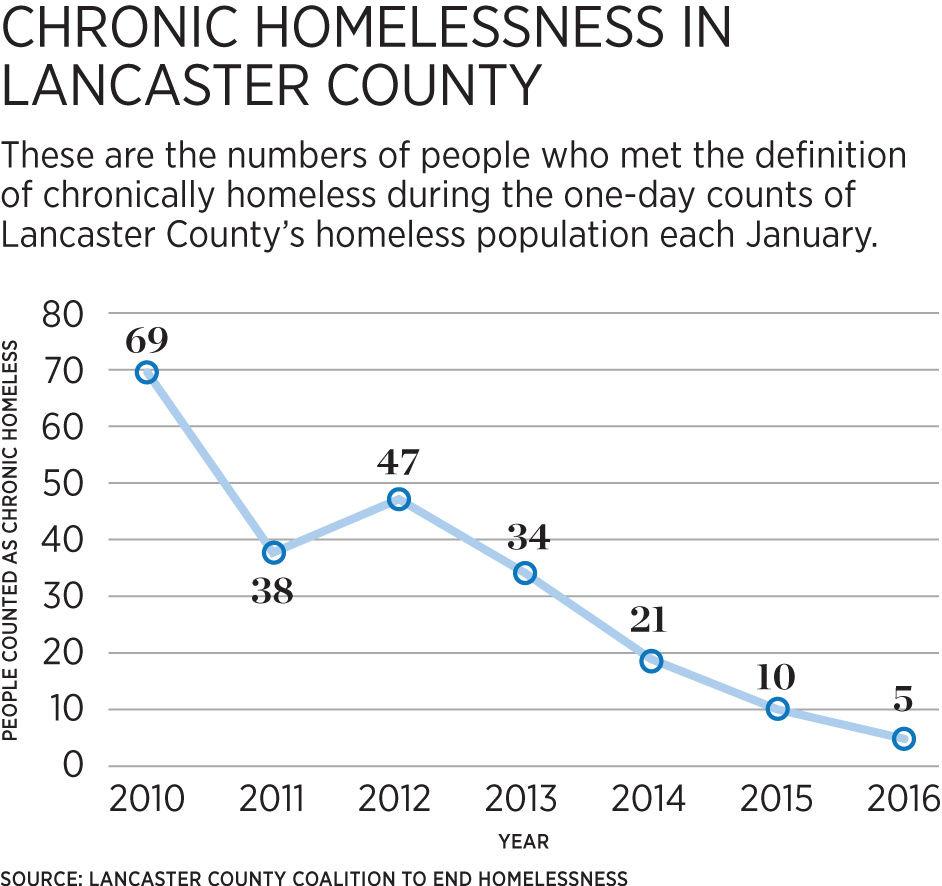 A mental health supervisor at Community Services Group, Labezius keeps on top of apartments opening up for homeless people with mental illness and makes sure they don't stay vacant for long.
Lancaster County has annual funding for 178 rooms or efficiencies for permanently housing the chronically homeless — both families and individuals. Five nonprofit agencies operate eight sites of 74 rooms or efficiencies. The remaining 104 slots are for private rentals.
In addition, the county and city housing authorities receive federal vouchers to house, on average, three additional homeless people each month in private apartments.
Tenants in all of the programs typically pay 30 percent of their income for rent. The requirement can be waived for those who have no income.
All of this housing is designated "supportive," meaning extra funds pay social workers to check in on the residents and try to ward off problems that could lead to eviction.
Medical crisis
In the last week of December 2013, Labezius heard that Mark was back in the hospital to have part of his right foot amputated, a complication of diabetes.
"There was no way we could have this man return to the street," Labezius said. "I said (to him), 'Are you ready to work with me now?'"
Mark was. He realized his fate was in her hands. Because none of the permanent supportive housing units were vacant and no vouchers were available when Mark left the hospital, Labezius was able to reserve a room for him at the 52-room TLC, a nonprofit provider of short-term housing for the indigent.
In March 2014, Mark left TLC and moved into Lincoln House, an eight-room permanent supportive housing facility in East Lampeter Township. He's lived there ever since.
"If you hadn't come around, I would be dead by now," Mark told Labezius recently. "There wasn't anybody else out there looking."
"Well, lucky for me I found you," Labezius said.
"Lucky for me you found me," Mark said.
Highly vulnerable
After her recent meeting with Jake outside the library, Labezius returned to her office and scored his survey answers for the Coalition to End Homelessness' records.
She found he had a very high vulnerability ranking, high enough that the coalition moved him to the top of the waiting list for supportive housing.
Jake's drinking and lack of steady income complicate a housing search, but Labezius said some landlords are willing to accept risk if the tenant isn't disruptive and social agencies are working on the tenant's issues. But for continued progress in reducing homelessness, the county will need more landlords willing to take tenants who have problems.
If it was easy to house the chronically homeless, of course, men and women like Jake wouldn't be on the street for years. Until Lancaster County has the housing capacity to bring all of them in from the cold, Labezius won't rest easy.
"It definitely makes it hard to sleep some nights," she said, "knowing these guys are out there."