A Penn State Extension educator predicts the dreaded spotted lanternfly will run through the center of Lancaster County this year.
The invasive bug is a threat to fruit orchards, plant nurseries and hardwood trees.
The state Department of Agriculture recently added Dauphin County to a quarantine zone established to prevent the spread of the inch-long black, red and white spotted insect.
The quarantine zone also includes Berks, Bucks, Carbon, Chester, Delaware, Lancaster, Lebanon, Lehigh, Monroe, Montgomery, Northampton, Philadelphia and Schuylkill counties.
---
What damage can the insects cause?
The spotted lanternfly directly threatens $18 billion of agricultural products, according to state Department of Agriculture spokeswoman Shannon Powers.
They are destructive to fruit orchards, plant nurseries and valuable hardwood trees, but the scale of their destruction is not fully known, said Emelie Swackhamer, a Penn State Extension educator in Montgomery County.
"The effect is not immediate, the effect is cumulative," said Darin Levengood, part owner of Manatawny Creek Winery in Berks County.
Wineries that have had the insects on their property for years have seen significant damage, he said. In some cases, the damage was not limited to just one year's crop, but it killed a plant's productivity — meaning they had to replant and start all over.
The insects feed on plants and excrete honeydew — which contrary to its name, is not a welcome substance. Honeydew attracts sooty mold, a dark fungus that can coat any surface where the honeydew lands.
Pennsylvania's trade partners are closely following what is happening in the quarantined areas, Swackhamer said.
Even if a control method is found, it will take a very long time to push the population back, she said. Eradication may take decades.
---
How much is being spent to combat the problem?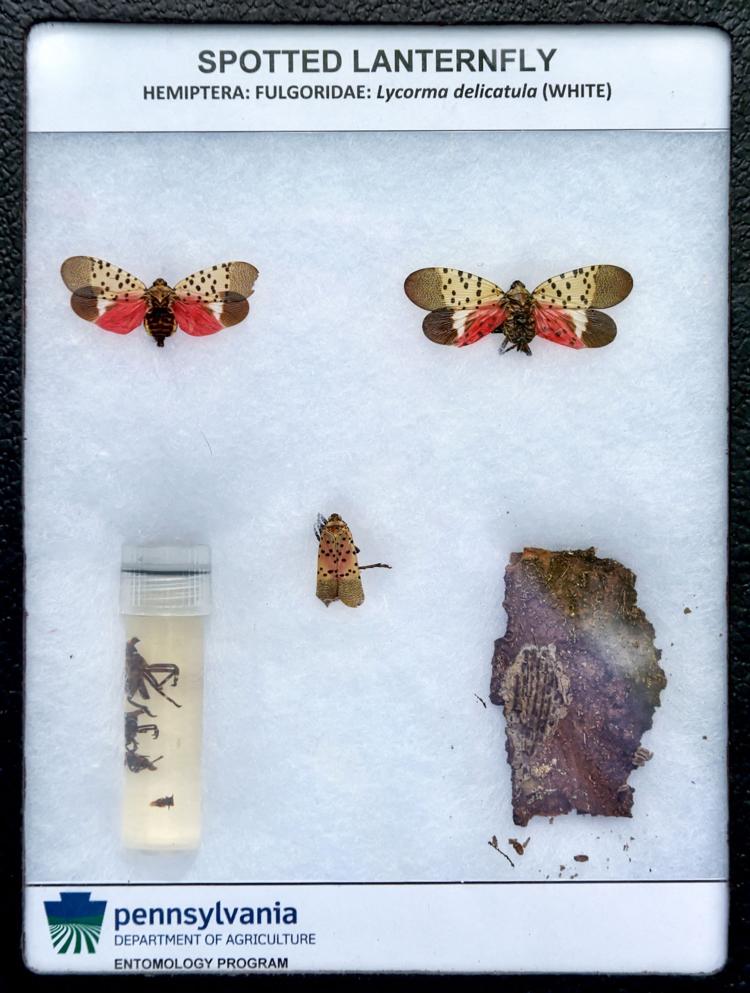 State officials revealed a plan to pump $24 million into programs to protect and expand agriculture earlier this year.
Part of that plan was the creation of a $5 million Pennsylvania Rapid Response Disaster Readiness Account to allow a quick response to agricultural disasters such as the spotted lanternfly outbreak.
The USDA also dedicated more than $6.2 million towards the state's efforts as well, according to a state agriculture department press release.
---
Are the bugs harmful to people?
It's important for people to understand that the insects are not harmful to people, according to Ed Weaver, owner of Weaver's Orchard in Morgantown.
"It's more that they're a nuisance, and it's very difficult to control them because they're everywhere," he said.
Because they are not great at flying, the bugs will land on anything to get around, even people, Weaver said.
"They're very annoying."
The lanternfly on Weaver's orchard have primarily fed on trees in the bordering woods, sparing his plants, he said.
---
How can the spread be controlled?
According to experts, limiting the mobility of the insects is currently the best method for slowing the spread.
Businesses with commercial vehicles making deliveries within the quarantine areas have been required to have spotted lanternfly permits since last year. About 370,000 permits have been issued so far.
"The spotted lanternfly are great hitchhikers," Powers said.
State Trooper James Spencer said the businesses need to designate at least one person who goes through the training to obtain a permit.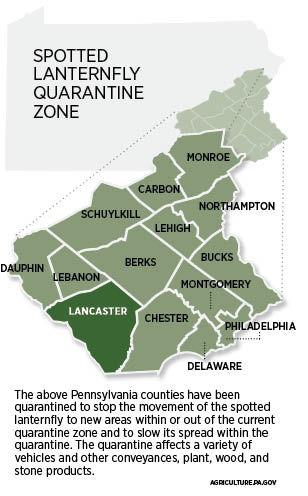 The training teaches employees how to identify the insects and their eggs on vehicles and efficiently destroy them, limiting their spread to new regions.
Vehicles such as school buses and police cars also are required to obtain permits, he said.
---
How will the permits be enforced?
Any time state police stop a commercial vehicle for a routine inspection and/or traffic violation, the driver can be asked for their permit, Spencer said.
If a vehicle does not have a permit, the cost can be anything from a $300 summary citation up to $20,000 in civil liability for the company.
There is currently a grace period throughout the quarantine zone, but officers can still enforce the penalty.