One victim left her home in Washington, D.C., at age 15, lured by an older man who made her feel special at first but forced her into sex trafficking. He abused her physically and gave her cocaine to get through the pain for a few years until she managed to leave him.
A young woman from Florida answered an escort service ad to make some extra money. But she, too, was drugged and abused by a trafficker, who shuttled her between the Poconos and New York City until she was arrested at age 21.
The two women are among 11 who have found shelter at Lititz-based North Star Initiative's home for women rescued from sex trafficking, according to Deb Bard, program director.
"Most women get lured into this business with promises of a better life. Of course, it's not a better life at all. It's quite the opposite," Bard said.
North Star doesn't house women rescued from Lancaster County. Instead, local victims would be sent for help elsewhere to keep them farther from those who victimized them.
North Star is part of the National Shelter Alliance, which places rescued trafficking victims in recovery. But the nonprofit works with law enforcement, prosecutors and other organizations to raise awareness about — and strengthen — the fight against sex trafficking here.
About a year ago, Bard said, she heard rumblings of a county task force to consolidate resources. Last week, the Lancaster County district attorney's office submitted a grant seeking funding to do just that.
How it would work
Last year, a man was convicted of running a trafficking ring between New Jersey and Lancaster County. It was the first human trafficking trial in the county. A jury found Dominic Roach guilty of enticing two New Jersey women to perform sex acts for drugs in hotels along, and near, Lincoln Highway East in East Lampeter Township.
After Roach was sentenced to 18 to 36 years in jail, the district attorney's office hinted at proactive measures in the works to target similar cases.
Brett Hambright, a spokesman for the office, declined to specify the money available in the grant since it's in the application stage. With funding, the task force could be launched in "the coming months," he said.
The district attorney's office envisions a task force made up of police, community groups and agencies involved in drug, alcohol and mental health services in Lancaster County.
Police on the task force would have jurisdiction across the county. That's key in investigations that can cross municipal boundaries.
East Lampeter detective Chris Jones is known for his experience in trafficking cases. He filed charges against Roach and works with other police departments, giving advice on sex trafficking investigations.
"We've had discussions of methods that work, didn't work," he said. "(We) try to pass that along to other agencies that want to investigate these crimes."
Jones also fields calls with tips on possible crimes from community groups. A task force would help, Jones said.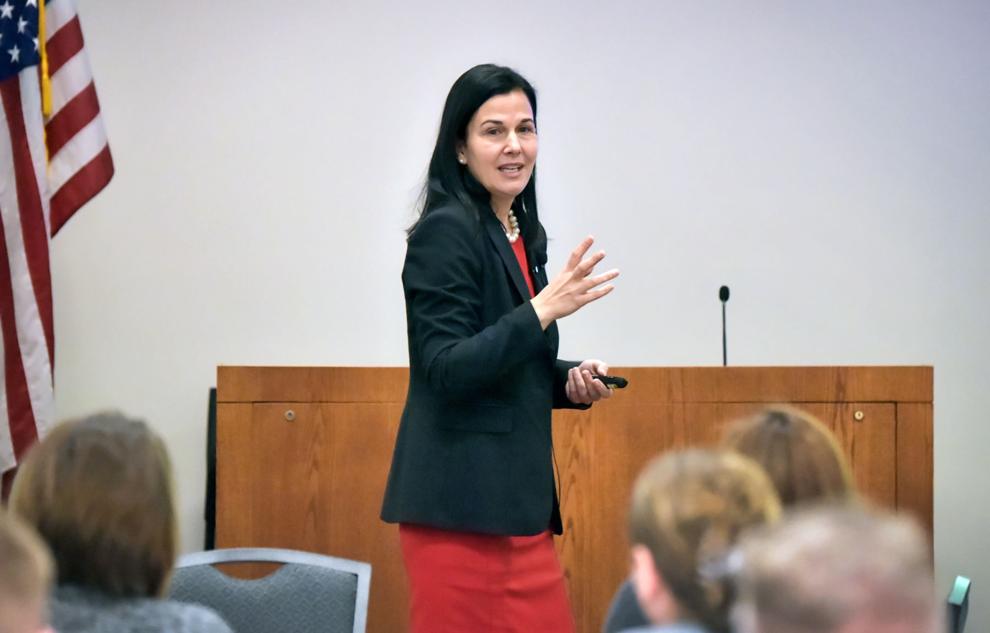 'Do our part'
On Friday, about 200 police officers and community members gathered at a crime prevention summit hosted by the district attorney's office. The keynote speech was on human trafficking and was delivered by Michelle L. Morgan, an assistant U.S. attorney in the Eastern District of Pennsylvania.
"I'm just telling you as a fact, that every time you drive by a hotel, there is a very good chance that somebody is being trafficked in that hotel," Morgan said.
These trafficking operations are not the multilevel, international and highly connected ones depicted in the movie "Taken," she said. Instead, they usually consist of one trafficker and several women working for him, she said. Four traffickers are the most Morgan has seen in a network.
The victims are, on average, age 14 or 15, she said.
The traffickers typically lure the juvenile by pretending to start a romantic relationship, asking them to model or be a dancer, among other methods, Morgan said.
In her experience, traffickers target victims over the internet, at public transit hubs and malls, or outside schools.
Bard, of North Star Initiative, said more people should know that trafficking happens in Lancaster County.
"The victims are hiding in plain sight," she said.
"The sex trade is not a trade. It's a prison. It drains resources; it ruins lives. We need to try to stem the tide ... and do our part in eradicating it."