With Lancaster County failing to meet its long-standing goals for containing sprawl and saving farms, planners are emphasizing action in new land-use guidelines three years in the making.
Lancaster County's three commissioners Wednesday adopted the places2040 plan, calling on local government, business and advocacy group leaders to work together to promote its growth-management goals.
"Now is the time to execute," said Josh Parsons, who chairs the three-member board. "I think we all are committed to that."
The new blueprint, known as a comprehensive plan, cites "a new sense of urgency" to slow the encroachment of development on farm country while using land efficiently in designated growth areas to support population gains and business expansion. It stresses inter-municipal cooperation.
The county planning staff, which wrote the 93-page plan, pledges to "keep ourselves accountable for the goals we've set" by tracking 105 indicators, ranging from building height to obesity. The commission is setting up implementation teams to engage municipal leaders, track development and update the community on progress and shortfalls.
"It's wonderful to have a vision, goals and strategies, but without implementation, we don't see the results we want to see," said Scott Standish, a senior planner in charge of the places2040 process. "As we traveled around the county, there really was a sense of urgency. People were realizing that we have a disconnect between what we say we want and what we're seeing."
Edward Fisher, a West Hempfield Township supervisor, joined 12 other community leaders who addressed the commissioners in support of places2040. "Your leadership, your out-front push of this will be paramount," he told the commissioners.
Tom Baldrige of the Lancaster Chamber asked the commissioners to commit resources to promoting places2040 "to ensure it doesn't just sit on the shelf."
Growth areas
Places2040 replaces a 2006 plan that missed its goal of building more densely in the county's 14 urban growth areas, established to save outlying farmland. The former plan recommended an average of 7.5 new housing units per acre in growth areas. But development, through 2015, actually occurred at a rate of 4.4 units per acre.
"As a result," places2040 says, "we're consuming 70 percent more land than we would at the target density."
Planners project that at the current pace, the amount of buildable land, or "greenfields," in the county's central urban growth area will fall from 8,300 acres today to 93 acres in 2040.
Across all 14 growth areas, buildable land would drop from 19,000 acres today to 2,100 in 2040.
Population growth and a strong economy are spurring development. Lancaster County, population 543,000, is projected to add 98,000 people, comprising 39,000 households, over the next two decades. Its gross domestic product increased nearly 5 percent a year from 2012 to 2017, hitting a record $28.9 billion.
Similar goals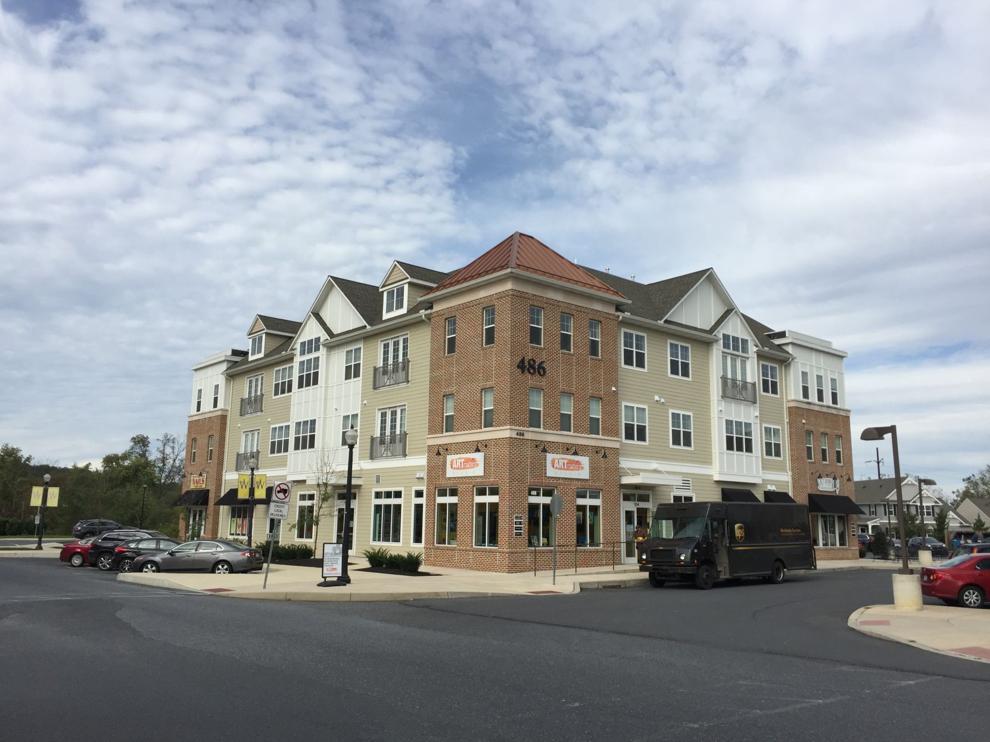 Despite having to confront burgeoning development, the goals in the new plan are not a dramatic departure.
Places2040 retains the 7.5-units-per-acre goal as a countywide average in growth areas. But to achieve it, the plan seeks a density of nine units or more per acre in the central growth area, which encompasses Lancaster city and its suburbs, and 6.5 or 5.5 units per acre in the smaller growth areas centered on boroughs. If those densities are achieved, 62 percent of developable land in growth areas would be available in 2040.
Places2040 also seeks to capitalize on Lancaster County's scenic vistas and rebounding downtowns by encouraging local governments to work across municipal boundaries to enhance or preserve special places, corridors and landscapes.
But the county planning commission can only advise. Managing growth is up to the leaders in the county's 60 municipalities, who use zoning, subdivision design, and sewer and water extension to decide where and what kind of development happens. Success of a countywide plan requires buy-in from most, if not all, of the municipalities.
Logan Myers, who chairs the Warwick Township supervisors, thinks the three years the planning commission and its allies spent gathering input for places2040 through community meetings and online surveys has strengthened support for its goals and will help municipal leaders stand up to neighborhood groups opposed to a smart-growth project.
"Even if 50 people show up (to oppose a higher-density development), we've got almost 18,000 other residents we answer to," Myers said.
And he said Warwick Township wants to develop in a way that makes sense for the rest of the county.
Jeff Swinehart of Lancaster Farmland Trust called the plan's vision of "thinking beyond boundaries" critical to the success of growth management.
"To protect what we all love and cherish about Lancaster County, municipalities will have to give some consideration to how their decisions impact greater Lancaster County," he said.
Economic impact
Frank Christoffel III of the Lancaster County Association of Realtors expects municipal leaders will be tested.
"I know it's a thankless job, but sometimes municipal officials cave to the people yelling at the public hearing," Christoffel said. "They've got to not do that and look at the bible that we've all written. If supervisors are timid, it's not going to work."
Matthew Creme, an experienced Lancaster attorney who advises municipalities in six counties, said he is optimistic that more municipal leaders, particularly younger ones who understand that many millennials aren't enamored of big houses on big lots, are open to higher-density, mixed-use development the plan advocates.
"We also have to recognize that there are issues of economic development," Creme said. "I hate to say it this way, but some people believe we have enough (housing) and don't need any more. But businesses won't locate where they don't perceive enough housing for their workforce. If we're not seeing growth in a smart fashion, the economy is going to suffer."
Business friendly
Lisa Riggs of the nonprofit Economic Development Company of Lancaster County, said her organization supports the plan because of its focus on maintaining the county's quality of life.
"The core values this community has makes Lancaster County a very attractive place to own and operate a business," she said. "Businesses certainly want to know their community is in good hands and that there's a thoughtful, intentional plan for the future."
With her organization co-leading an infrastructure implementation team, Riggs hopes to encourage municipalities to plan jointly for development along transportation corridors, noting that manufacturers need developable land near highways and railroads.
"We have to think about how to accommodate businesses as well as residents," Riggs said. "This educational piece about how do we accommodate growth in the right place and not just think about what's best in our own backyard is an ongoing process."