Prompted by safety concerns, Lancaster city is installing a roundabout today at the intersection of North Plum Street, East New Street and Park Avenue.
About 4,500 motorists travel through the intersection daily, according to Cindy McCormick, deputy director of engineering in the city's Public Works department.
She said two of 11 crashes at the intersection over the past three years resulted in injuries.
Workers will install the temporary roundabout from 9 a.m. to noon.
After a three- to six-month period, a permanent roundabout could be installed if the city feels the trial is successful.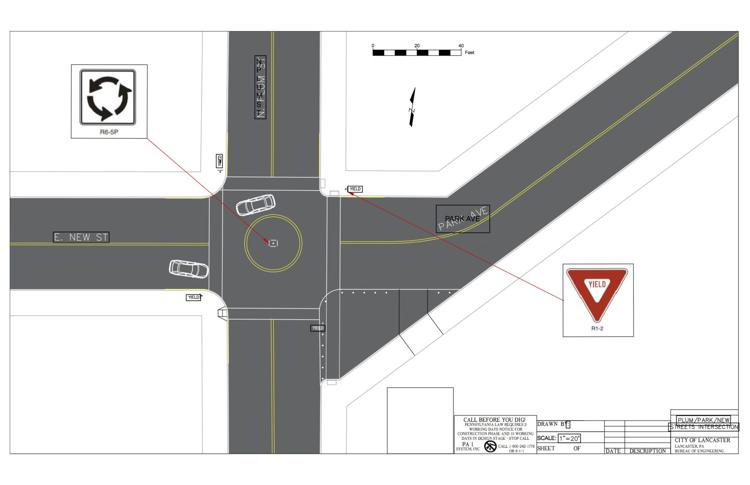 Yield signs will be installed at all corners including at Park Avenue and East New Street, where stop signs will be replaced. Paint and flexible posts will mark the roundabout, which will allow buses and trucks to drive over the middle of the intersection.
Bicycle lanes will not be installed and drivers will still need to yield to pedestrians, McCormick said.
According to McCormick, a permanent structure — constructed from concrete, asphalt or a material that can be mounted to the roadway — could cost anywhere from $20,000 to $40,000.
If the city decides to build a permanent roundabout but is not able to fully fund the project through grants, the money would come from the general fund, she said.
"We're just encouraging motorists to be cautious and slow down and be careful in the area," McCormick said. "That's our main objective."