Lancaster city has agreed to a $135,000 fine and "comprehensive measures" to end decades of sending stormwater mixed with sewage into the Conestoga River and Chesapeake Bay.
State and federal agencies have been working with the city to end the pollution for more than two decades.
A consent decree between the city and the U.S. Department of Justice, U.S. Environmental Protection Agency and the state Department of Environmental Protection was filed today in U.S. District Court in Philadelphia.
Mayor Rick Gray described the agreement as a "sigh of relief" in that environmental regulators have conditionally accepted the city's approach to ending pollution and given the city time to accomplish it and spread costs out.
But he noted that higher sewer bills are in store for city residents. "It will be millions of dollars over 20 years," he said.
"It will be a lot of work, but on the other hand, what we've done to the Conestoga, the Susquehanna and the Chesapeake Bay — we don't have a right to do that."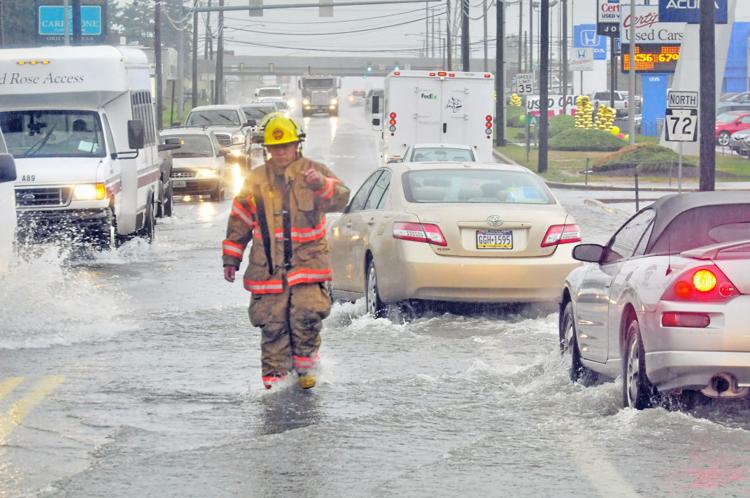 Mayor-elect Danene Sorace, who helped shape the city's current stormwater plan years ago, praised the agreement.
She lauded the city's efforts in striking a deal that was realistic, carries a generous timetable for carrying it out, and was less punitive than many other cities with old sewer systems have had to agree to.
"I believe this consent decree helps us meet in the middle," she said.
In addition to paying a fine, the city agreed to spend $1.8 million to restore Groffs Run on the McCaskey High School campus. The stream, which is a large source of stormwater, will be revitalized to connect to an existing wetlands to soak up runoff.
"The outcome is good for the people of Lancaster and everyone that uses the Conestoga River," said Patrick McDonnell,  DEP secretary. "Reducing sewer overflows makes our streams and rivers cleaner and better places for fish, wildlife and people."
The EPA has long pressured the city to address its antiquated Civil War-era underground sewage system that allows stormwater to flow into its sewage treatment plant during storms. There are about 700 other communities in the same boat around the United States
The volume of stormwater overwhelms the sewage plant at Engleside and runoff combines with raw sewage and is discharged into the Conestoga River and eventually the Chesapeake Bay.
The consent decree states that five stormwater-sewage overflow points that drain into the Conestoga released 3.8 billion gallons of untreated, polluted water into the river over 392 rain incidents in the past five years.
The releases "contain not only stormwater but also untreated human and industrial waste, toxic materials and debris," according to the decree and an accompanying complaint filed in court.
Correcting the problem became a priority after cleaning up the bay was ordered by President Barack Obama in 2009.
The city has been threatened with a $37,500-a-day fine by EPA for years.
The city had rejected a consent decree in 2015 that would have brought city efforts under the thumb of the federal government for 20 years.
The city has staunchly resisted an EPA plan to spend $100 million to $400 million for a huge 10-million-gallon storage tank and connecting underground storage tunnels that would hold the overflow until it could be treated.
Instead, the city embarked on improvements to pumping stations and a "green infrastructure" plan.
The facility improvements, when finished, will capture an estimated 86 percent of stormwater, the city has maintained.
Another chunk of stormwater would never reach the sewage plant, city officials contend, as part of the 25-year "green infrastructure" plan that intends to arrest stormwater through rain gardens, permeable pavement, trees and other methods. The 80 green infrastructure measures, so far, have reduced stormwater discharges by about 1 percent, said Charlotte Katzenmoyer, city public works director.
In 2014, EPA came to Lancaster and praised the green infrastructure plan as model for other cities.
Some $95 million has been spent since 2006 on the pumping station upgrades and green infrastructure, the city says.
Residents and businesses are footing the bill.
A stormwater fee on property owners has been in effect since 2014.  Property owners pay based on the amount of stormwater shed by their properties.
In addition, sewage bills for residents have been hiked 60 percent since 2010 in large part to pay for infrastructure projects to control stormwater.
In March, Mayor Gray testified before a U.S. Senate panel and complained that "rigid" wastewater mandates by the federal government were having a disproportionate effect on the city's low-income residents.
In 2015, Harrisburg-area sewage authorities that had undergone a similar intense battle with EPA agreed to spend $82 million to address stormwater overflows.
It's part of a plan to have all cities with old combined sewer-stormwater systems come into compliance with the federal Clean Water Act.
The consent decree was signed by Mayor Rick Gray on behalf of Lancaster city on Nov. 28. Signatories to the decree are the city, the U.S. Department of Justice, U.S. Environmental Protection Agency and the Pennsylvania Department of Environmental Protection.
The city has spent more than $1.4 million in legal fees, consultants and computer modeling in fighting for its approach for the stormwater problem. 
A U.S. District Court judge has to approve the consent decree after a 30-day comment period. To view the consent decree, click here.
City Council and incoming Mayor Danene Sorace were briefed on the consent decree last month.