She glanced at the clock. She didn't really notice the time.
It was a few minutes shy of 11:30 a.m., and Erin Neiderhiser is walking briskly down Main Street in Manheim.
She looks up at the massive Market Square clock more out of habit than necessity; she — like most everyone these days — carries a smart phone in her hand.
"I'm not sure if I looked at it for the time, or just because it's pretty," Neiderhiser says.
"I'm just used to it, I guess. I like it there. I'm Manheim born and raised, and I grew up with it."
The 131-year-old Manheim town clock was first erected in Lancaster in 1883, then purchased for the former Flinchbaugh Jewelry Store in Manheim in 1926. The Manheim Historical Society moved it in 1994 to the corner of East High and Main streets; it was last renovated in 2009.
Monuments to democracy

Before wristwatches and cell phones, people depended on town clocks to sound the hour. Most clock towers were found at churches and municipal buildings.
"Town clocks are monuments to democracy," Larry Laird, of Global Time Wizard in Columbia, says.
"Clocks particularly came of age after the Civil War. They probably peaked around 1920 — after the crash of '29, they fell into disrepair, they fell into decline."
The Manheim clock is neither the oldest nor the best known in Lancaster County, but it continues to remind passersby of the hour.
Here are a few of the other, highly visible clocks in the county.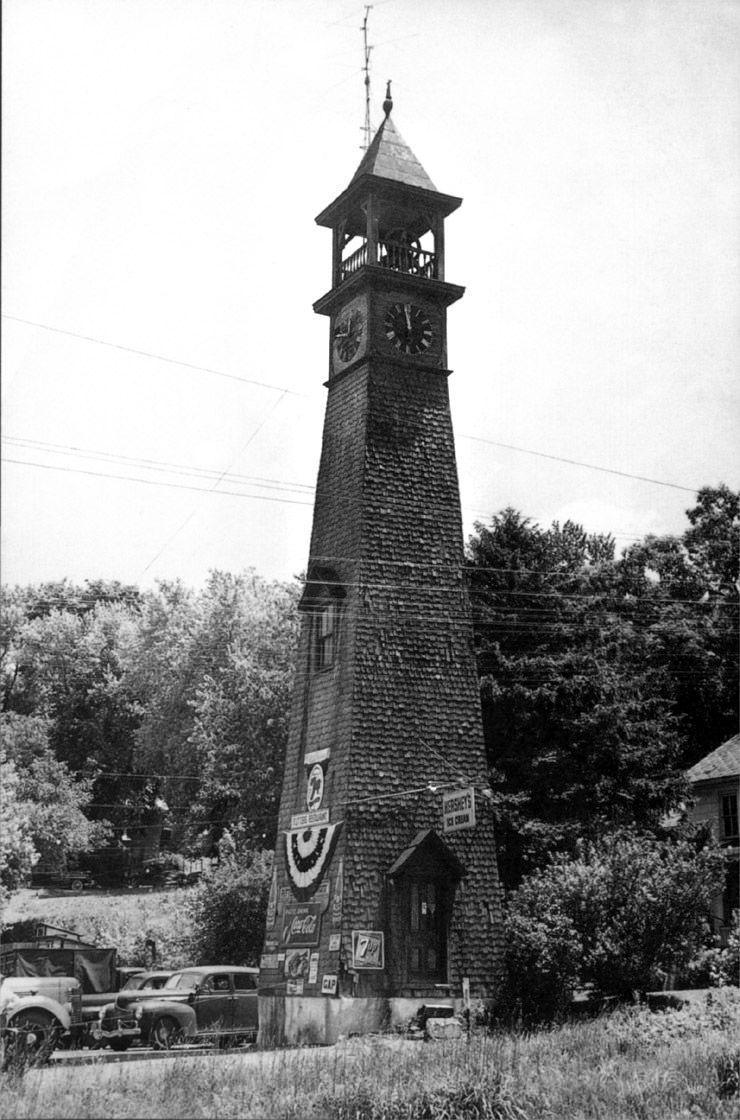 The 142-year-old Gap Town Clock moved 75 feet to its current location in 1953 and was last renovated in 2002.
Ten public clocks at Clock Towers, the former Hamilton Watch factory on Columbia Avenue, were made in 1874, although Laird notes all were replaced by "really cheap reproductions."
One of the original Hamilton clocks now stands at Stevens Trade, he says, "but it does not run."
Most of the older clocks that are still working have had their innards replaced once or twice, Laird explains. Some have even been converted to electricity and are satellite-driven to maintain perfect time.
Mountville in 2013 repaired two town clocks: a two-sided clock in front of borough hall and a four-sided clock on the VFW building.
Of course, not all town clocks are old. The 11-foot-tall Towne Centre Clock, at the northeast corner of East Main Street and North Roberts Avenue in New Holland, was raised in 2013 to replace the town's old clock, which was built in the 1870s; it was removed in 1998, repaired and installed at Garden Spot High School.
Lititz put up its town clock in 2006 to celebrate its 250th anniversary. The clock standing in the square in Elizabethtown may have a classic Victorian design, but it was erected in 2002 to mark the borough's 175th anniversary. Mount Joy added its four-sided, 16-foot-tall street clock on East Main Street in 2001, also to celebrate a sesquicentennial.
Akron added a 9-foot-tall clock at the Broad Street playground in 1998.
A sense of personality
But the purpose of these clocks, new or old, is — well, timeless.
"These clocks were originally and traditionally used to tell local time — they gave a community a sense of its own personality and its place in the world," says Noel Poirier, director of the National Watch & Clock Museum in Columbia.
In the days before portable timepieces, he says, "it was a point of pride" for a community to have its own clock.
"Today, public clocks are attractive because they're a shared experience, particularly those that chime the hours," Poirier says. "If you happen to notice the clock, you are going to look at the time. It's a shared experience with your neighbors."
Clocks were first incorporated into public architecture in the Middle Ages. The Chinese built the first clock tower in 1100, while the earliest European clock tower, in Salisbury, England, dates to 1300.
"I admire a municipality that will take the time and effort to get (a town clock) repaired and put it back into circulation," says Lititz clock- and watchmaker Bob Desrochers.
"It was very important in society to have one of these in your community," he says. "It's a piece of history that is fast disappearing."
By the early 1900s, town clocks were mostly advertising gimmicks, installed outside businesses to draw customers' eyes.
"Bottom line, people like to look up at a town clock. They're beautiful pieces," Desrochers says.
"But it's not so much about being able to see the time, it's about being able to hear the time," he adds. "That's what people really like, hearing that clock go off at 12 o'clock."
For Laird, a historian and former civics teacher, town clocks symbolize community spirit.
"They represent democracy in its heyday," he says. "We don't have uniform goals any more. We don't place much importance on public timepieces any more. We don't need to."
Cell phones, he says, "allow individualism to trump the common good."
Columbia, once dotted with streetside clocks, now has four: outside the museum at 514 Poplar Street, on Borough Hall at 308 Locust St., at Global Time Wizard at 515 Locust St. and, the newest, erected in 2006, at 5th & Chestnut streets.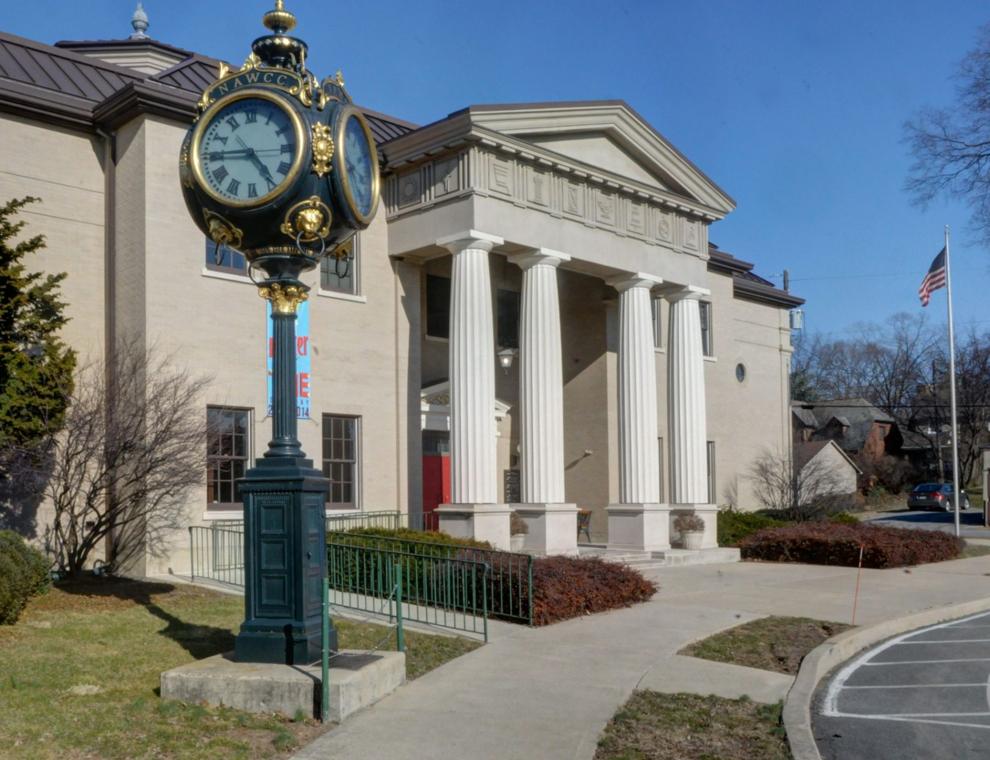 "We've noticed that, if our clock is off, we get comments right away," says Mayor Leo Lutz. "People pay attention to it."
He likens it to the old Grinnell whistle, which would sound twice daily to signal shift changes. The whistle, like the chiming or ringing of a town clock, was an audible reminder of the time.
"It's probably a nostalgia thing. Most of these clocks are antiques," Lutz says. "People would truly miss them if they weren't there."
East Hempfield Township residents in 2007 raised more than $150,000 to have two clocks — one in the heart of Landisville, the other near the Landisville/Salunga line — refurbished.
The nearly identical clocks were installed in 1946 to honor World War II veterans. Both stopped working years ago.
Now, says township manager Robert Krimmel, the clocks are functioning sources of pride.
"People don't really use them to check the time," he says. "It's a reminder of the history of the area, and of the veterans who served."
---