Residents of rural Witmer Road in Manor Township don't know what's worse: the window-rattling vibrations, the all-night floodlights that remind some of a lit stadium, or the constant noise that one compared to having a tractor-trailer rig idling on top of your house.
"The bottom line is the quality of life is being affected," says Ed Burns, a retiree who pulls down the blinds and turns up the television to try to keep the intrusions out of his home.
Since Nov. 28, residents of about 10 homes near Safe Harbor have had an unwelcome front-row seat to a six-day-a-week, all-night unusual work zone: near-constant drilling under the Conestoga River as part of the Atlantic Sunrise gas pipeline. Drilling on a lesser scale began in early October.
And now the residents know their complaints of quality-of-life disruptions have not fallen on deaf ears.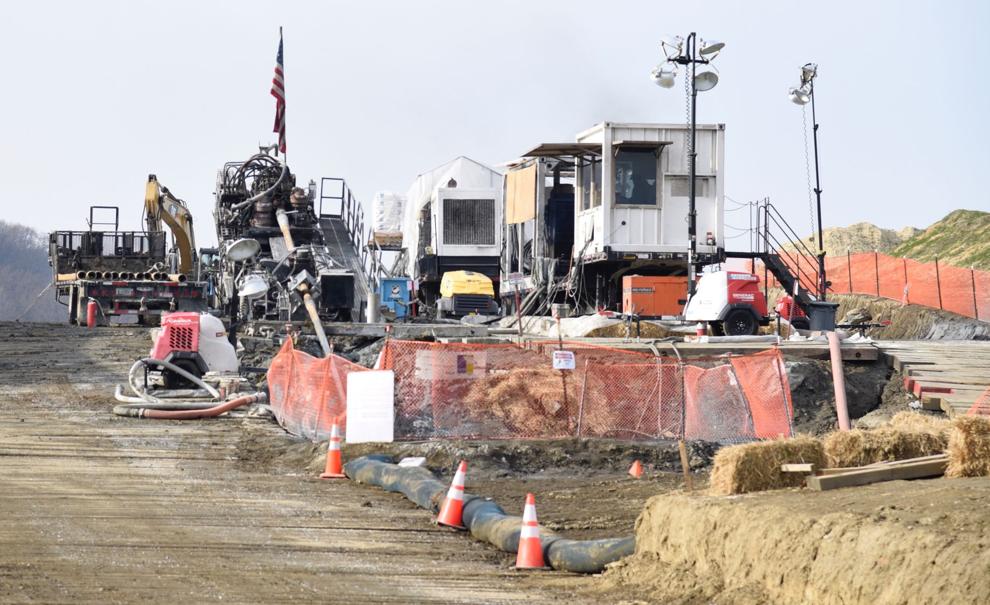 The Federal Energy Regulatory Commission told LNP on Monday that after resident complaints, a FERC compliance monitor in the last few days confirmed there are indeed noise and lighting problems.
The pipeline builder has been ordered to "look into ways to mitigate the situation so the public will not be inconvenienced," said Tamara Young-Allen, a FERC spokeswoman.
"We're sorry for the inconvenience."
Corrective measures will have to be "performance-based," she said.
Company's statement
When contacted by LNP, pipeline builder Williams acknowledged the FERC order and issued this statement:
"We have been in contact with two landowners who have expressed concerns recently related to noise or other issues associated with our horizontal drilling operation near the Conestoga River.
"Our, Land, Engineering and Construction teams are coordinating with FERC to ensure any landowner issues are resolved in a prompt and appropriate manner."
To make way for the Atlantic Sunrise natural gas pipeline, contractors for the Transcontinental Pipe Line are slowly boring under the Conestoga River simultaneously from both sides of the waterway.
One drilling operation is based on a 107-acre farm in Conestoga Township that Oklahoma-based Williams Partners purchased for $2.8 million. Transco is a subsidiary of Williams.
But on the west side of the river, boring is going on nearly non-stop in a farm field that is ringed by houses that sit on higher ground.
Headaches and lost sleep
In addition to complaints about trouble sleeping and a constant hum, some residents worry about cracks to the foundations and walls of their old homes and contamination of wells.
One resident, Troy Thorne, said vibrations have given him headaches.
"The noise you can deal with," Thorne said. "When the vibrations start, it runs you out of the house. You can feel it in your inner ear. It just kind of makes you feel weird."
For his wife, the noise is the foremost disturbance. "It is just horrible," she said. "It's just constant." 
She said the family keeps fans turned on to provide white noise in the bedrooms of their three children.
Their son was home from college Saturday night and complained that he only got three hours of sleep, she added.
Payments and relocations?
As a result of residents' complaints, Williams told FERC last week in its weekly summary of pipeline construction that it was investigating new ways to address noise levels at the site, including paying homeowners for the disturbances and offering to relocate them until the drilling is finished.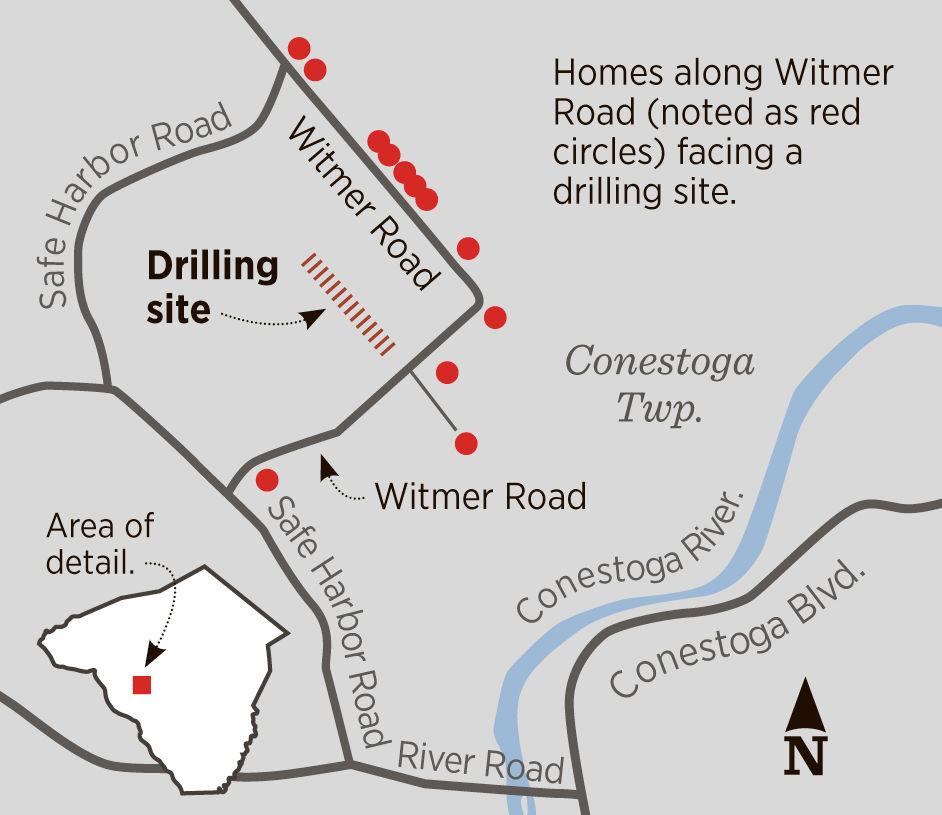 The company said it had installed a sound wall and baffles on equipment on Oct. 24. Two noise readings by the company taken on Dec. 9 were below the 55-decibel action reading, but one from the front door of a home on Witmer Road was 70.2 decibels.
Seventy decibels is akin to the sound of a vacuum cleaner.
Thorne has taken readings from a cell phone app and has recorded a high of 77 decibels from the road in front of the family's home. That level is equivalent to the sound of a passenger car going 65 mph as heard from a distance of 25 feet.
Pans on the kitchen wall tap each other and rattle from vibrations given off by the drilling under the earth, says Cynthia Heiland. To block out the noise, she sleeps with ear plugs, but that has created a new problem as she can't hear the alarm clock.
"And they're not even drilling with the largest drill yet," she says. "It could get worse."
Lack of information
"We didn't know this was going to be this intense," adds a woman who lives on Safe Harbor Road and did not want her name used.
All the residents interviewed complained that no one ever approached them to inform them of the impending drilling or what to expect.
"No one has ever come over here to say here's what we're doing. There's no transparency," said Ed Burns.
Residents said they have complained to Williams, Manor Township officials, FERC and a state legislator, but without noticeable results.
Ryan Strohecker, Manor Township manager, said he checked the township noise ordinance and found that utilities are exempt. He said jurisdiction with the drilling lies with FERC and the pipeline builder.
The drilling under the Conestoga is expected to be complete in early 2018, Williams said.
The $3 billion, 197-mile pipeline is scheduled to be completed in July 2018. About 37 miles of the project run through western and southern  Lancaster County.