Forty years after the worst nuclear plant accident in U.S. history, the fight to save that facility — and potentially Pennsylvania's entire nuclear future — is about to pick up steam in the state Capitol.
Three Mile Island, still infamous for its partial meltdown in March 1979, is scheduled to begin shutting down in September.
Beaver Valley Nuclear Power Station in Beaver County is planned to close in 2021.
And in an electric market that pits aging and expensive nuclear plants against cheaper and less labor-intense natural gas, some say Pennsylvania's three other nuclear plants won't be far behind.
The timeline for lawmakers to intervene — preventing what advocates say would be a devastating loss for the environment, grid reliability and the economy — is unforgiving.
To save TMI, legislation needs to be introduced, vetted, passed through both chambers and signed by the governor by the end of May, said state Sen. Ryan Aument, who has led the Nuclear Energy Caucus for the last two years.
His group quietly announced its official proposed fix last week, stating in memos that upcoming legislation will include nuclear energy in the state's Alternative Energy Portfolio Standards. That would essentially force consumers to pick up part of the tab in compensating plants for their zero carbon-emissions impact.
Gov. Tom Wolf, who recently announced his ambitious greenhouse gas reduction plan, said in an interview last week he hasn't considered the legislation yet because it hasn't been fully formulated. But he said he is personally focused on what happens to the plant workers and communities around them.
The legislation will be finalized in the coming weeks, and then the "aggressive timeline" really kicks in, said Aument, a Lancaster County Republican whose district borders TMI.
"The issue is sort of the worst when it comes to legislative issues that I've experienced in Harrisburg," he said. "It's urgent. It's expensive. It's complicated. And it's irreversible once this process begins to prematurely shut these plants down." 
---
Nuclear energy in PA
Impacted businesses, employees and the union leaders who represent them are expected to lobby frequently in the coming months for an industry that has a wide-reaching footprint and history in Pennsylvania.
Representing 42 percent of Pennsylvania's energy output, nuclear is the single biggest energy generator in the state and puts the Keystone State behind only Illinois in nuclear production.
It plays a role in providing about 4,700 full-time jobs directly and about 11,200 other indirect jobs — including 675 full-time jobs at risk this year if TMI closes, according to a 2016 study from the The Brattle Group, a Boston-based economic consultant that is referred to frequently in the Nuclear Energy Caucus report.
So when those jobs looked like they were about to vanish a couple years ago — after TMI lost $800 million in five years and Exelon, it's owner, couldn't sell the plant's energy at the grid-operator PJM Interconnection auctions — Aument and others decided to step in.
Aument, along with the sponsor of his bill in the House, Rep. Thomas Mahaffie, warned in the legislative memos they circulated last week that if all five Pennsylvania plants — housing nine reactors — would be decommissioned, it could mean a $4.6 billion hit based on increased electricity costs, lost gross domestic product and associated pollution costs caused by new carbon emissions.
---
Alternative energy
Established in 2004, Alternative Energy Portfolio Standards — the Nuclear Energy Caucus' preferred solution — requires electricity distributors and suppliers to ensure that 18 percent of all electricity they buy in 2021 is from alternative energy resources like solar and wind.
The standards break sources into two tiers. In 2017, the most frequent renewables in Tier 1 were wind, wood and wood waste solids, and landfill gas electricity generation, according to the latest standards report. In Tier 2, waste, coal and hydro-pumped storage make up almost all of it.
Nuclear would be incorporated as a new third tier.
Here's how it would work: Distributors would be directed to buy a certain amount of their energy from nuclear (the specific amount is still being discussed), and the cost increase would get passed down to customers. Lawmakers have also discussed the possibility of including additional forms of renewables, possibly in the new third tier with nuclear.
Rep. Greg Vitali, the ranking Democrat on the House Environmental Resources and Energy Committee and one of the General Assembly's fiercest environmental advocates, said he agrees with the approach if it's done in a "reasonable way."
"At the end of the day, this is going to result in transferring a huge amount of our constituents' money to a very wealthy corporation — Exelon — so we have to make sure that we get the best deal for the people of Pennsylvania, and that may involve legislation including more renewables," Vitali said.
That "huge amount" is the all-important question moving forward.
The bill's sponsors say the move, under the details they're still drafting, could cost every energy customer in the state about $2 more every month.
But the total price tag is still a mystery. A fiscal analysis, possibly by a firm outside the Legislature, will be necessary after the bill is formally introduced, Aument said.
Aument likens it to one of the largest and most debated initiatives the General Assembly tackled in recent years — the $2.3 billion infrastructure bill in 2014.
That cost was passed down right to consumers through gas tax hikes and various other fees.
"If we fail to make this investment now," Aument said, "the solution is going to be far more costly, far more expensive in the future with I think devastating consequences on our environment and economy, similar to the consequences we would have felt had we done nothing on transportation, in terms of crumbling infrastructure and bridges and highways."
---
Right solution?
Proponents of the plan say it's necessary to keep around a form of clean energy, but also because consumers will otherwise be "increasingly exposed" as gas companies build a near-monopoly in the market.
Dr. Gregory Reed, director of the University of Pittsburgh's Center for Energy and Energy Grid Institute, said the proposed standards would definitely be an effective solution in the short term and, hopefully, the long term. The program has been successful (even if it's "successful at a minimum level," in his opinion), so the incentives would give a boost to the plants, he said.
In terms of grid resiliency and reliability, some argue that Pennsylvania's status as an energy exporter shows there's enough electricity production to keep the state and regional 13-state grid reliable without TMI and Beaver Valley.
Reed's concern, he said, is if there is a "domino effect" with the state's three other nuclear plants closing in the coming years — and he thinks there would be — the question becomes where that replacement generation would come from.
"We could probably absorb the impact of maybe one or two (closures), but you start to get beyond 20 percent (of the total generation) and then you start to see the impact of what that's going to mean in the carbon emission component and the grid stability," Reed said.
---
Climate change
Another one of those looming questions is how Wolf's latest environmental policy agenda will play a role in the outcome.
Last month he signed an executive order establishing new greenhouse gas emissions goals — a reduction of 26 percent by 2025, based on 2005 levels, and of 80 percent by 2050.
Nuclear proponents say those thresholds will not only be impossible to reach without nuclear energy, but that losing nuclear would almost immediately wipe out previous gains made by investing in renewables in the last 15 years. The existing plants account for 93 percent of Pennsylvania's clean energy output.
Wolf, when asked if he can meet his carbon goals without nuclear, told The Caucus that "a lot of it depends on how fast we move toward solar and wind in the future, and what actually is in the portfolio standards moving forward."
On the other side, he may be faced with environmental advocates and others still concerned about nuclear's effects.
Eric Epstein, whose watchdog group Three Mile Island Alert launched in 1977, indicated in a joint letter to senators last week that his group believes the zero-emissions aspect of nuclear is "mythology" when all aspects of the industry are taken into account.
Aument, meanwhile, acknowledged he's come to a kind of evolution on the issue as he's learned about the public health detriments of climate change, such as the effects of poor air quality.
He said his party hasn't yet caught up on that end.
"From a political perspective, I think Republicans are going to have problems, rightfully so, with some key constituencies in the suburban areas of the state, and particularly among younger voters, if we can't speak intelligently about climate change, if we don't recognize this as an issue and can't begin to talk about solutions," Aument said.
---
Winners and losers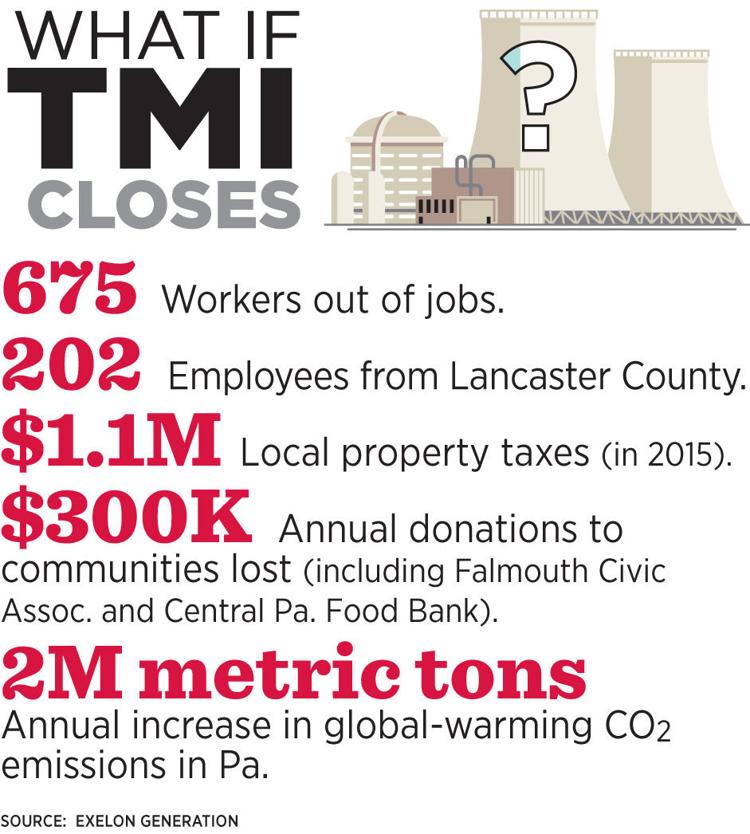 Other opposition will come in the form of a reluctance to interfere in the competitive energy market that was deregulated two decades ago.
Citizens Against Nuclear Bailouts — whose members include familiar names such as the Marcellus Shale Coalition, Americans for Prosperity Pennsylvania, NFIB Pennsylvania and the Pennsylvania Manufacturers' Association — point out that nuclear power plants made more than $600 million in profits in 2018, according to the PJM Market Monitoring Plan, and only TMI reported being in the red.
When asked if Exelon supports the plan to move nuclear into the alternative energy standards, company spokesman Paul Adams said in a statement that it's "an important next step toward valuing the carbon-free energy that nuclear provides Pennsylvania."
---
Moving quickly
With the tight time frame in a General Assembly that, as Aument says, "doesn't have a great track record of moving quickly on issues," he and others know it's going to be a heavy lift.
One potential element Aument might have going for him right off the bat is a few close allies in the neighboring chamber.
House Majority Leader Bryan Cutler hasn't yet committed to a solution, but his personal friendship with Aument dates back to elementary school in southern Lancaster County.
Saying nuclear power in Pennsylvania is necessary and at a crossroads, 75 legislators today …
Cutler has not said explicitly what he will support but said at a recent Pennsylvania Press Club lunch he had some questions about what a less-diverse energy portfolio would mean for consumers if and when gas prices go up.
Aument, for now, isn't making any promises.
"I'm optimistic but I'm not kidding myself. I know it's a challenge, a significant challenge," he said.