McCaskey High School student Donrelle Wesley Jr. thought it was kind of funny when he discovered his mother's maiden name written in his chemistry textbook.
"Then I started thinking, 'Wow, this book has been here for a while,'" Donrelle said. "I showed it to my mom, and she was like, 'Yep, that's my book.'"
Janell Wesley, however, wasn't amused that her son was learning from a textbook she used in 1997.
Wesley, a mother of six who lives on New Green Street, has long thought that the School District of Lancaster lacks resources to keep pace with the needs of its many underprivileged students. Her son's outdated textbook only heightened her concern.
A 1999 McCaskey graduate and a volunteer for school activities, Wesley sees students lacking laptops and similar devices that are standard at many districts. She also thinks the 11,300-student district struggles to help students with special needs.
Wesley doesn't fault the school board, but instead is critical of how Pennsylvania funds education. She has added her voice to a clergy-led movement that alleges racial disparities in school funding.
Advocates calculate the state shortchanges the Lancaster district by $36.6 million a year, or $3,191 per student. Its enrollment is 87 percent non-white.
Other predominantly non-white Pennsylvania districts also get less than a fair share, advocates say, while many predominantly white districts get more.
Solanco school district, for example, which is 88 percent white, receives $3.2 million more than fair share, or $903 more per student, advocates say.
Funding formula
The basis for the advocates' claim is Pennsylvania's fair funding formula. Adopted in 2016, it takes into account such district-specific factors as tax base, enrollment and poverty rate. It was designed to drive the most dollars to districts with the greatest challenges.
In fact, if the state had run this year's $6.1 billion in basic education subsidy through the formula, inequities in state funding would be a thing of the past.
But it didn't.
Because of a compromise to secure passage of the formula, the Legislature has used it to distribute only new money added each year since 2014-15.
Currently, 8.8 percent of the subsidy — or $538.7 million — is run through the formula. The rest goes to schools based on what they got in 2014-15.
Pennsylvania has locked in inequity.
With 91 percent of the subsidy bypassing the formula, districts with declining enrollments in depressed parts of Pennsylvania are shielded from cuts. Each year, most have even seen increases.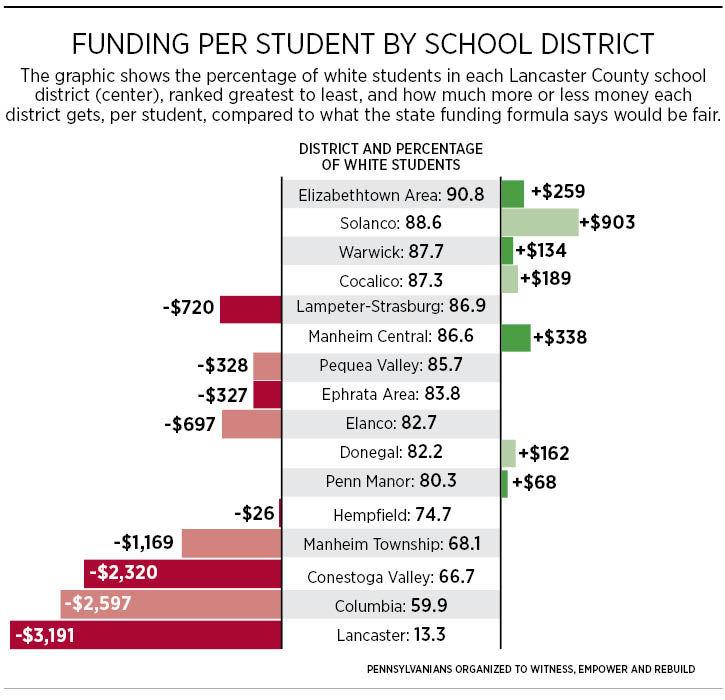 Protection of shrinking districts is nothing new. The Legislature has done it for decades. The policy is known as "hold harmless."
But the result is "a glaring injustice," said David Mosenkis, a data analyst who found that, on average, the 20 percent of students in Pennsylvania's least white districts receive an average of $2,145 less than fair share, and the 20 percent of students in the whitest districts receive on average $2,158 more than fair share.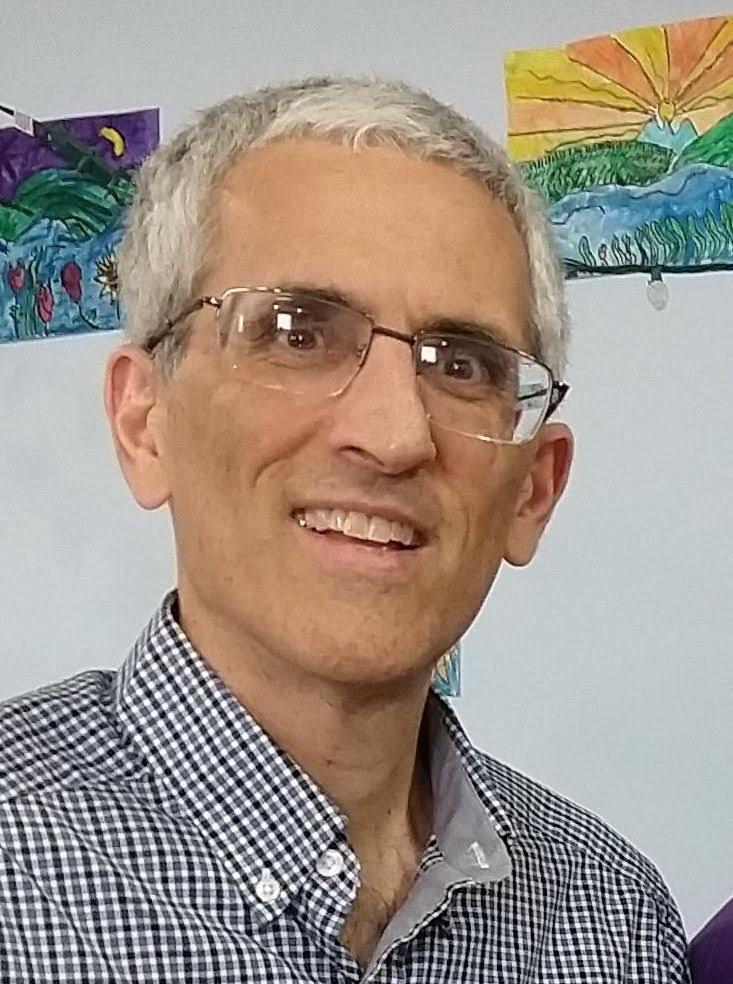 Mosenkis said 52 percent of Pennsylvania students receive less than what the funding formula says is fair. In Lancaster County, the impact is greater: 62 percent.
Fortunately, Mosenkis said, a solution is readily available: Run 100 percent of the subsidy through the formula.
Overtaxed Columbia
That's the view of an interfaith advocacy group called POWER, or Pennsylvanians Organized to Witness, Empower and Rebuild.
"The notion that no harm is taking place is wrong," said the Rev. Andrea Brown of Grandview United Methodist Church, part of a 15-member Lancaster County clergy committee working with POWER to sponsor a forum at 4 p.m. today at Holy Trinity Lutheran Church, 31 S. Duke St. "People are being harmed."
The Rev. Patricia McAllister of Mount Zion AME Church in Columbia sees the harm in the 1,362-student Columbia school district. She said she thinks its three schools lack sufficient technology, extracurricular activities and programming to help high-poverty students succeed. Meanwhile, the district imposes one of the highest tax rates in the county.
Advocates say Columbia receives $2,597 less per student than it would under the formula, a shortfall McAllister calls "appalling."
"You have a superintendent working overtime trying to make up the difference" with appeals to donors, she said. "It's just not fair."
State Rep. Christopher Rabb, a Philadelphia Democrat, is championing fair funding with a bill that would end "hold harmless" by distributing 100 percent of the subsidy through the formula.
His bill has bipartisan support with 27 co-sponsors, including Rep. Mike Sturla (D-Lancaster) and Rep. David Zimmerman (R-East Earl).
"One-hundred percent makes the most moral sense," Rabb said, but he understands lawmakers won't vote for it if they represent districts that would sustain cuts.
As a result, he plans to introduce a companion bill that would enlarge the funding pie. His proposal is a fee on coal-fired electric plants and other major sources of carbon pollution.
"I'm starting the negotiation with my bill, a public conversation to let people know what the state of public education funding is and how we can move forward," Rabb said.
Gradual phase-in
Other legislators have introduced bills that would move gradually toward fair funding, a strategy favored by state Sens. Ryan Aument and Scott Martin, Lancaster County Republicans.
"I do think there are inequities in the system," Aument, who represents four districts — including Columbia — that would benefit from fair funding and five districts that would lose, said. "I think we have to approach it in a thoughtful manner and implement it over time."
Aument said any change would need to be part of a broader budget agreement and require strong leadership from whoever is governor.
Martin, who represents five districts, including Lancaster, that would benefit from fair funding and two that would lose, said he wants to end "hold harmless," but it's not politically feasible right now.
"However, that does not mean the fight should not go forward," Martin said in an email. "I truly believe that if the pressure is kept up, the Legislature will end up doing what is right on this matter."
The Rev. Gerald Simmons, pastor of Faith Tabernacle Church of God in Christ on South Ann Street, is a veteran of the fight for fair school funding going back to the early 2000s.
"Because of my faith, I continue to remain hopeful," Simmons said. "But I'm getting very tired. I'm getting very angry."
The pastor points to a long legacy of under-funding that could be healed if the Legislature stopped protecting the advantaged.
"It's all part of a structure that reinforces privilege to the dominant culture," Simmons said. "If we don't correct this in the near term, we perpetuate an underclass that is basically cannon fodder for the economy, able to buy things at Walmart, but never building wealth and not fully enfranchised in the American dream."