Memorial Day weekend unofficially kicks off pool season — but state Department of Health records on pool and hot tub water quality might leave you wanting to shower.
About one out of three state-regulated pools and hot tubs in the county had at least one failure because of unhealthy bacteria levels during last year's swim season, which runs May 1 through Sept. 30.
That includes pools and hot tubs at community centers, hotels, campgrounds and water parks.
The failures include 10 of the 29 swimming pools run by local governments or community organizations in Adamstown, Hempfield, Leola, Lititz, East Petersburg, Ephrata, New Holland and southern Lancaster County.
The worst offenders are among privately run campgrounds, hotels and condominium associations. Privately run pools accounted for 116 of the 135 bacterial failures — or 86 percent — in 2018, according to the Department of Health.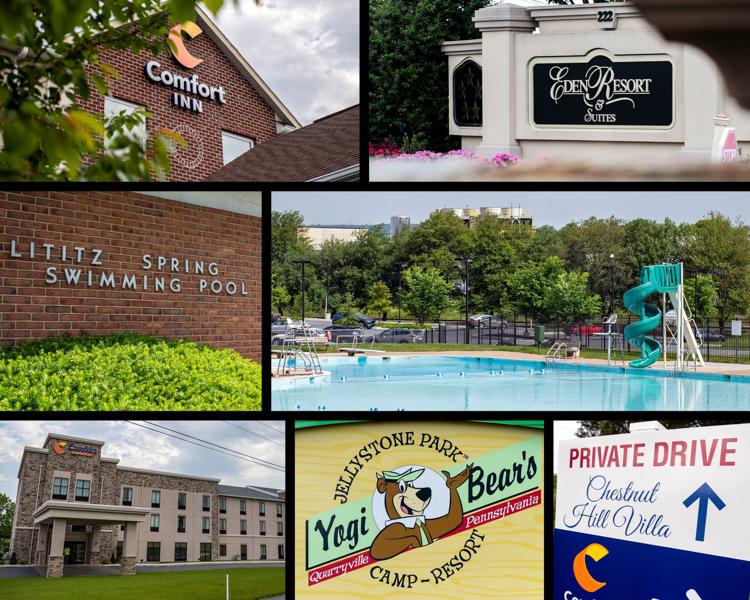 Yogi Bear's Jellystone Park near Quarryville reported 11 bacteria failures at its pools from May through September. Comfort Inn in Lancaster and Comfort Suites in Manheim had seven and five, respectively, during that time (both are run by Choice Hotels). Eden Resorts had four failures.
Tessa Wiles, marketing manager for Jellystone, said the resort had issues with a filtration system that would get clogged last year.
"We just installed a new state-of-the-art filtration system that will correct the issues that we had last year," she said.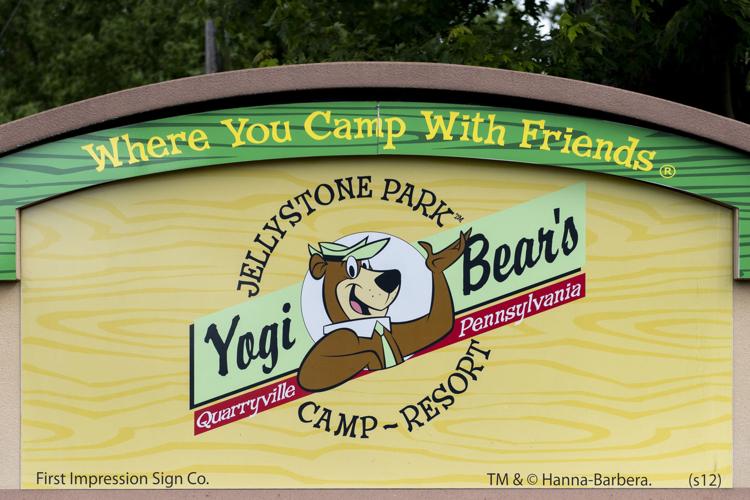 Greg Greenawalt, manager at Eden Resorts, said while he was unaware of the specifics surrounding the four failures, "I can assure you, any time we are notified of any discrepancy, our year-round pool attendant would rectify that immediately."
The resort has two indoor pools open year round and one outdoor pool. "During the summer, our outdoor pool is extremely busy," he said.
Greenawalt said the resort does chemical readings three times a day, one more than the state-required measurements. And its water quality is monitored 24 hours-a-day remotely.
Calls to Choice Hotels for comment were unsuccessful.
Efforts to reach officials at several public pool facilities -- Lititz Springs, Leola Community Pool and Park and Adamstown Community Swimming Pool -- also were unsuccessful.
What constitutes a bacterial failure? 
A "bacterial failure" occurs when two parts of coliform bacteria are found in a 100-milliliter pool water sample, according to health department regulations.
"Labs are required to notify the department within 24 hours of the availability of the lab result for test results exceeding the criteria," according to Nate Wardle, health department spokesman.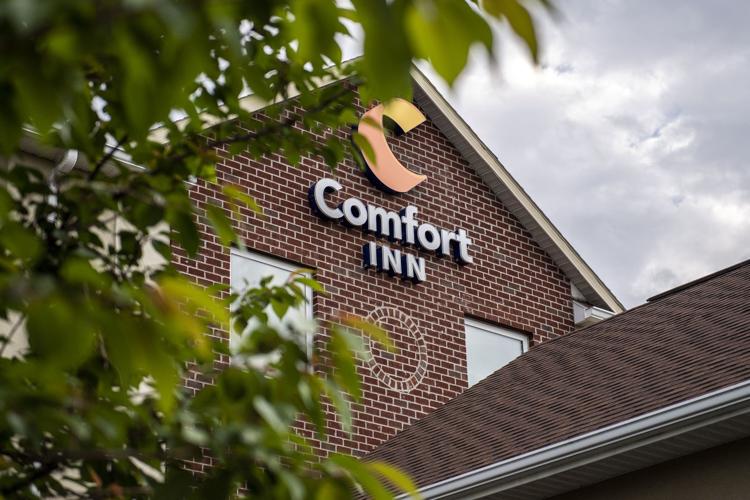 Most coliform bacteria aren't harmful to humans. Fecal coliforms are bacteria present in feces, and even most E. coli strains are harmless to humans, according to the Centers for Disease Control and Prevention.
But because E. coli bacteria almost always originate in feces — and feces is the predominant pool polluter, along with shed human skin — they are used as an indicator of water quality.
Many Lancaster County pools reported more than 100 times the threshold for coliform, including East Petersburg's pool, which reported greater than 200 parts coliform in a sample. So did Hillcrest Swim Club in Akron, the outdoor wading pool at Pheasant Ridge, the outdoor pool at Newport Commons, the indoor pool at Comfort Inn Lancaster County and several pools at Jellystone.
How sick can you get from bacterial failure in a pool or hot tub?
Besides coliform bacteria, pool water can contain cryptosporidium, giardia, Legionella, norovirus and shigella — all of which can sicken swimmers.
Diarrhea is the most common recreational waterborne illnesses, as they are called by the CDC. Rashes, ear infections and respiratory infections are also possible. Chemicals can cause eye and lung irritation.
One well-known (and harmful) strain of coliform is E. coli O157:H7. It can cause stomach cramps, bloody diarrhea and fever. In rare cases, it can cause kidney failure.
Legionella can cause a type of pneumonia called Legionnaires' disease, according to the CDC. Hot tubs that aren't disinfected enough can become contaminated and a person can get infected by breathing mist from a contaminated hot tub.
How often is pool water tested?
In Pennsylvania, pool operators test pool water pH level twice a day to see if it's in the range of 7.2 to 7.6. That range has been determined to be most comfortable for swimmers and enables chlorine — which kills most germs — to work most effectively.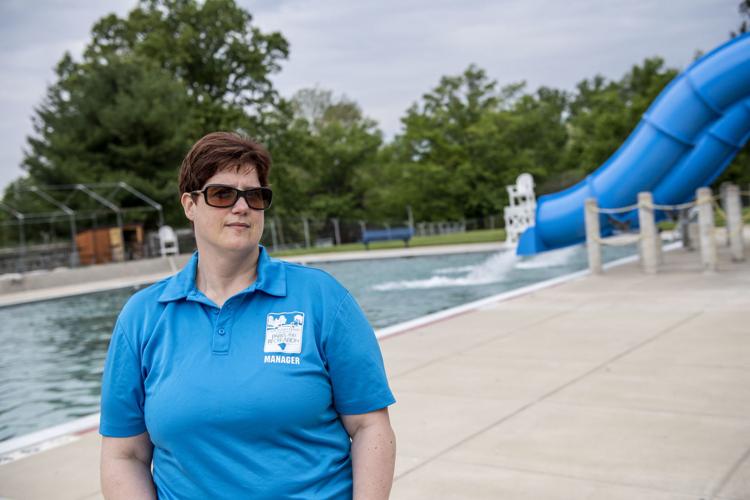 Once a week, operators are required to take a sample of water during the period of most-heavy use and submit it to a drinking water lab registered with the Department of Environmental Protection. The lab tests for the presence of coliform.
"If disinfectant levels are being maintained at appropriate levels under normal circumstances, you would not expect to see bacteria present," Wardle, of the health department, said. "That is why a minimum of twice daily results for disinfectant are required."
What happens if a pool tests positive for bacteria, or if someone poops in a pool?
If a pool tests positive for bacteria, it must close until the disinfection protocols are implemented and it's confirmed that the disinfection system is working properly, Wardle said.
The health department has a protocol for poop in a pool. It's technical and addresses formed stool and unformed stool — diarrhea. But basically, the pool is closed and users are told about the length and nature of the closure and as much of the fecal matter is removed as possible. Then, chlorine levels are increased to neutralize bacteria and adjusted until they're in the proper range before the pool is reopened. The process can take maybe an hour for solid stool and, depending on chlorine concentration, at least 8.5 to 28 hours for diarrhea.
---
These Lancaster County pools failed the most bacteria violations in 2018 [photos]
According to the state Department of Health, 135 Lancaster County pools reported bacteria violations in 2018, from May to September. 
Of those 135, 116 were private pools and 16 were public pools. 
The top five offenders in the county were Yogi Bear's Jellystone Park (11); Comfort Inn Lancaster County (7); Comfort Suites Manheim/ Chestnut Hill Villa (5); Lititz Springs Swimming Pool(4); and Eden Resort & Suites (4). 
---
Why is chlorine key? 
Bob Vincent is a member of the Water Quality & Health Council and the administrator of water programs for Florida's health department. He worked on the model aquatic health code, a voluntary guide developed by the CDC that uses the latest science and best practices to address water quality and safety. 
"The chlorine is what really matters most. If you have a good chlorine level and the correct pH, you're going to kill to kill most whatever's in the water within a minute or two," Vincent said.
Pennsylvania hasn't adopted the model aquatic health code, though legislation has been introduced that would require the state to do so.
What does the state regulate?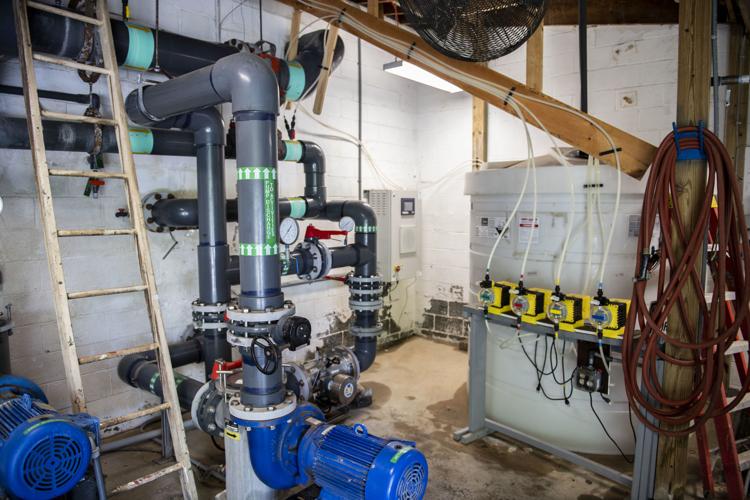 The state regulates 314 units in the county — all swimming, wading and bathing facilities except those at private homes. Some facilities have several units in their pool complexes.
In addition to self-monitoring by pool operators to meet state requirements, Wardle said the Department of Health inspects pools regularly.
"Inspectors are out in the field inspecting public pools and providing education on operations on a regular basis," he said.
Inspections are conducted for permitting, when complaints are made, after repeat bacteria failures and compliance and violation history, he said.
"We work to perform inspections to meet immediate needs, and then also conduct routine inspections," he said.
Vincent said self-reporting isn't a concern, because an unsafe pool is a liability.
"Most of the owners of pools know that and they do their best to keep it running correctly," Vincent said.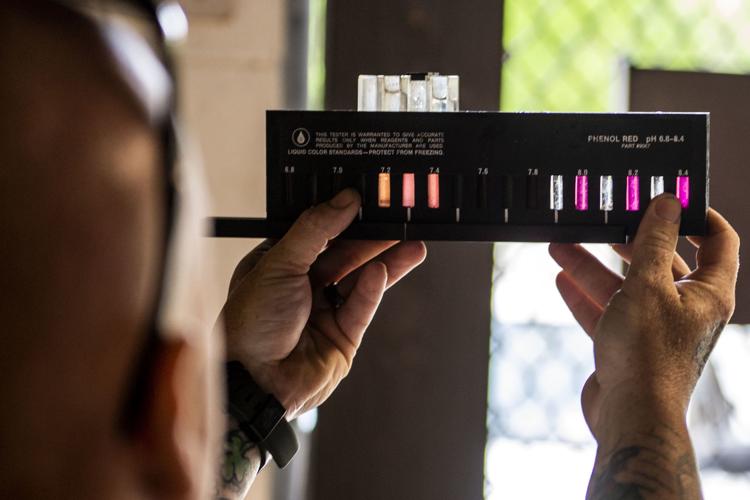 How much poop is going into pools, and what can you do about it?
There's no getting around it, there is going to be some amount of poo in the pool.
Kids, who often don't clean their bottoms as thoroughly as adults, can have the weight of four pennies of poop on their bottoms, according to the CDC. That poop then rinses into the pool water.
Adults should be better at cleansing, but they can also carry some poop into the pool. The CDC estimates the average person has 0.14 gram of poop on their bottom.
That shower sounding good right about now? It would be a good place to start to help keep pools clean as a significant cause of bacterial failures can be traced to personal hygiene.
The CDC recommends:
— shower before swimming
— don't swim if you have diarrhea
—don't swallow pool water
— stay out of the water if you have an open wound not covered with a waterproof bandage
— don't pee in the pool 
According to the CDC, urine reacts with chlorine to form chloramines — chemical compounds that can lead to red, itchy eyes and skin irritation. Chloramines can also lead to respiratory irritation, which is more common with indoor pools. The reaction also reduces the amount of chlorine available to disinfect.
That "chlorine" smell? It's probably the smell of chloramines, according to the CDC, and correctly chlorinated water should not have a strong chemical smell.
There is no dye that can reveal the presence of urine in a pool. It's a myth, albeit one some people believe and parents surely wish existed.
How can you tell if a pool is safe?
While some states make pool inspection data publicly available, only Allegheny County in western Pennsylvania does, and the information is fairly limited. However, Wardle said the department is considering making pool inspection information publicly available. (He was unable to provide a timeline or further information on the proposal.)
Vincent said swimmers can check the water for clarity — which indicates proper pH balance — or use test strips that are readily and cheaply available, they can feel along the pool wall to see if it's slimy, and they can listen to hear if pumps are running. 
And "don't go in the pool dirty —because everybody gets to swim in that," he said.