Lancaster County has the largest Amish population in the United States — a fact that brings lots of tourists, and also extra hazards on the roadway.
From 2008 to 2017, state data show 189 crashes here involving horse and buggies that resulted in injuries, including four deaths — the most recent in November 2017.
That's down from the previous decade, which had 215 crashes with injuries and 10 deaths here.
Recently, Penn Medicine Lancaster General Health joined state and local partners in an attempt to reduce the numbers further.
Dr. Eric H. Bradburn, director of the Lancaster General Health Physicians' Trauma Program, went for a buggy ride as part of the project.
"It was frightening to see how cars drove around us," Bradburn said, recounting being passed by 18-wheelers, being honked at and seeing distracted drivers on cell phones.
In a blog post, Lancaster General spokesman John Lines wrote that since 2015 the hospital's trauma center has treated nearly 90 buggy accident victims, with many others treated for less-serious injuries.
"Local and out-of-state drivers are often unaware of how and when it is safe to pass a buggy, how much space to allow when passing, or how to avoid a collision in the dark or otherwise dangerous conditions," he wrote.
The project resulted in a pamphlet called "Drive Safely in Amish Country," which is now available at many tourist destinations.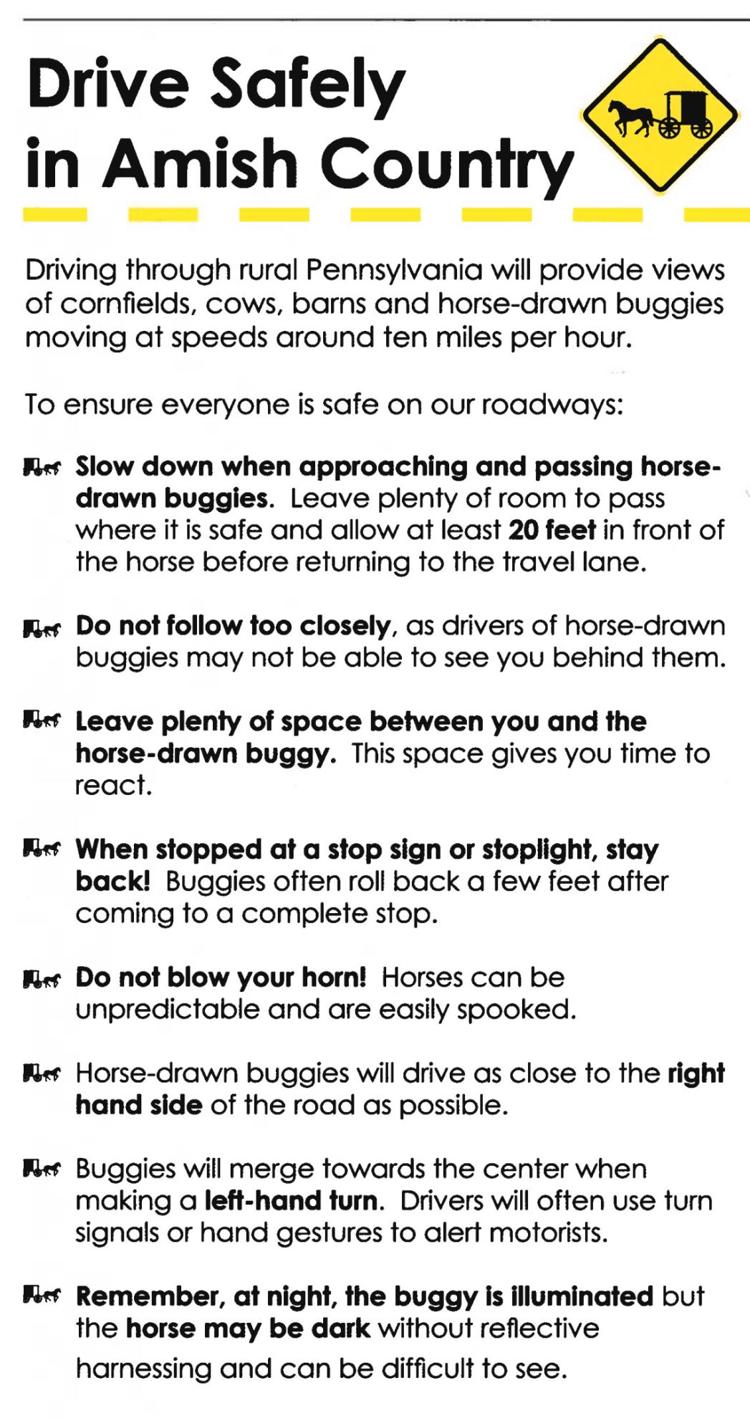 "Accidents between buggies and cars are devastating for both buggy users and those driving cars or trucks," said Dr. Michael Reihart. "Basic understanding of how to share the road can go a long way to benefit all drivers."
Key tips
One key tip from the publication is to slow down when approaching buggies, passing only when safe and leaving at least 20 feet in front of the horse before returning to the travel lane.
Another is to refrain from honking, "which can spook even experienced horses."
Richard Finfrock, chief of the Christiana Borough police department, said passing buggies on hills or around curves is another problem he sees regularly.
"I think they need to be more aware of how a horse and buggy works," he said. "People don't use common sense."
Strasburg Borough Police Chief F. Steven Echternach said people shouldn't start passing if doing so will require an approaching driver to move over.
"That's a violation," he said.
Finfrock also said people should be aware that buggy traffic tends to be heavier on Sundays, including at night, and be extra alert around buggies in case the horses do anything unexpected.
A publication from the Pennsylvania Department of Transportation notes that buggies tend to travel at less than 8 miles per hour.
"It only takes seconds to overtake a buggy," the agency said. "Remember to always allow a cushion of safety."
Pennsylvania State Police Trooper James Spencer said state law prohibits driving on the left when approaching or on a hill crest and within 100 feet of an intersection.
He also noted that distraction is a big contributor to buggy crashes, when drivers are using their phones or adjusting their radios.
Where the accidents are
State data shows that Lancaster County has significantly more injuries from buggy crashes than anywhere else in the Pennsylvania.
Statewide, in the last decade there were 468 crashes with injures, including 27 deaths. That compares to 490 crashes with injuries and 27 deaths in the previous decade.
Locally, municipalities in the middle and east of the county have had the most accidents with injuries.
In the last decade, there were 23 crashes with injuries in Salisbury Township; 16 in East Lampeter Township; 14 each in Paradise and Leacock townships; 13 in Earl Township; and 11 in Strasburg Township.
Ephrata Police Chief William Harvey said there are also a fair number of buggy accidents in his part of the county, which includes some buggy-driving Old Order Mennonites as well as Amish.
"We have 322, 22, 272," he said noting that a lot of people "come to the fashionable northern end of Lancaster County to go to Adamstown for antiquing, to come to Ephrata for the special events that we have here."
Harvey said he's seen the pamphlet Lancaster General produced and is urging people to spread its message to locals and tourists alike – and especially younger drivers who may not be as aware of potential hazards on the road.
"The biggest thing is patience; people are in too much of a hurry driving," he said.