Homelessness in Lancaster County fell for a third straight summer, offering more confirmation that federally funded, research-driven strategies are working here, an expert said.
A total of 370 homeless individuals were counted on Thursday, Aug. 27, down 20 percent from a similar one-day count in August 2014.
It's the lowest homeless census since summer counts began here in 2011, and the first below the 400 threshold.
Of the total homeless, 132 were children.
"We're still seeing a decrease of people in shelters, which means that our (homelessness prevention) infrastructure we're spending a lot of time on building is working," said Jennifer Koppel, executive director of the Lancaster County Coalition to End Homelessness.
Koppel addressed the county commissioners Wednesday.
Funded with $3.5 million in federal grants, the multi-agency coalition is on track to reduce the number of people considered chronically homeless to zero in 2016, a year ahead of the government's goal for the nation.
The U.S. Department of Housing and Urban Development defines the chronically homeless as people with a disability who have been homeless for a year or who have experienced four episodes of homelessness in the last three years.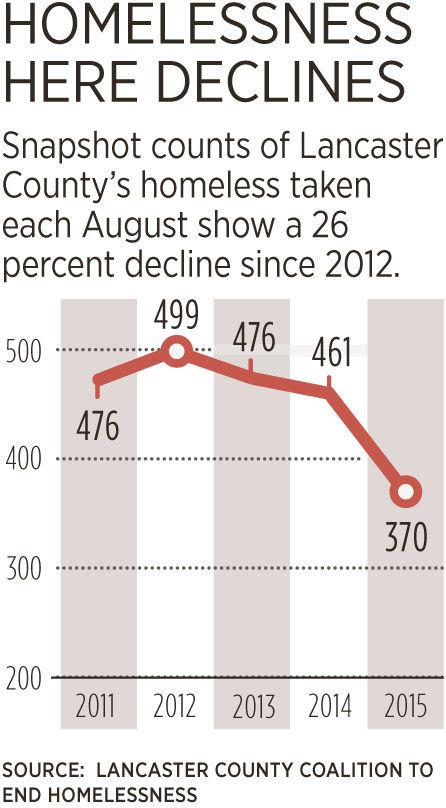 The goal here will be met when about a dozen chronically homeless people are housed in coming months, said Michael Foley, the coalition's chief operating officer. Landlords are more likely to reject tenants with chronic needs and arson or other serious criminal backgrounds.
This past July, the coalition achieved "functional zero" for homeless veterans, receiving recognition in a video by First Lady Michelle Obama and a congratulatory call from HUD Secretary Julian Castro for meeting a federal goal six months early.
Functional zero
Functional zero means the coalition is able to immediately divert any newly homeless veteran from the street or an emergency shelter into an apartment or transitional program.
Since 2009, the coalition has employed a "housing first" approach to reducing homelessness. The goal is to prevent evictions or to move people as quickly as possible from shelters into permanent housing, where they are more successful at working on the problems that led to homelessness.
While homelessness is down here, the number of people at risk of homelessness and seeking help has, in fact, increased by 37 percent.
More people are calling 211 and being referred to the county's Community Homeless Assessment and Referral Team for services that can help them retain their housing or secure new housing quickly, Foley said, keeping them off the street or out of shelters.
The number seeking help has increased to 5,329 between July 2014 and June 2015 compared to 3,890 the previous fiscal year.
The homeless are defined as those living on the street, in a place not meant for human habitation, or in an emergency or transitional shelter.
"When the cold weather sets in, we're taking care of them as best we can," Foley told the commissioners. "We're still plugging away, and there's always a need."