Kelly Hutchinson's classroom is a reflection of her more than 30 years as an introductory Spanish teacher in the Hempfield School District.
The four walls of her Centerville Middle School room are covered with Spanish expressions. The U.S. flag hangs near flags from Spain, Mexico, Puerto Rico and the Dominican Republic. A green, fish-shaped piñata dangles from a corner of the room.
Speaking in Spanish, Hutchinson begins each class by having her eighth-graders stand and sing a song in Spanish related to what they are learning that week. It's one of the many interactive activities the endlessly energetic and engaging instructor does in hopes her students can better grasp the language.
"I'm not a big textbook fan," Hutchinson said.
Her first class of the day on a Friday morning in late January followed a similar pattern — until the last 10 minutes of the period. It's then Hutchinson spoke in English to make sure her students understood clearly what she was about to tell them.
"Today is my last day for a little while," she said. "I was recently diagnosed with breast cancer."
Tears began to run down the cheeks of some of the teenage girls in the classroom as the 55-year-old Hutchinson continued.
"I'm not dying. We're going to treat this," Hutchinson said. "I don't know what's happening at this point. Chemotherapy starts Monday. I'm going to have surgery at some point. I don't know when I'll be back."
The bell to signal the end of the first period chimed. Hutchinson's students gathered around her for a group hug.
"Good luck," one student said.
"I'll pray for you," another student said.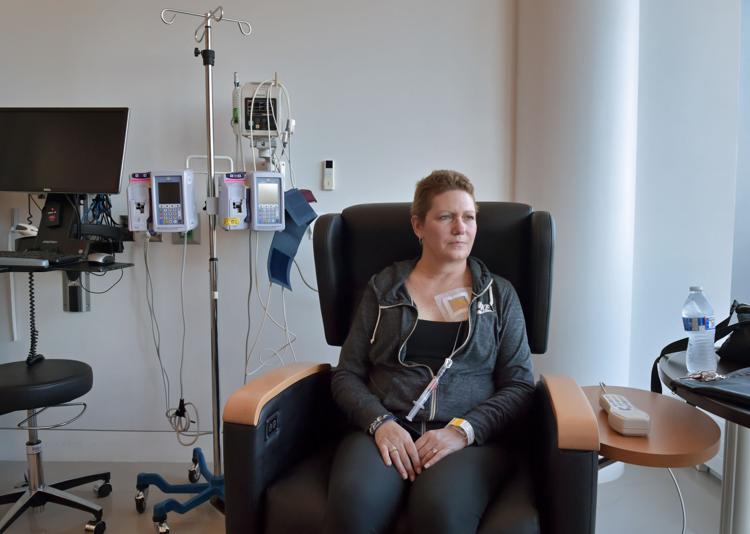 The diagnosis
Hutchinson was surprised when she felt a hard lump on the right side of her chest while showering at her Manheim Township home in December 2017.
Six months earlier, the results of a mammogram performed at Lancaster General Hospital came back clear, just like the others she has had annually since 1999.
An ultrasound and biopsy confirmed breast cancer in the golf-ball sized malignant lump. She was diagnosed Dec. 29, 2017.
Specifically, Hutchinson was diagnosed with 90 percent estrogen-positive, 5 percent progesteron-positive, HER2-positive, invasive ductal carcinoma breast cancer.
In layman's terms, the lump in her chest had grown rapidly in such a short amount of time because the cancer was feeding off the estrogen her body naturally produces.
It also meant her type of breast cancer is among the most treatable.
"There was no crying or anything like that," Hutchinson said of her initial reaction when she learned she had breast cancer. "I'm just like, 'Alright. What are we gonna do now? What is the next step?'"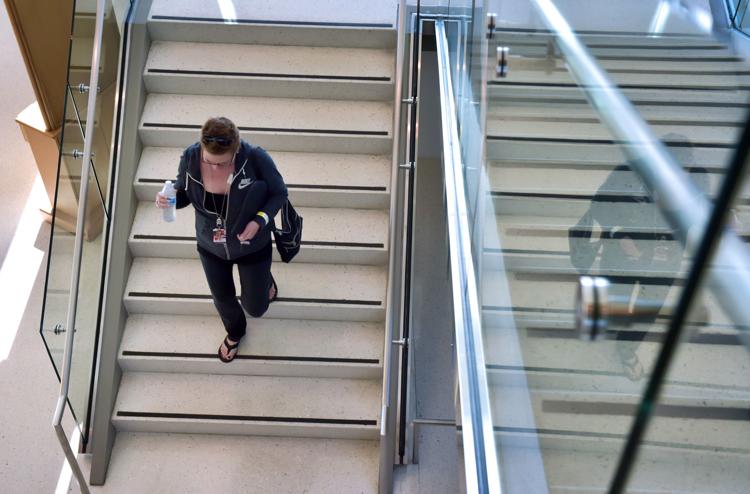 'Not gonna let cancer take control of me'
While some men in Hutchinson's family have had cancer, she's the first female in her family to be diagnosed with breast cancer.
That's not uncommon. About 85 percent of breast cancers occur in women who have no family history of the disease, according to breastcancer.org.
The lifetime risk for women to get breast cancer is 1 in 8, according to breastcancer.org. And 81 percent of breast cancers are diagnosed among women ages 50 and older each year, according to a 2017 study published in A Cancer Journal for Clinicians.
For Hutchinson, chemotherapy would be needed to shrink the 6-centimeter lump on her chest before a surgeon could attempt a lumpectomy — the removal of the affected portion of the breast.
The first chemo treatment inside LGH's Ann B. Barshinger Cancer Institute came Jan. 29, with four drugs pumped for several hours through the port surgically placed underneath the skin on the left side of her chest.
"I'd be fine until 10 a.m. the next day," she said. "Like clockwork. Just my body would go limp. ... I was down and out for the next eight days."
It's why, with five remaining similarly intense chemotherapy treatments scheduled through May, Hutchinson reluctantly decided to stay away from the classroom for the rest of the school year.
But she took authority of her battle where she could, starting with shaving off her long, brown hair before it began falling out.
"I said, 'I want to take control of this. I'm not gonna let cancer take control of me and let my hair come out in clumps."
She soon bought a wig, tried it on once, then never wore it again.
"I just didn't feel like myself with it," she said.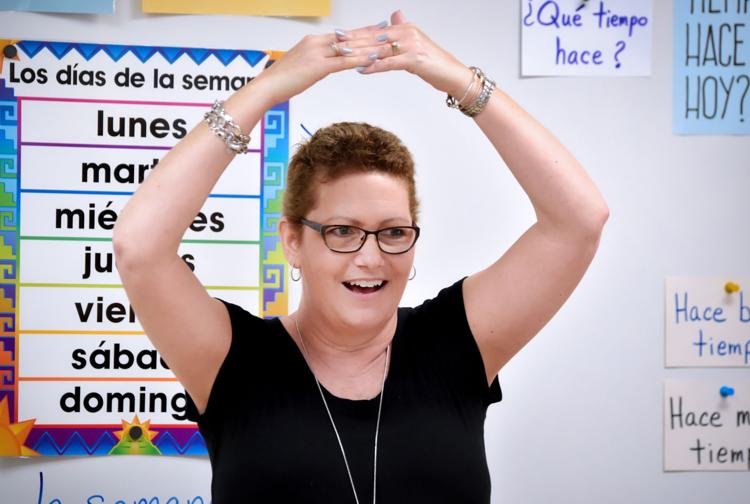 Taking control
Just like she did with her hair, Hutchinson tried to take control of her life where possible.
She checked in with the substitute teacher filling in for her at Centerville Middle School. And she attended all but one of the Manheim Township boys lacrosse games last spring to watch her youngest son, Bryce.
"She tried to maintain as much normal in her life as she possibly could," Tracy Sturla, one of Hutchinson's friends, said. "This journey has been faster than I thought it would be, I think, because it wasn't like she made anybody feel like it was anything."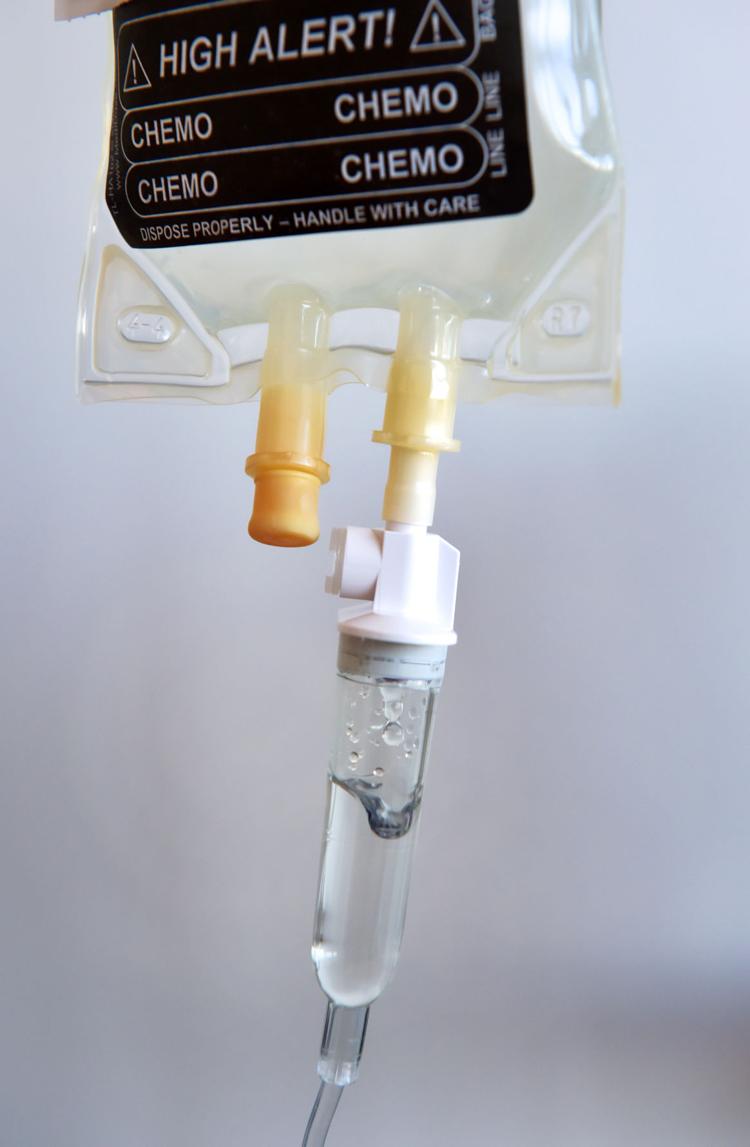 Sturla and Hutchinson's husband of 22 years, Byron, were by Hutchinson's side for nearly every chemo treatment. They also were at Hutchinson's bedside when she awoke inside the Hospital of the University of Pennsylvania on June 25 following a six-hour mastectomy and reconstructive surgery.
Groggy coming off the anesthesia, Hutchinson immediately asked, "Do I still have my nipples?"
Reconstructive surgery
The chemo did its job in shrinking the lump on the right side of Hutchinson's chest. But it needed to be removed through the lumpectomy. And at 4 centimeters in diameter, the mass was still large enough that it would leave a sizable dent in the upper right part of her breast. So, Hutchinson eventually opted for a bilateral mastectomy surgery to remove both breasts.
"The surgeon asked, 'Do you want one breast taken off or two taken off?' I said, 'If you are gonna take one off then take 'em both off.' I didn't want to have to worry about (the cancer) coming back on the other side," she said.
She also went with reconstructive surgery immediately after the mastectomy. And it just so happened that she was a good candidate for nipple-sparing surgery, which removed the breast tissue but left most of the overlying skin and nipple.
"It's part of my identity as a woman in having breasts," she said. "If I would've been older, like in my 80s, I might feel differently."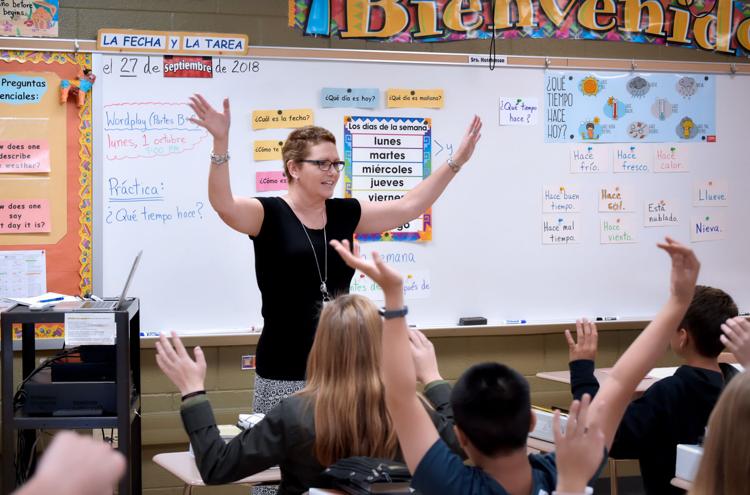 'God has a plan for me'
Hutchinson returned to the classroom in August for the start of the 2018-19 school year, her 35th year teaching.
"The kids. They're so enthusiastic," Hutchinson said when asked what she loves about teaching. "They're little sponges."
Hutchinson, her hair now a couple inches thick, made those comments Wednesday afternoon while sitting on a recliner chair on the second floor of the Ann B. Barshinger Cancer Institute. It's there she'll return once every three weeks through the end of January for a chemo treatment of Herceptin, a drug that prevents cancer cells from growing.
And before bed every night, she swallows one pill of Tamoxifen, a hormone-blocking medication. She'll do that every day for the next five years.
While Hutchinson's body no longer shows any signs of cancer, both the Herceptin and Tamoxifen are extra measures to ensure any possible undetectable cancer cells are killed and to prevent the disease from returning.
"My kind of breast cancer, if it's gonna come back, it's usually within five years," she said.
But she's not one for worry.
"It sounds ridiculous, but I just think God had a plan for me," she said. "I was someone who could handle this."
At the same time, Hutchinson recognizes she's fortunate in having a treatable type of breast cancer and that others aren't so lucky.
"I do think about that," she said. "Everybody says I've had such a positive outlook this whole time. But how would I have been if I had stage four breast cancer? I don't know. I can't answer that question," Hutchinson said. "But I think it gets back to encouraging women to get their breast exams. Do you check your breasts? Do you get your mammogram?"