Francesca McAndrews was almost to work on July 6 when she spotted the pig.
The tiny swine was dodging traffic on North Queen Street near Lancaster General Hospital when McAndrews saw it. She slammed on the brakes and, leaving her car to block traffic, chased it down.
"I thought it was a dog at first," recalls McAndrews, 27. "I chased her around a bit, and I finally caught her."
Fortunately, she had practice catching pigs at Manheim Fair.
"It seemed like forever, but it was maybe 5 or 10 minutes before I caught her," she says. "I was shaking and crying ... and she was bleeding. Traffic was stopping, and people were taking photos."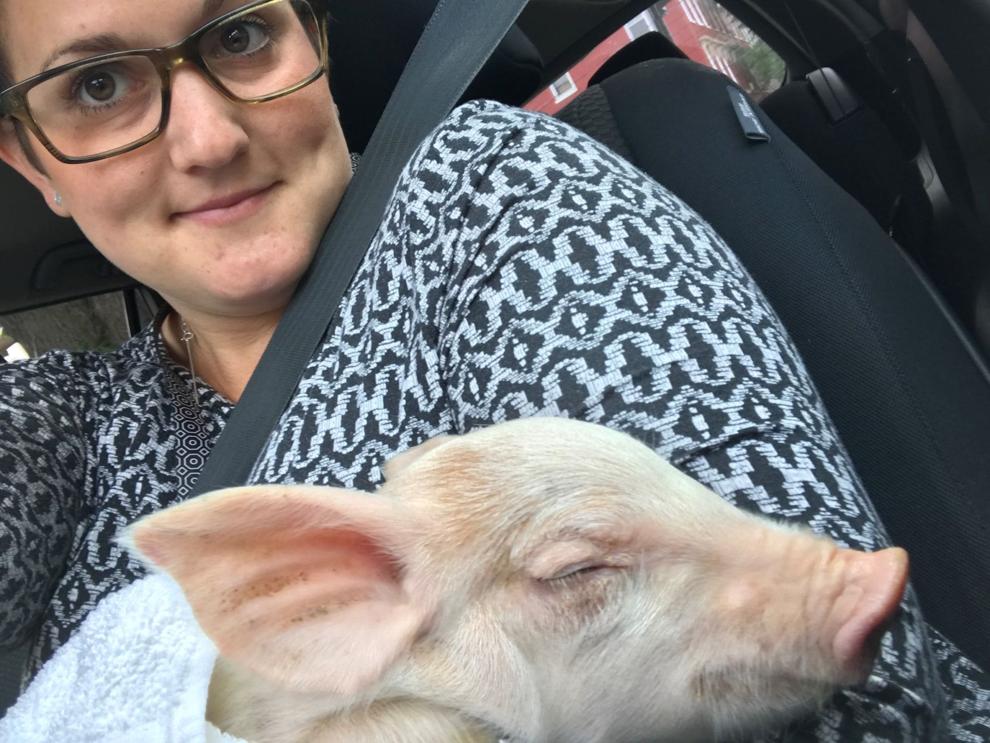 When she finally got a grip on the pig, McAndrews "took a selfie with her," she says. "I sent it to my boss and said, 'I'm gonna be late, I just caught a piglet.' And I took her to PETS."
A veterinarian at the pet emergency center on Queen Street determined the pig's leg injuries weren't serious, McAndrews says.
But the medical crisis for the 6-pound, 2- or 3-week-old piglet — whom McAndrews named Enzo when she still thought it was a boy — wasn't over.
Pig on the lam
Enzo, McAndrews says, "must have fallen off of a livestock truck in the city."
She didn't see anything on security cameras outside Lancaster General Hospital, where McAndrews is a social worker, but says Enzo's tail was cropped, "which is something they do when they're being raised for food."
She contacted city police, she says, who didn't have a missing pig report.
"She was a tiny little thing," she says. "Although she's growing really fast."
Now weighing 17 pounds, Enzo will eventually reach 600 to 1,000 pounds, McAndrews says.
But Enzo needs surgery, she says, because of a hernia she apparently sustained in the fall.
"If she gets much bigger, it could rupture," she says. "Without an operation, the condition is fatal."
Dr. John Hall will perform the surgery at VCA Bridgeport Animal Hospital, McAndrews says. Hall was not available Wednesday or Thursday for comment.
Wine, crepes & Enzo
Surgery will cost at least $600 — more, depending on Enzo's anesthesia and recovery needs, McAndrews says.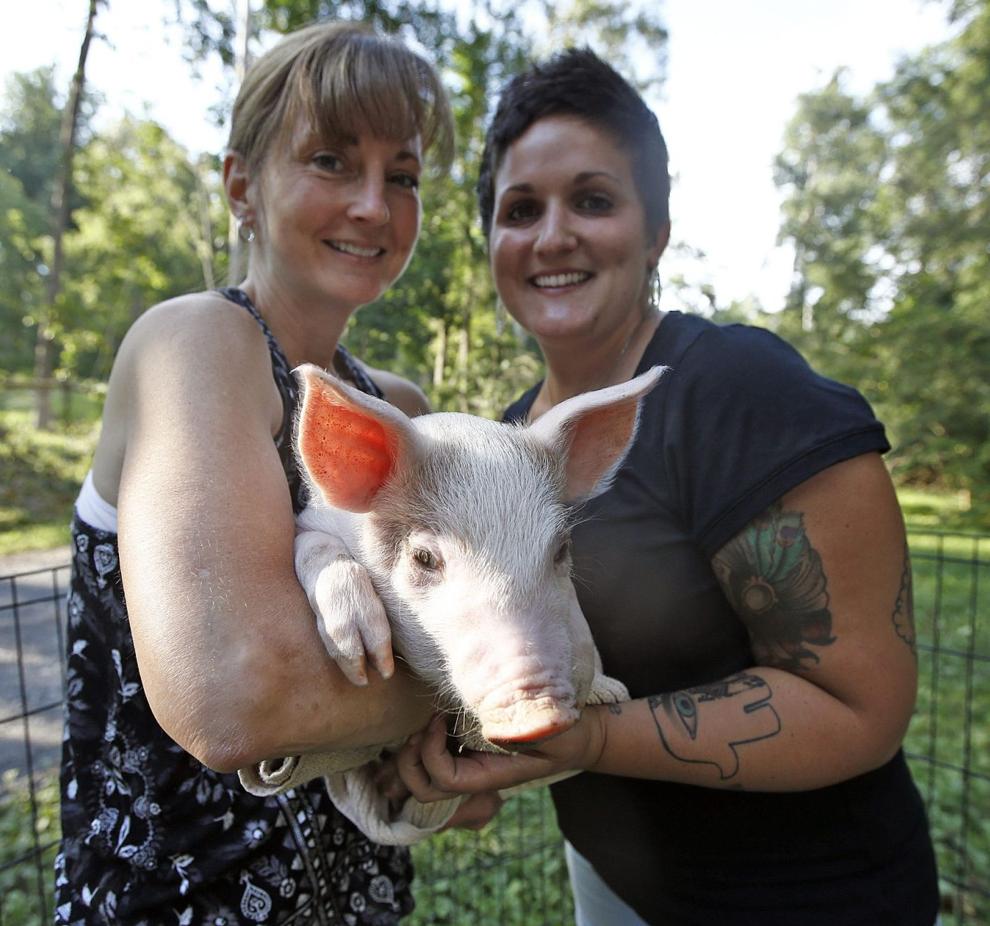 Two city businesses who heard about the piglet's plight are holding fundraisers to help.
The Candy Factory, at 342 N. Queen St., will host "Swine & Wine" from 7 to 9 p.m. Aug. 22. A suggested donation of $15 — all of which will go toward Enzo's medical bills — buys admission and an original comic about Enzo by Petterson Oliveira.
Rachel's Creperie, at 201 W. Walnut St., will host "Crepes with Enzo" from 7 a.m. to 8 p.m. Aug. 30. A portion of the day's sales will go toward vet bills.
There's also a GoFundMe campaign in Enzo's name.
McAndrews says Enzo will eventually live outside her rural home near Ephrata, which she shares with her husband, a mastiff and a shih tzu. For now, she says, Enzo is being fostered by Lorrie Dunn of Stevens, who has several pigs of her own.
"We're kind of co-parenting," McAndrews says. "I've been over there every day. I've been funding her care. But once we get the surgery, she will come to my house."
She'd hopes to use Enzo as the "startup mascot" for an animal-driven support service for women who've suffered trauma.