Debista Karorsa, 31, thought owning a home would forever be out of reach. He works at a QVC warehouse, and his wife, Abnet Beyene, 29, stays home with 1-year-old Nimona.
But after Nimona's arrival made their one-bedroom apartment even more cramped, Karorsa turned to nonprofit Habitat for Humanity, hoping to qualify for a no-interest mortgage on a home he would help build or renovate.
After a nearly two-month wait that seemed much longer, Karorsa a couple of days ago got a voicemail. It was from Habitat saying the family was approved.
"I was like jumping, saying 'I got it!" recalled Karorsa, describing his joy. "I'm so happy," agreed Beyene on Wednesday, holding Nimona outside their future two-bedroom home in the 300 block of South Christian Street.
The opportunity the home represents for the Karorsa family is exactly what Milagro House hoped to promote for struggling families when the nonprofit decided to sell a row of six houses on South Christian Street to Lancaster Lebanon Habitat for Humanity.
Milagro House has offered transitional housing for homeless women and their children — up to 10 families — on the block since 1998. In addition, Milagro House works with nine families at a former fraternity house at 669 W. Chestnut St.
But now Milagro House is selling the South Christian Street houses over the next two years because it wants to consolidate in a single area of Lancaster.
Big plans
"We do have some opportunities we're exploring," said Gail Rittenhouse, Milagro House executive director, adding it's too early to publicly discuss the plans. For now, she said, no changes are planned at the West Chestnut Street facility Milagro House has operated since 2005.
Rittenhouse said leaving South Christian Street is not retrenchment, but positions Milagro House for growth.
"This is an organization that is moving and growing and going to serve the community in even a bigger way," she said.
Habitat paid Milagro House $37,500 each for the houses at 314 and 316 S. Christian St., and expects renovations to cost $50,000 at each. It plans to sell the homes for $70,000 to $75,000.
Habitat then expects to purchase and rehabilitate Milagro House's other properties at 320, 322, 324 and 326 S. Christian St. over the next two years.
To be eligible, buyers must earn between 40 to 80 percent of Lancaster County's median household income of $69,300.
"What we really appreciated was Milagro House's vision that these homes stay in the service of affordable housing," Stacie Reidenbaugh, Habitat's executive director, said. "This neighborhood really makes sense for us to be working in because there's already a lot of momentum and neighborhood revitalization."
Rising neighborhood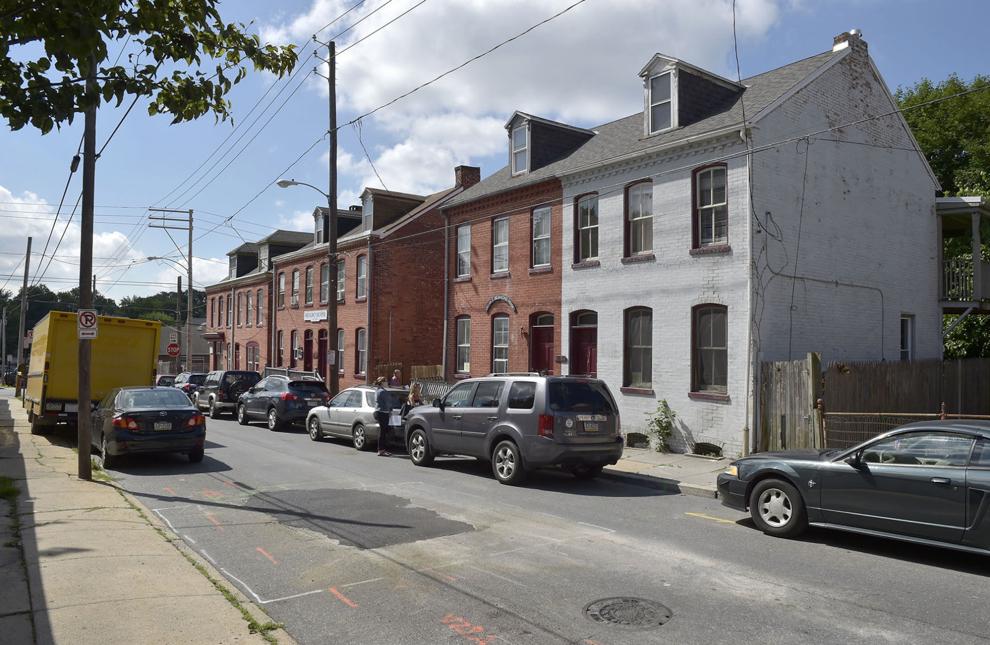 The Spanish American Civic Association built 13 for-sale townhouses nearby in the 400 blocks of North and Locust streets. The former Bright Side Development and Land Trust also built eight homes for sale on the 400 block of Locust Street. Nearby is The Mix at Arbor Place, a recently built teen center.
Now the work begins on turning the two well worn brick houses at 314 and 316 S. Christian St. into comfortable homes.
"We want this to be a neighborhood project," Reidenbaugh said. "We love our volunteers from Lititz and the suburbs, but we would love to have more volunteers from the city."
Karorsa said he's ready to start working on the house, too. "I've held on to vacation for that," he said.
Want to volunteer? Contact Habitat at volunteer@llhfh.org, or Milagro House at patty@milagrohouse.org.