To celebrate the nicer weather, we thought we'd revisit a previous story that offers an idea of what you can do to take advantage of the gorgeous weather.
(This story was originally published on May 20, 2015)
Here are 10 spots throughout Lancaster County that offer great hiking trails for experienced hikers or those just out for a relaxing stroll:
1. Lake Grubb Nature Park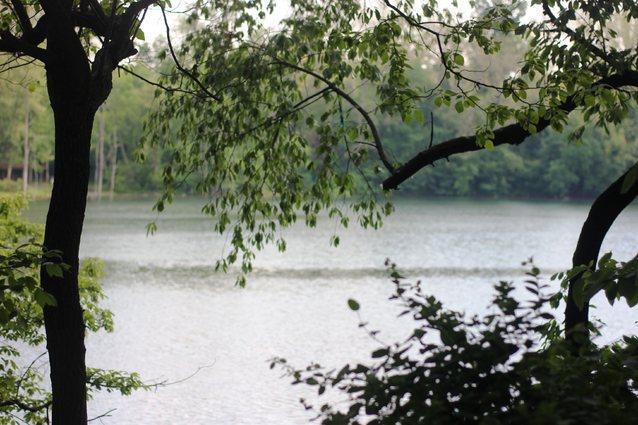 Tucked away off Hempfield Road in West Hempfield Township, Lake Grubb Nature Preserve features a manmade lake in the ore pit of an iron mine excavated in the 1800s.
Surrounding the lake is a mile-long hilly trail that includes several designated fishing areas.
While seasoned hikers may not find this trail to be challenging, it does offer a nice scenic place to take a walk and admire the views. 
2. Conewago Recreation Trail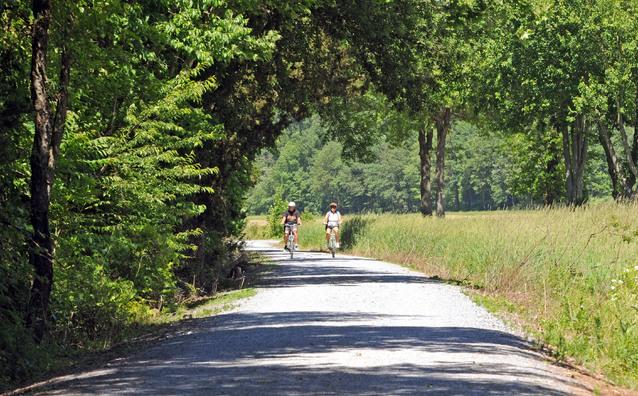 This rail-trail begins at its largest parking area off Route 230 in Elizabethtown and continues along Conewago Creek until it crosses the Lancaster/Lebanon County line and becomes the Lebanon Valley Rail-Trail.
The two connected trails are used by more than 125,000 bicyclists, hikers, runners, cross-country skiers and horse riders annually, according to a 2011 study conducted by Rails-To-Trails Conservancy.
The variety of habitats along the hike, which goes through wetlands, farms, forests and a rock field, draws in bird-watchers and nature enthusiasts.
3. Homewood Nature Preserve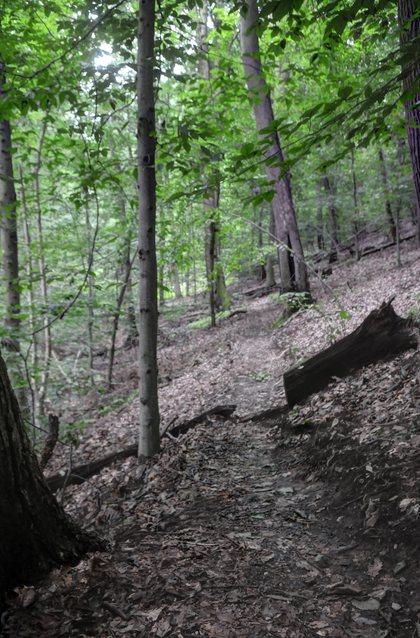 The land that makes up the 39-acre preserve in Paradise Township offers views and access to Eshleman Run, a headwaters tributary of Pequea Creek.
The trail begins next to a big red barn on Keneagy Hill Road. It goes down a small grassy hill toward the woods before winding up a narrow dirt path to a more wooded area.
Seasonal floral specialties at the preserve include field perennial wildflowers in the summer, red maples in the fall and woodland wildflowers in the spring.
4. Landis Woods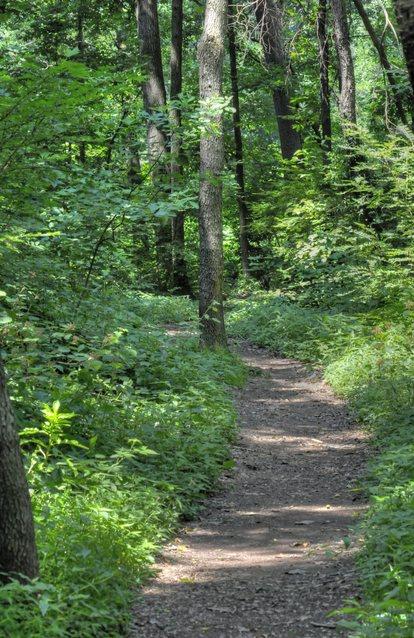 This 69.9-acre park offers one of Manheim Township's largest tracts of natural, undeveloped land.
The park's circuitous Red, Blue, Yellow and Heritage trails, total 3.6 miles.
The Red Trail, at only 0.3 miles, is the clearest of the four, consisting mainly of gravel and dirt. The other trails are more rugged and overgrown with plants.
5. Northwest Lancaster County River Trail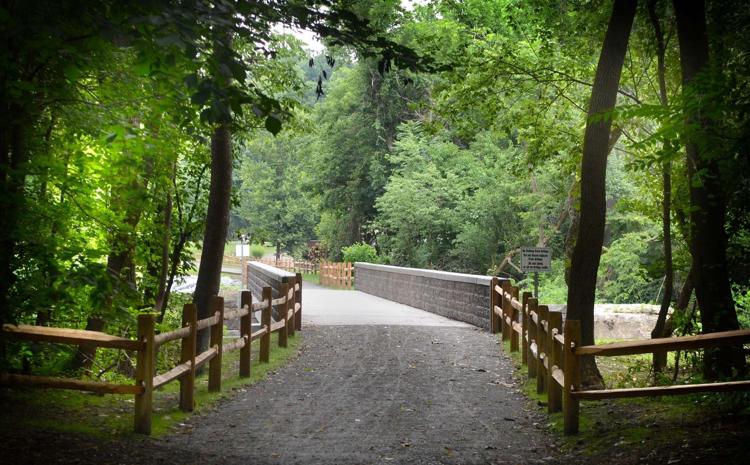 Since they were opened up for public use last summer, the White Cliffs of Conoy have become a popular destination for hikers on the Northwest Lancaster County River Trail.
It is just one of the several highlights of what by the end of 2016 will be a 14-mile, multiuse paved trail along the Susquehanna River that will stretch from Columbia River Park in Columbia Borough to the Falmouth Boat Access in Conoy Township.
6. Horse-Shoe Trail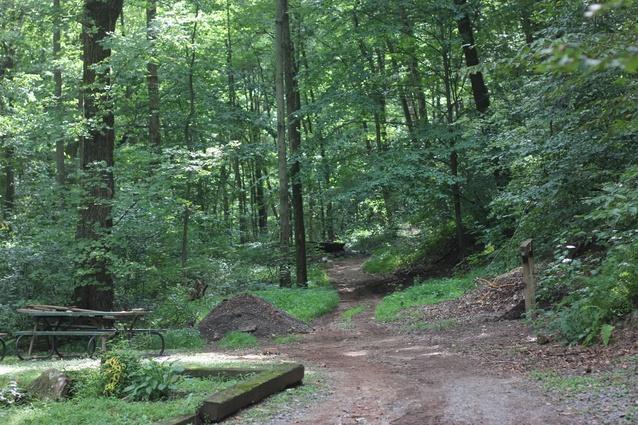 The Horse-Shoe Trail begins at Valley Forge Park and ends at the Appalachian Trail at Stony Mountain, running through Chester, Berks, Lancaster, Lebanon and Dauphin counties.
The Lancaster County portion stretches about 30 miles through East Cocalico, West Cocalico, Clay, Elizabeth and Penn townships.
Altogether, the trail covers about 140 miles. 
7. Ferncliff Wildflower and Wildlife Preserve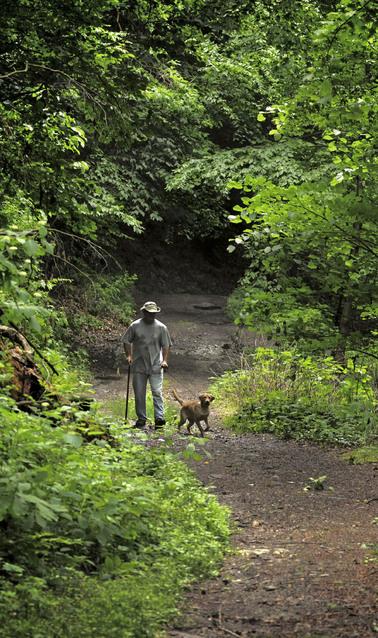 The 64-acre preserve in Drumore Township is recognized as a National Natural Landmark by the National Park Service.
The .6-mile trail follows a dirt path along Barnes Run, a direct tributary of the Susquehanna River.
The path is relatively easy and level, although hikers will need to cross a small creek on loose stones.
8. The Cove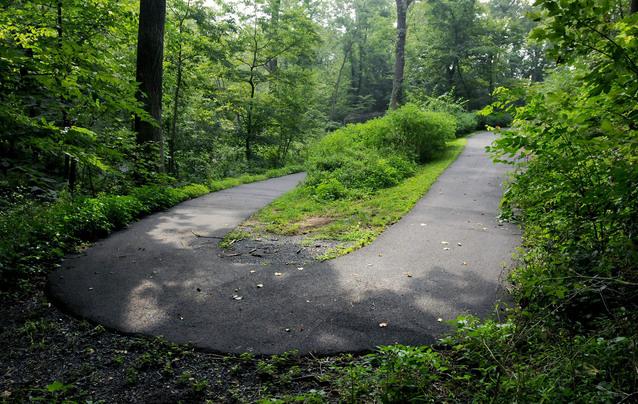 Cove Outlook Park in Mount Joy Township is a popular spot for dogs, walkers, joggers, cyclists, family reunions and bird-watchers.
Three trails provide wildlife-gazing potential: one paved, one stone and one mulched. Depending on the chosen path, outdoors enthusiasts can hike past the park's butterfly or rain gardens, bird sanctuary and horseshoe pits.
There are also several small dirt paths that branch off the gravel and paved trails.
9. Farmingdale Trail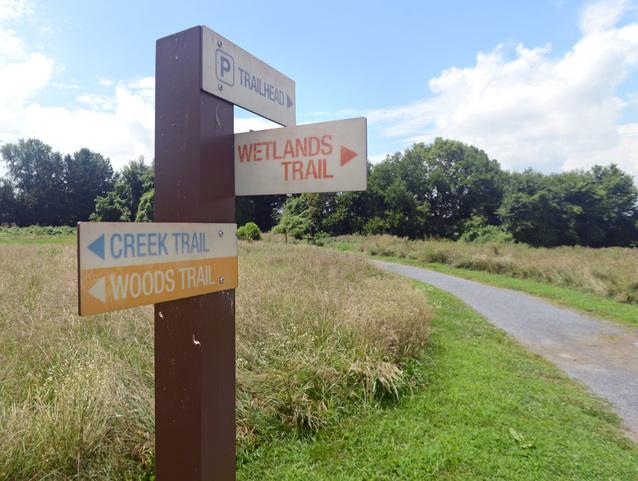 The name of this trail in East Hempfield Township's Noel S. Dorwart Memorial Park is a bit misleading.
Farmingdale Trail is not one but three trails.
The three trails are made of gravel and can become steep or rugged, and because of the narrow trails and rough terrain, motorized vehicles and horses are prohibited.
10. Shiprock Woods Nature Preserve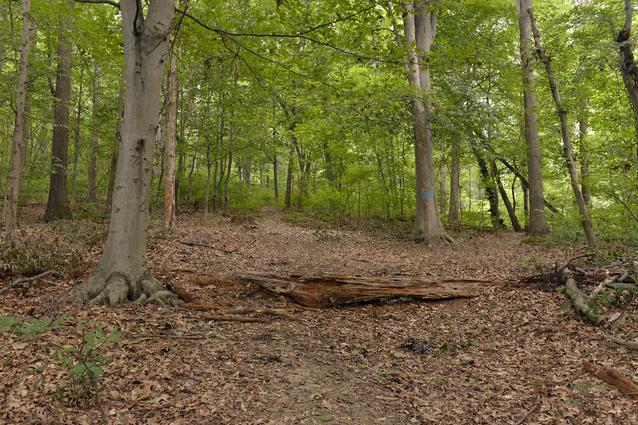 Located in West Lampeter Township and at just over a mile in total length, the 38-acre preserve's blue-blazed loop trail is a great beginner hike.
Hikers who take the right path will be rewarded with a collection of 150- to 200-year-old oak trees.
Hikers in mid- to late-summer should take care to carry a stick. Since the preserve is wooded and less frequented, friendly spiders tend to build webs across the trail. 
(Tucquan Glen Nature Preserve was included in the original story, but the Lancaster County Conservancy last July urged people to visit its other preserves because the high rate of use is damaging the land at Tucquan and working against its stewardship mission to "carefully manage our lands for the health of the ecosystem, the enjoyment of the public and the benefit of Lancaster County.")
---
Is your favorite hiking spot not on this list? Share it with us in the comment section below the map.
---