First United Methodist Church of Lancaster will be the new home for a volunteer-run breakfast program that feeds more than 100 people every Monday through Friday.
Starting Aug. 1, the church at North Duke and East Walnut streets will begin serving a simple breakfast of cereal, fruit, coffee, juice, toast and peanut butter. The meal is free.
The 1,100-member First UMC congregation last month agreed to take over the breakfast after St. James Episcopal Church announced it would no longer host the meals and wanted to pass it to another church or organization.
"There's been a group of people (in the congregation) that have really stepped up and said this is what we should be about," the Rev. Kerry Leeper, First UMC associate pastor, said.
First UMC is looking to recruit teams of volunteers from other faith-based, community and student groups to help assure the breakfast is fully staffed every weekday. Volunteers must go through training .
30 years old
St. James started the breakfast 30 years ago. It draws people experiencing homelessness, workers struggling to make ends meet, and retirees and others who find the meal an opportunity to socialize. St. James served nearly 31,000 meals last year.
Local human service providers consider the weekday breakfasts a crucial part of the community's effort to reduce hunger and food insecurity. Other faith-based and community groups run soup kitchens, community meals and food pantries in the city, but only St. James offered weekday breakfasts.
St. James will continue serving breakfast through July 29. The meal is served at its parish house, 119 N. Duke St.
"It was a privilege to inaugurate and maintain this ministry at St. James these last 30 years," the Rev. David Peck, rector at St. James, said. "We will miss the daily rhythm of our neighbors and guests greatly."
Preschool plans
St. James is planning to renovate its parish house into an early learning center in partnership with Lancaster Mennonite School. It will serve low-income children.
At First UMC, kitchen renovations are underway to prepare for the breakfast program.
The breakfast will be served from 8:30 to 9:45 a.m. in a second-floor gymnasium/multipurpose room the church calls its "celebration center." The celebration center and a commercial-grade kitchen were part of a $9 million church expansion in 2006.
"This was really our vision and dream from the start, to be using that facility as a feeding ministry," Leeper said.
The new venue will triple the space that St. James had available, and an elevator will make it accessible for those with disabilities. The added space will also make it more convenient for guests to meet privately with representatives of human service agencies who attend the meals to connect people with services.
"With transition comes this unique opportunity for change and improvement," Janet Allen, First UMC minister to families and children, said.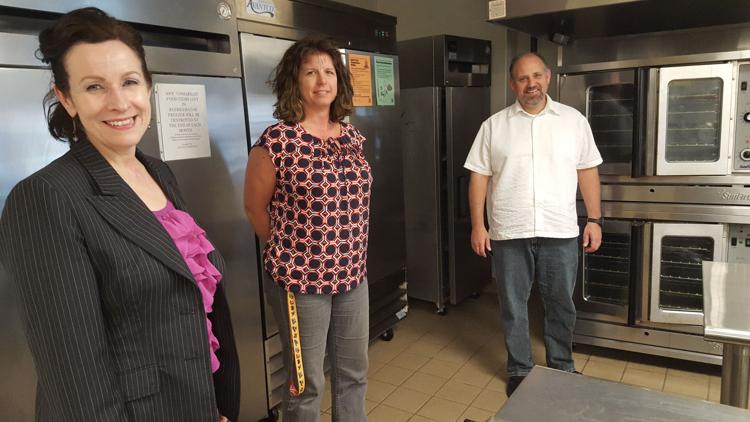 First UMC leaders said the congregation can't meet all of the breakfast needs on its own, and will need manpower and financial assistance from the wider community.
About 10 volunteers are needed for each meal, and the church estimates the program will cost about $100,000 annually. First UMC has commitments of $77,000 so far for its first year, including $25,000 from an anonymous donor.
Volunteers from St. James Episcopal plan to be part of the team serving breakfast at First UMC. The congregation has also pledged $15,000 to help support the breakfast through at least 2017. Several United Methodist churches in Lancaster County have also pledged support.
"This is not just a First UMC thing," Leeper said. "We are grateful for the partnerships that will develop."
First UMC's long-term vision is to create a nonprofit organization to handle the breakfast program's administrative and fund-raising tasks.