A former Elizabethtown High School music teacher is accused of exchanging sexual text messages with a student.
Cody L. Floyd, 25, of Mount Joy, was charged Tuesday with first-degree misdemeanor corruption of a minor.
Floyd met the 17-year-old female student and watched a movie as the two held hands, according to the Lancaster County district attorney's office, which said no physical sexual contact is alleged in the charge.
Over 8,000 text messages were found on the girl's cellphone, some of which were sexual and flirtatious, and included discussions of consuming alcohol, according to the district attorney's office.
In some messages, the district attorney's office said Floyd texted that he loves and misses the student and wants to kiss and cuddle her.
Floyd also texted that he can't be prosecuted when the girl turns 18, according to charging documents.
The contact occurred between December 2016 and this past April, the district attorney's office reported.
It added that on April 21, a school district administrator reported allegations of an inappropriate relationship between Floyd and the student to the district's school resource officer.
Multiple school district staff reported Floyd and the student were alone in Floyd's office with the lights off, according to the district attorney's office.
In a statement posted at its website, the school district said it was made aware of the charge against Floyd Tuesday afternoon.
Story continues below the statement.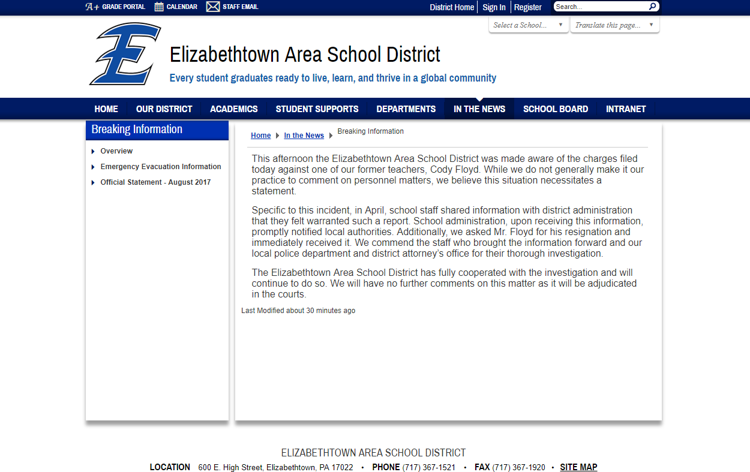 "While we do not generally make it our practice to comment on personnel matters, we believe this situation necessitates a statement," the post says.
"Specific to this incident, in April, school staff shared information with district administration that they felt warranted such a report," the statement reads.
It says the school administration "promptly notified local authorities" and asked for and received Floyd's resignation.
"The Elizabethtown Area School District has fully cooperated with the investigation and will continue to do so," the statement says.
Floyd had not been arraigned Tuesday evening. He is making arrangements through his attorney to appear in district court, according to the district attorney's office.
Elizabethtown police Detective Shane Deardorff filed the charge, which was approved of by assistant district attorney Fritz Haverstick.