In 1953, Robert Howells Sr. helped make and sell chicken at the Sertoma Club's first chicken barbecue at Long's Park.
He's still doing it 65 years later.
"It just gets bigger and bigger and bigger every year," says Howells, 89, of Lancaster. "It's fabulous. You can't believe all the people who come to the park that day."
Last year: Sertomans grill 24,000 chicken splits for 64th annual barbecue
He's proud to be a part of the long-running tradition. He's prouder that his son, Robert Howells Jr., is carrying on the family tradition.
---
Did you know?
Guinness World Records has recognized the Sertoma barbecue as the largest event of its kind in the U.S.
---
Howells says he took his then 10-year-old son along to help with the barbecue in 1972. He's been doing it ever since.
"He did everything over the years," the father says. "Cooked the chicken, put them on the racks, bagged them and all."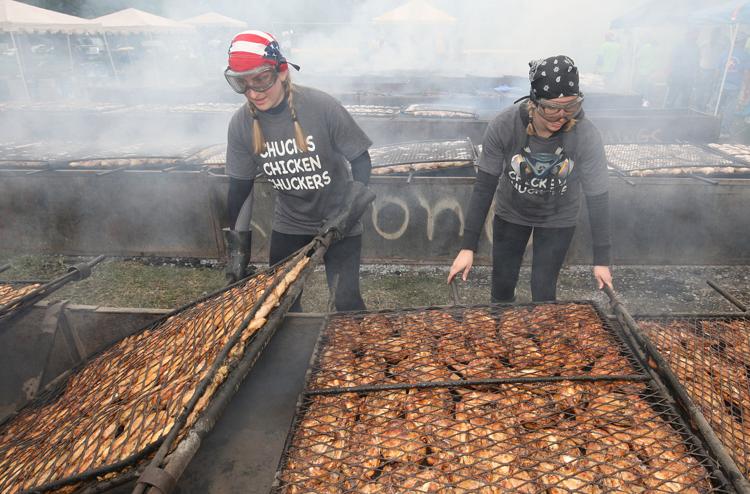 Quality control
This year, the elder Howells will be supervising ticket sales. His son will be heading quality control to ensure the chicken is up to Sertoma standards.
"I'll be making sure the chicken isn't over- or underdone," Howells Jr. explains. "When you're cooking 4,000 at a time, you need to keep the quality consistent throughout."
It's a leap from the days when "Bobby" Howells was too small to get near the barbecue pits.
"You aren't allowed in the pits when you're a little kid," he says. "So I'd help put the food together, put together the boxes. As I got older, I worked my way into the pits."
---
By the Numbers
65 — years since the Sertoma Club held its first chicken barbecue
137 — dollars raised at the first barbecue in 1953
500 — volunteers involved in the barbecue this year
4,000 — volunteer hours dedicated to the event
23,200 — dinners being prepared for Saturday
100,000 — the sales goal for this year's event
1.7 million — barbecue proceeds donated by Sertoma to Long's Park over 65 years
2+ million — total dollars raised by the event over 65 years
---
He followed his dad's footsteps and joined Sertoma in 1982, and he soon found himself on the barbecue committee, of which he is a former chairman.
It's a year-round commitment, Howells Jr. says. The committee will meet after this year's event "to figure out what went wrong, what was good, what we can do better," he says. They'll start preparing for the next year's barbecue in September.
Largest of its kind
The barbecue runs Saturday from 10 a.m. to 6 p.m. Tickets are $10 in advance or $12 on Saturday and are available online at lancastersertomabbq.com.
Guinness World Records has recognized the Sertoma barbecue as the largest event of its kind in the U.S.
In 1953 it raised $137. Since then, the event has raised more than $2 million, about $1.7 million of which has gone to sustain Long's Park.
Photos: 64th annual Sertoma Club of Lancaster Chicken Barbecue
Other beneficiaries this year include Compass Mark's Kids Kamp, Head Start and the annual Naturalization Day luncheon for new citizens.
Hundreds of volunteers will gather Friday to begin assembling 23,200 meals, each including half a chicken, a banana, dinner roll, chips, pretzels, apple sauce, licorice, ice cream and a drink.
Long day, good time
Howells Jr. says he'll be at Long's Park most of the day Friday preparing for the event. He'll be there Saturday from midnight to 7 p.m.
"It's a long day," he says. "But we have a good time. We know that people really enjoy it. And it's amazing to see how it all comes together."
Although his father isn't spry enough to man the pits, his son says he's glad to see him still participating.
"He enjoys just sitting and talking to people," he says. "When you've been doing it this long, you don't want to miss one."