A perfect storm of weather, mice and ticks could make this summer the worst ever for Lyme disease in Lancaster County.
That's daunting news because the 514 local residents diagnosed with the potentially debilitating infection in 2015 marked a tripling from the previous year, according to the U.S. Centers for Disease Control and Prevention.
And that's with experts saying actual cases are 10 to 12 times higher because many infections go unreported or misdiagnosed.  Local figures for 2016 have not yet been released.
Pennsylvania has led the nation in Lyme cases since 2011 — more than 12,000 new cases in 2016 —  and southeastern Pennsylvania is the hotspot. Since 2015, Lyme disease cases have been recorded in every county in Pennsylvania.
If untreated, Lyme disease can blow up to cause chronic and debilitating arthritis, fatigue, impaired motor functions and senses, an enlarged heart, an even death in rare cases. When caught promptly and treated with antibiotics, full recovery is the norm.
Epidemic building?
The forecast for an exploding blacklegged tick population across Pennsylvania this summer comes as a special state-ordered task force on Lyme disease warns that both the medical community and the public need to become more aware of the dangers to deal with what is building to be an epidemic.
Susan Pogorzelski, a 33-year-old Lititz woman, couldn't agree more.
She nearly died from Lyme disease which she contracted when she was 13, but was misdiagnosed with having other illnesses by doctors for 15 years, she says.
Finally, after her own research and insistence, she was tested and Lyme disease was confirmed.
Unfortunately, she says, her story is not uncommon.
"People really need to be aware of how dangerous it is," says Pogorzelski, who writes for the Global Lyme Alliance and gives cautionary talks about her experience. May is National Lyme Disease Awareness Month.
"Because Lyme disease is so misunderstood and denied, people sometimes are left in the lurch," she says. "The way it's exploding throughout Pennsylvania — it's totally an epidemic and it's being ignored. It can be prevented."
Lyme symptoms
Common symptoms include fever, chills, joint aches, swollen lymph nodes, headache, fatigue and, 70-80 percent of the time, a rash that looks like a bull's-eye around the tick bite.
Misdiagnosis is a problem, says the task force, but there are other fundamental problems in detecting Lyme disease. For example, blood tests often produce a false negative if given within 30 days of a person contracting Lyme disease. And a patient using antibiotics may also block accurate results. Moreover, there is strong disagreement in the medical community over the accuracy of blood tests.
And insurance companies don't cover all Lyme tests, which may discourage people from testing.
There currently is no vaccine on the market that protects against Lyme disease for humans.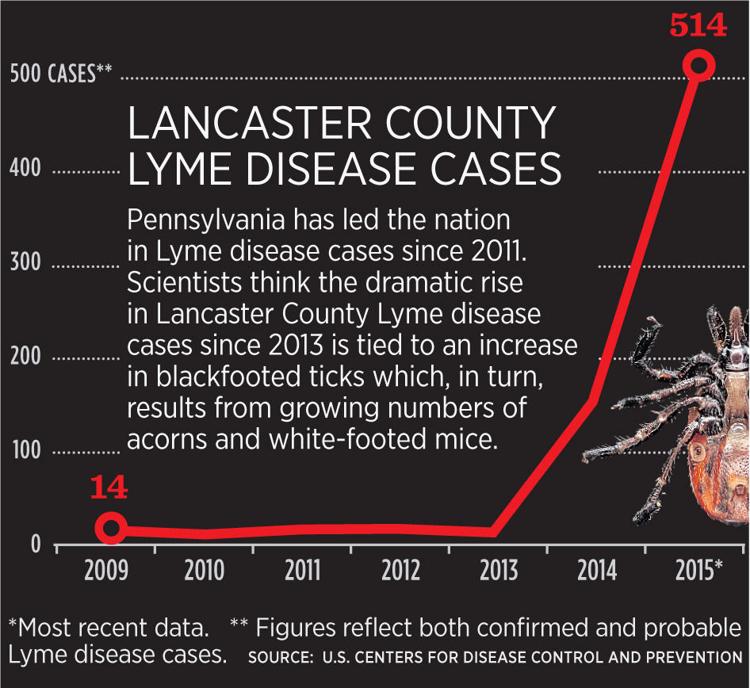 Reasons for tick explosion
Experts are warning of an infestation of blacklegged ticks — also known as deer ticks — this summer. These ticks, which are much smaller than common dog ticks, are about the size of a sesame seed and spread Lyme disease to humans when they bite.
But an explanation goes further into the ecosystem. First, there has been an unusually heavy acorn crop by certain oak trees the last two autumns.
That, in turn, has led to a population boom of white-footed mice that feast on the acorns in northeastern states. Even more than whitetail deer, the mice are reservoirs of Lyme disease and are frequent hosts for ticks that become infected themselves.
Consecutive unusually warm winters — some name climate change as the cause — also are cited for failing to knock down the tick population and allowing the insects to start seeking human hosts earlier in the spring.
What about cats and dogs?
Cats aren't affected by Lyme disease but dogs are. And most dogs that get outdoors in Lancaster County are exposed to blackfooted ticks, warns Brenda Deluca, a veterinarian and owner of River Hills Veterinary Hospital in Conestoga.
"It is a huge problem, just like in people," Deluca says. "It's very prevalent where I practice. They show up very sick with symptoms of joint pain as well as not eating and fever. If untreated, it can progress to kidney failure."
She says she sees about one new case of a dog with Lyme disease a week.
 She strongly recommends having dogs vaccinated against Lyme disease. Vaccinations consist of a series of two shots followed by annual boosters. The cost is around $$35 to $40 per shot.
She also recommends using flea and tick preventatives on dogs.
More common ticks and larger dog ticks don't spread Lyme disease.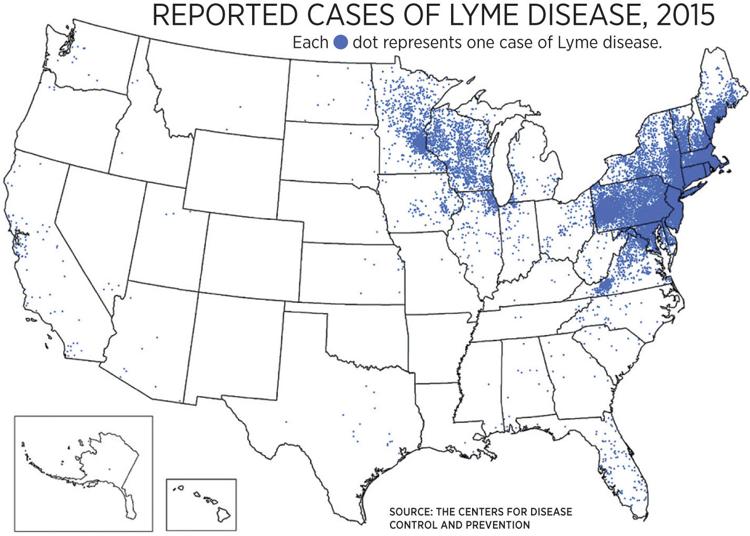 The Lyme and Tick-Borne Illness Support Group of Lancaster County hosts a talk: "When It's Not Just Lyme...What Else Did You Get From that Tick?" on Thursday, May 11, at 7 p.m. at Integrative Health Consultants, Suite 120, 1135 Georgetown Road, Christiana. The talk will be presented by Rita Rhoads, MPH, CRNP.