When they first saw their future home, Debista Karorsa and his wife, Abnet Beyene, had second thoughts.
The house was filled with lead paint, asbestos and mold. The kitchen needed major work. The second floor was one large room. The front porch leaned away from the foundation, leaving a big gap.
They walked around the house in Lancaster's Churchtowne neighborhood with their construction expert, who had a plan.
"How is he going to do this?" Karorsa thought.
Six months later, they gathered in the same house that had been completely renovated.
Now it was a home — their home.
At the end of a dedication ceremony Saturday, the couple received the keys to the bow-wrapped front door from Lancaster Lebanon Habitat for Humanity.
The couple is the latest to help renovate and then buy a home with a no-interest mortgage from Habitat for Humanity.
They joined close to 250 volunteers to get the job done. The house is the first of several on the South Christian Street block that Habitat plans to renovate with the hope of helping to revitalize the neighborhood.
"This particular neighborhood has so many wonderful qualities and so much history and is such an important part of our city," said Stacie Reidenbaugh, the agency's executive director. "It's important for us to make sure that it remains a connected and viable neighborhood. We want to improve the values of the homes, which is one reason why we do this from a structural standpoint. From a personal human standpoint, we believe that everyone deserves a decent place to live."
Future homebuyers must meet income guidelines and other qualifications, including having lived in Lancaster County for a year and the need for housing. Once accepted, they must spend 500 hours of sweat equity working on Habitat homes, as well as take financial education and home-maintenance classes.
Karorsa and Beyene signed up after they had a son and were looking for a home bigger than their one-bedroom apartment near Park City Center.
The couple finished their sweat equity in record time, Reidenbaugh said, and they continued working on their future home for several months.
"They're very hard workers," she said.
Habitat bought the house from Milagro House, which had used the home for transitional housing for homeless women and their children.
Seeing the potential
The 1880s-era home at 316 S. Christian St. had potential amid the problems. City of Lancaster helped with lead abatement, and crews removed asbestos and mold.
Then, volunteers led by Habitat Director of Construction Jim Eberly added walls in the second floor to create two bedrooms. They fixed the kitchen and bathroom.
They also removed a rickety rear fire escape and replaced the front porch.
Eberly wanted to reuse the metal and taught Beyene how to weld. She welded a new rail for the front porch after she completed her sweat equity hours.
Companies including Wells Fargo, BB&T, PPL and PNC Foundation donated money for the project and recruited employees to volunteer on site.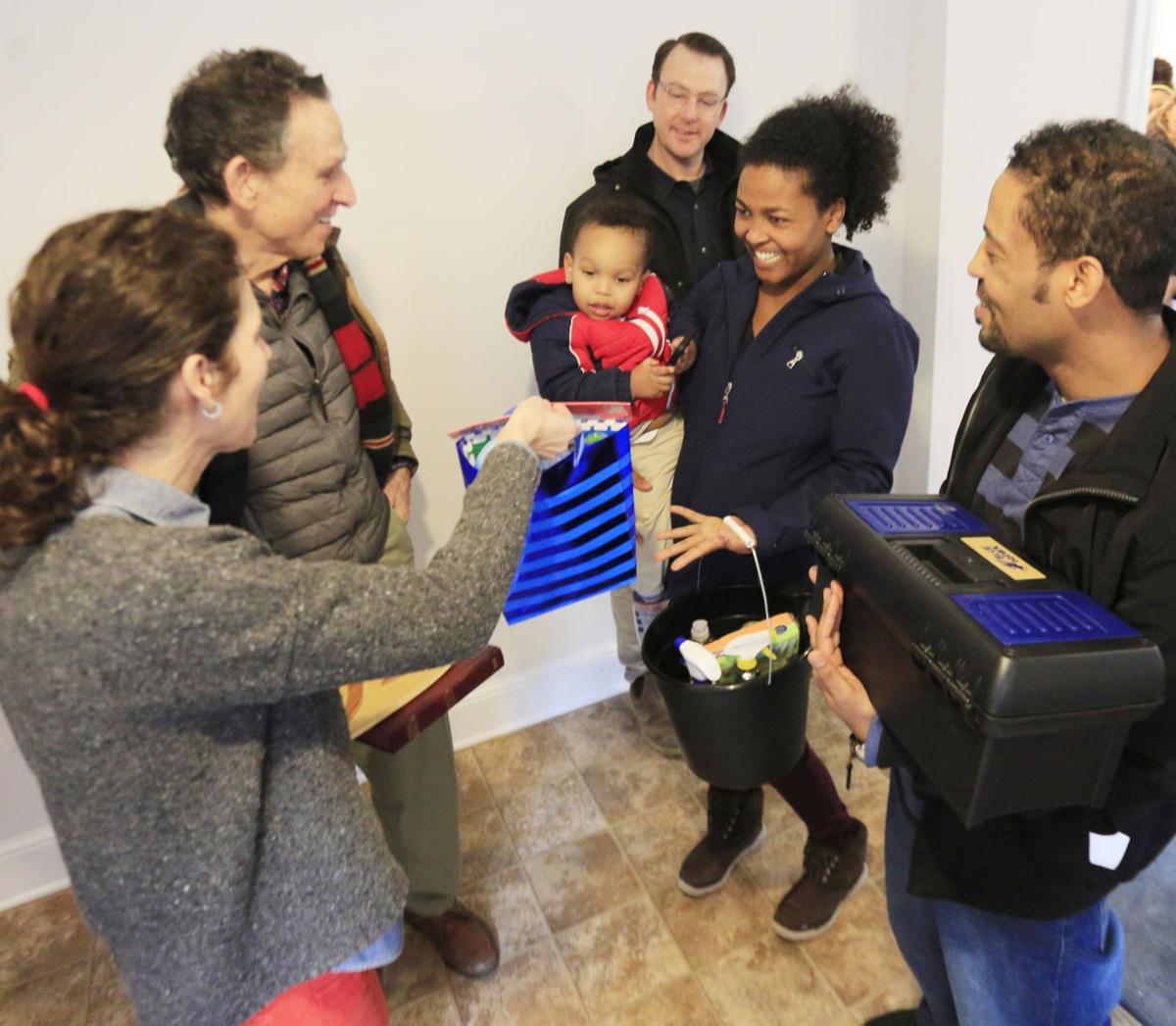 On Saturday, Charles Yohe, president of the Habitat board, gave the couple the keys to their new house and toys for Nimona, now 18 months old.
Karorsa and Beyene said they were excited and grateful for the people who helped make the house a home.
"I am so happy to help people," Karorsa said. "I don't have that capacity now, but that is my wish."
Once the house has its occupancy permit, the family will move in. The appraisal for the home isn't final, but the house will probably be worth about $75,000, Reidenbaugh said.
Habitat is renovating the house next door and has plans to purchase two more houses in the block. There also are plans to build four to eight homes in Lititz in the future.
Homebuyers are needed for these locations, as well as volunteers, especially once the work starts, Reidenbaugh said.