Land next to a sewage-treatment plant in Ephrata Borough could become the home of a strategic manure-to-electricity plant to boost efforts to reduce farm-related runoff pollution into the Chesapeake Bay.
Borough Council is scheduled to vote Monday night on a nonbinding letter of interest to work out details of the project, which is being pushed by the U.S. Environmental Protection Agency.
EPA is already providing technical assistance to the borough for the project.
Borough officials said they were told the agency hopes the venture can be a model elsewhere in Pennsylvania and even other states with large waterway cleanups .
"The Ephrata gasification project provides a great example of achieving multiple benefits for the borough and the watershed," said EPA spokesman David Sternberg.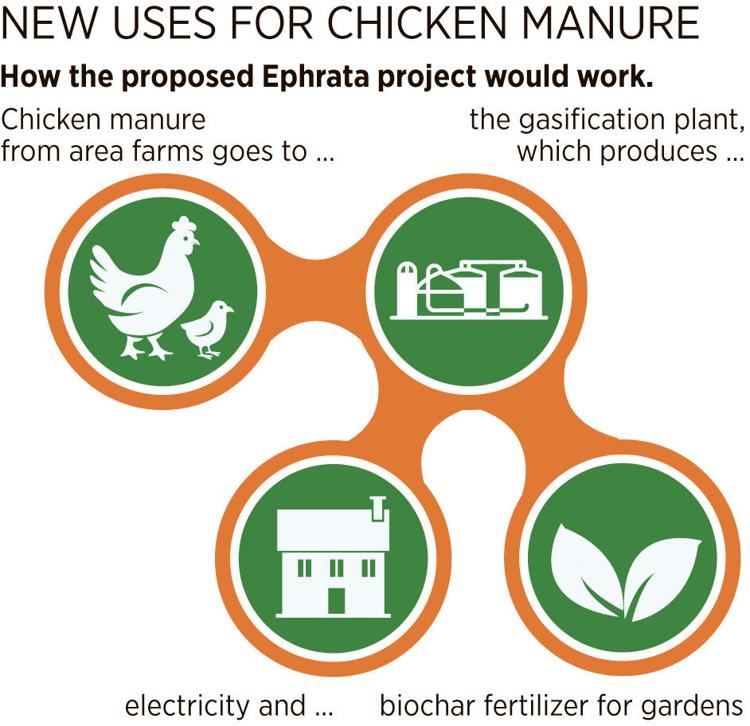 Initially, it's envisioned that poultry farmers in northern Lancaster County and southern Lebanon County would bring poultry litter to a gasification plant that would be built at the borough's wastewater plant at 405 Reading Road (Route 272), across from the Ephrata Public Library.
Manure from cows and swine could also be considered.
Electricity and 'biochar'
The manure would be burned in a gasifier to produce electricity, some of which would be purchased by the borough at a savings.
The plant could cost $6 million to $8 million, according to Earthcare, formerly called Coaltec Energy, the Indiana-based company that would build and operate it.
The mulch-looking end product, a fertilizer called biochar, could be sold to the public as a garden supplement. EPA has been in discussions with Walmart officials to sell the product at local stores.
Biochar is promoted as an all-natural, nutrient-rich boost to soil quality that eliminates the need for chemical fertilizers. Also, biochar proponents claim remaining nutrients are locked into the product and resist runoff if placed on fields.
Odor control
Michael McGolden, Earthcare president, said the high-heat process and biofilters mean there would be no malodors off the property.
"We will not contribute to the existing odors. Hopefully, we will make it better outside," he said.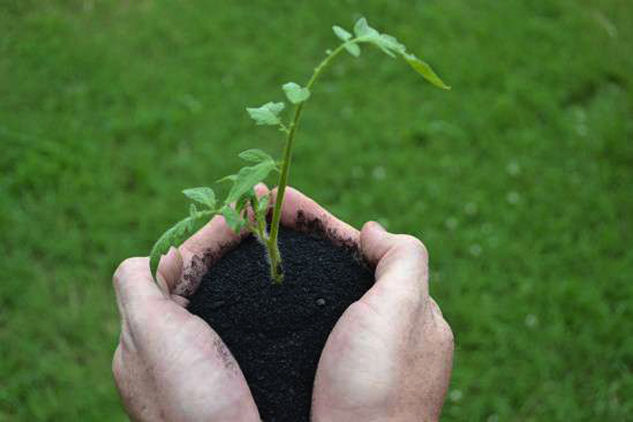 Earthcare would build, own and operate the plant.
EPA sought out the borough as a desirable site as it looks for new ways to stem the flow of nutrients — especially from agriculture — flowing off fields and into streams that eventually reach the Chesapeake Bay.
Making the manure a power source would keep excess manure off of fields, where runoff can occur.
Environmental benefits
Lancaster County is the largest source of nutrient runoff in Pennsylvania, which is way behind in its commitment to reduce the pollutants.
Too much phosphorus and nitrogen in the bay causes algae blooms that use up oxygen needed for fish, grasses and other living things.
"It has value for the environment and the borough. It just looks like a win-win for everybody," Tom Natarian, Ephrata's director of operations, said of the proposal.
Added state Rep. David Zimmerman of East Earl, who has been involved in the project, "I think there's tremendous benefit here.
"In this county, we do have more manure than we can manage, so this would be one way to utilize some of that while getting it out of the fields.
"These are the kinds of things that our state and federal governments should get involved in."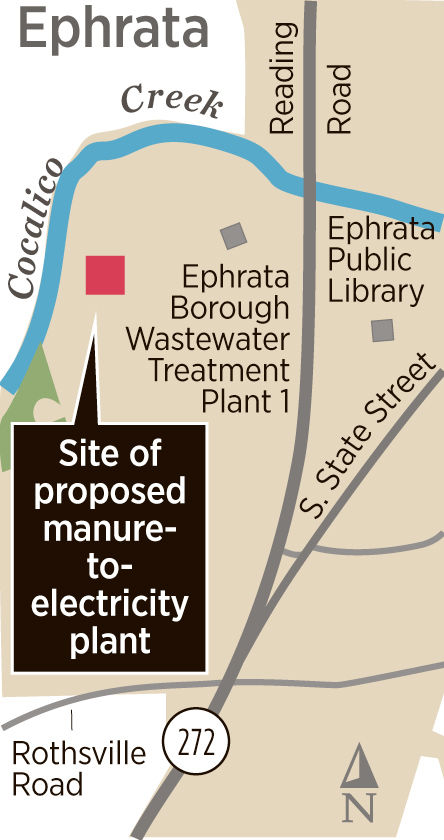 Official support
Ephrata officials appear to have embraced the project as a complement to other "green" initiatives such as the nearly complete solar farm at its other wastewater plant in Ephrata Township, the Lititz-Ephrata Rail Trail and a restoration project on Cocalico Creek.
Still to be determined is whether local poultry farmers will be paid anything for their manure.
Even if they are not paid, some local farmers are already having to find places to take excess manure and this could be a more convenient alternative.
The biochar process is a fairly new but growing alternative to anaerobic digesters found on some Lancaster County farms.
Unlike digesters, the dry process of gasification does not require adding water to the manure that then has to be controlled, backers say.
 There is currently only one other manure gasification plant in Pennsylvania. It is near Gettysburg and is owned  by EnergyWorks.
McGolden would like to see the Ephrata plant operate 24 hours a day and said efforts would be made to keep stockpiles of poultry litter on the property at a minimum.
To run continuously, the plant would need about 50 tons of manure a day, McGolden said.