Claude Dimeler Jr., living in a battered Dodge van, considered himself resourceful, not homeless.
A one-time auto mechanic and arcade manager, Dimeler, 67, scoured northwestern Lancaster County for recyclable scrap metal to supplement his monthly $610 Social Security check.
He slept on a built-in bed in his van and fired up a kerosene heater when it got cold.
"I did what I had to," Dimeler said.
Then Dimeler's living situation came to light, and he got help. Lancaster County's homelessness safety net and a compassionate volunteer worked together to get him housed.
It was a big day for the West Donegal Township native when he moved into an Elizabethtown apartment last May. It was also a milestone for Lancaster County because in housing Dimeler, it became what is believed to be the first community in the nation to zero out chronic homelessness.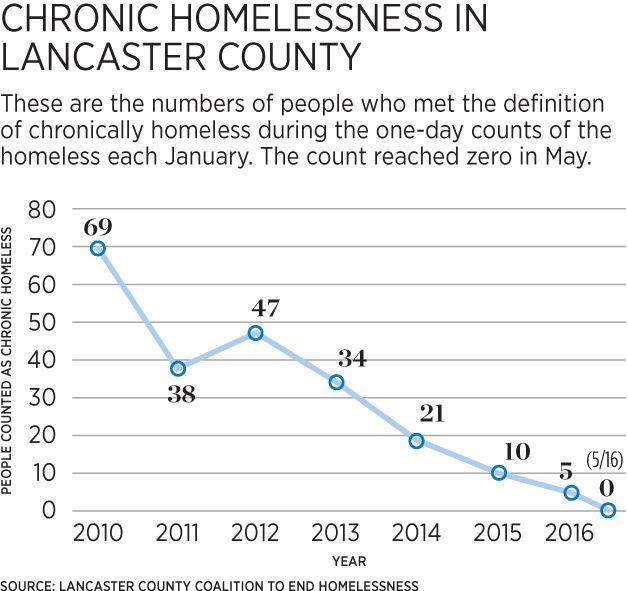 Still work to do
Jennifer Koppel, the director of the Lancaster County Coalition to End Homelessness, is proud of the achievement, but she's careful to not say chronic homelessness has ended.
She explains instead that what Lancaster County's robust human services system has been able to achieve is the capacity to house within 30 days someone who has been chronically homeless and who wants to be housed.
Not everyone, in fact, wants a place to live. Three individuals suffering from paranoia or delusions have refused housing here for over a year and won't even sleep in a shelter.
Outreach workers check with them weekly and offer housing options, but so far none has accepted, said Michael Foley, the coalition's chief operating officer.
There also may be others who have been homeless for a long time but, like Dimeler, have gone unnoticed.
Before he moved into his van, Dimeler rented a room in the Elizabethtown home of an elderly friend. The homeowner died in March 2015, and afterward Dimeler toughed it out in his van for nearly a year, checking into a budget motel only a few times.
A 30-inch snow last January made Dimeler reconsider his rugged lifestyle. The storm left him stranded for days in an isolated self-storage facility where he rented a parking pad.
After his former wife told him about an Elizabethtown church opening a winter shelter, Dimeler gave it a try one night last February. He liked it and kept going back.
Specific definition
The government has a precise definition of chronic homelessness. It applies to people with an impairment who have stayed in a shelter, on the street or in a place not meant for habitation for at least 365 days or who had four episodes of homelessness adding up to 365 days over three years.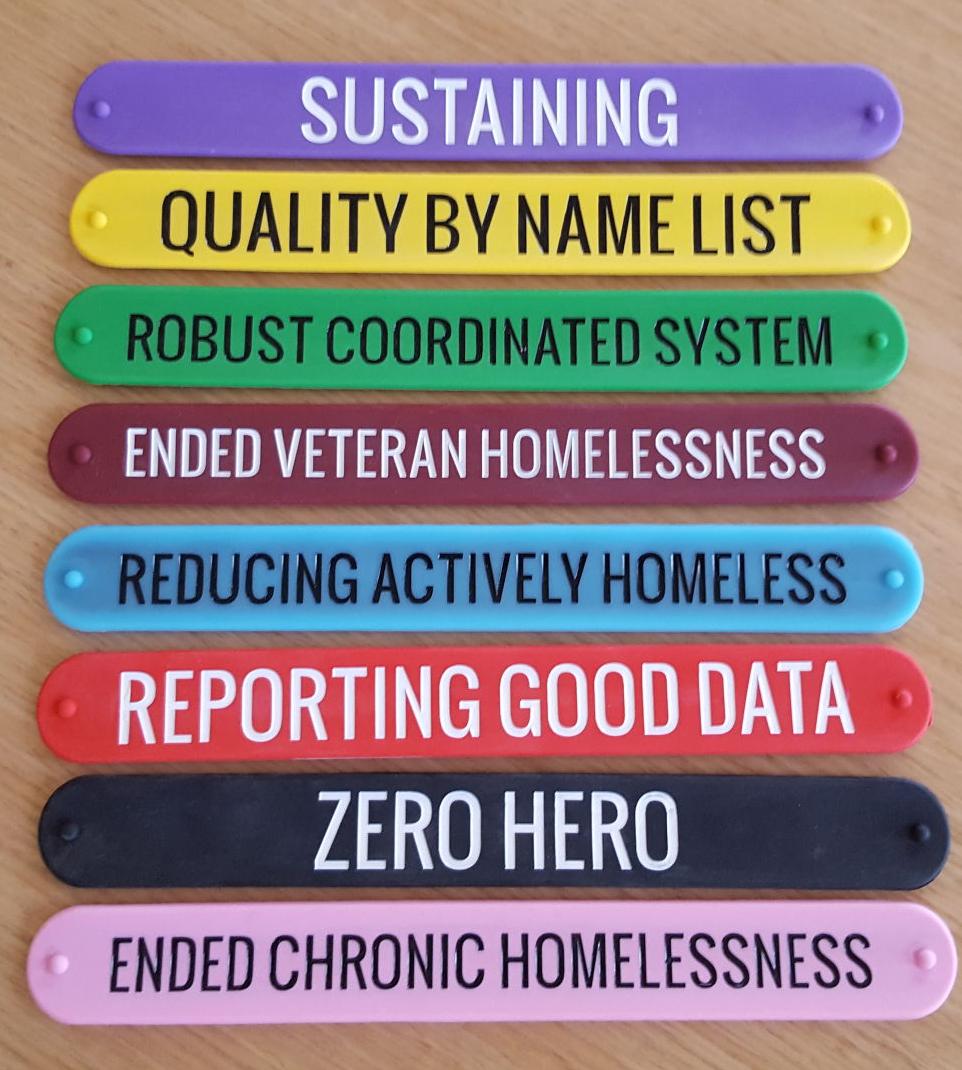 In Lancaster County, the number of chronically homeless has been falling since January 2012, when a one-day count tallied 47 long-term homeless people.
The term "functional zero" is how experts describe Lancaster County's newly achieved capacity for housing a chronically homeless individual within a month.
Seventy-one communities, from Cape Cod, Massachusetts, to San Diego, California, are participating in Zero: 2016, a campaign that began in January 2015 to try to reach functional zero in both the chronically homeless and veterans populations by the end of this year. Lancaster County reached functional zero for veterans in July 2015 and for the chronically homeless this past May.
Twice a year, the Lancaster County coalition conducts a one-day, countywide count to assess the need. A count last January tallied 348 homeless individuals, almost half the 666 counted in January 2009.
Still, despite the progress, 1,635 individuals spent at least one night last year in a local emergency shelter.
People continue to spiral into homelessness, often because they lose a job, suffer domestic violence or simply have trouble finding housing they can afford, Koppel said.
"We are always going to have people experiencing homelessness," Koppel said. "It's not that we don't have a need."
Reducing costs
In implementing housing-first strategies, the Lancaster County coalition draws on $3.5 million in federal, state and United Way funding.
The funding supports a multi-agency system working to prevent homelessness for those at risk and to rapidly rehouse those who do end up on the street or in a shelter.
Experts consider it money well spent, pointing to studies showing that housing the homeless reduces expensive hospital stays and incarcerations. One day in the hospital, for instance, can cost more than a month's rent.
Too often, people experiencing chronic homelessness do "wind up in and out of the system," Koppel said.
"That's not what we want for folks," she said. "We want them to be permanently housed and in safe places and feeling secure and part of the community."
New shelter
Janice Davis is the volunteer coordinator of Elizabethtown's winter shelter, which served 18 people in its first year last winter in the basement of St. Paul's United Methodist Church. She said Dimeler was a quiet and appreciative guest when he came to the shelter in early February, staying nightly until it closed for the season March 25.
"I had a bed to sleep in. I had something to eat before I went to bed and something to eat when I got up," Dimeler said. "I could take a shower every day."
The shelter had Dimeler connect with the homeless coalition by calling the 211 human services hotline. A counselor assessed his needs and referred him for housing help.
Foley, of the coalition, keeps the list of people who are chronically homelessness or at risk. Dimeler's name went to the top.
Homeless voucher
After Elizabethtown's winter shelter closed, Dimeler started sleeping in a newly acquired pickup truck. His van had worn out, and he didn't want to stay at the Water Street Mission in Lancaster.
Coping with hardship is in Dimeler's DNA. He was 12 when a house fire in April 1961 killed his mother, Fern, and six of his siblings. Dimeler and his father survived the deadliest fire on record in Lancaster County, and that tragedy remains a defining event of his life.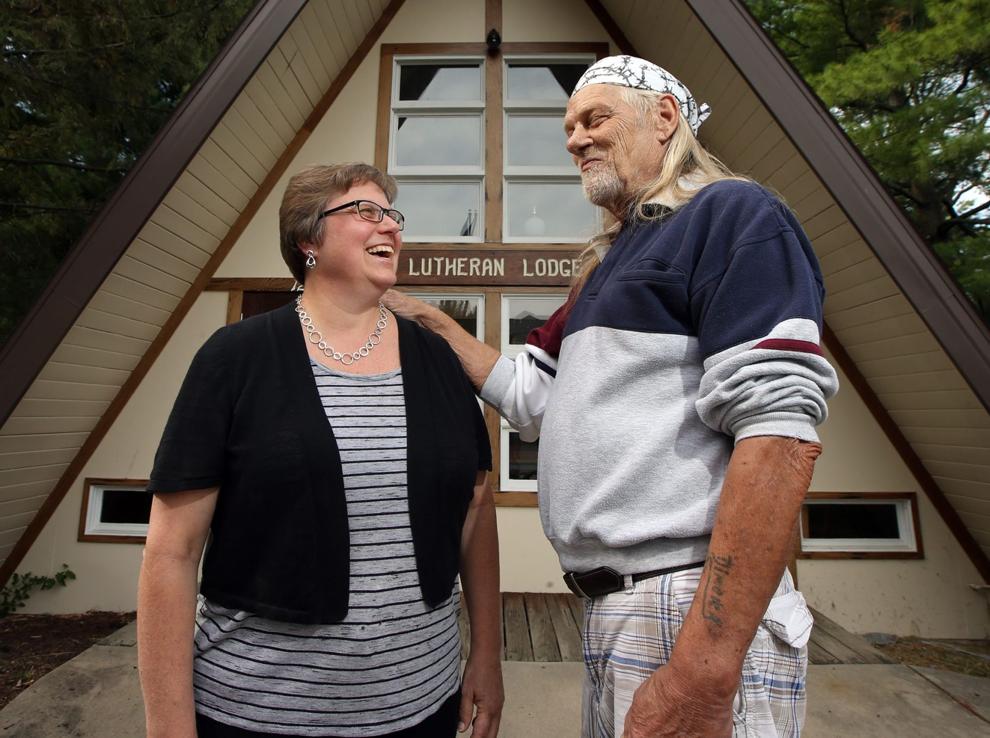 Even after the winter shelter shut down, Davis, the shelter coordinator, pressed ahead with a housing search for Dimeler.
Complicating the effort was Dimeler's wish to remain in the Elizabethtown area. A factor in his favor was he qualified for a housing voucher that he could use anywhere. When the county housing authority notified the coalition that a few hard-to-come-by homeless preference vouchers had become available, Dimeler was in luck.
If he could find a landlord willing to rent to him, Dimeler would need to pay only 30 percent of his income for rent with the federal government covering the rest.
Davis spoke with the manager of Park Place Commons in Elizabethtown. The apartment house agreed to take him in.
Dimeler now has an affordable roof over his head. He pays $175 toward each month's $675 rent. His one-bedroom unit is furnished with donated items Davis helped to secure. Dimeler's thankful for all the help.
"It ain't big. It ain't little. It's nice," Dimeler said of his new place. "It feels a lot better knowing I have somewhere to go."