The dreaded spotted lanternfly invasion is moving quickly into Lancaster County even as state and federal officials have tabbed the western and southern parts of the county as a battleground to stop further expansion into Pennsylvania.
The first identified damage from the invasive insects was recently documented in Berks County, with damage to vineyards.
So far, however, owners of vineyards and orchards — another feared victim — in Lancaster County surveyed by LNP have not sustained damaged trees and grape vines, though some have seen lanternflies in their midst.
"It seems it's only a matter of time until we do see them. They're everywhere," said Jonas Nissley, co-owner of Nissley Vineyards, in Conoy Township.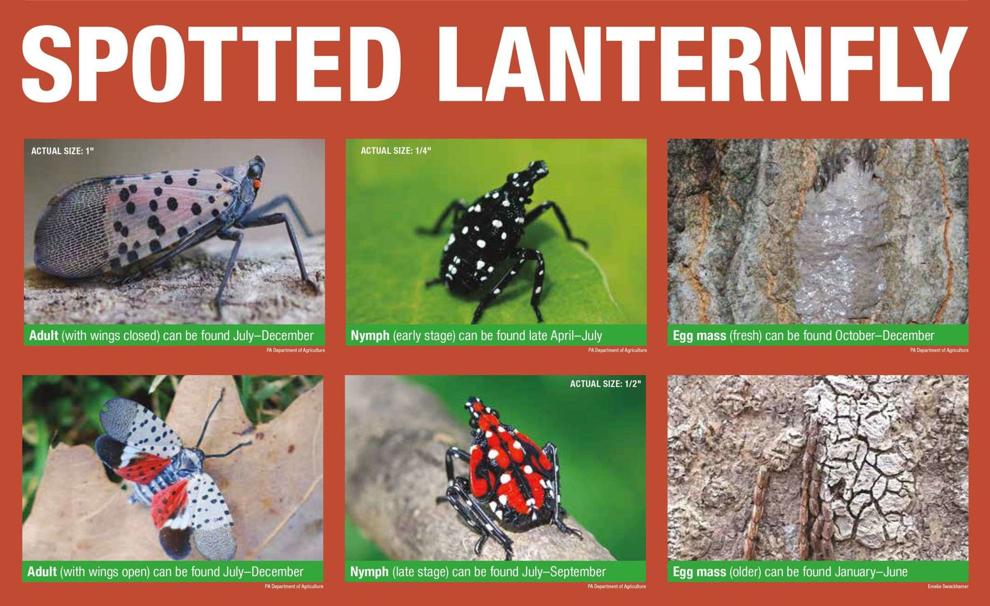 "Unfortunately, it's something you kind of have to react to once you find it."
The first lanternflies showed up only a few weeks ago at Kauffman's Fruit Farm.
"Like all invasive pests, there's a lot of uncertainty," said Clair Kauffman, orchard manager.
"All our our orchard and whole staff are trained to spot bugs and egg masses."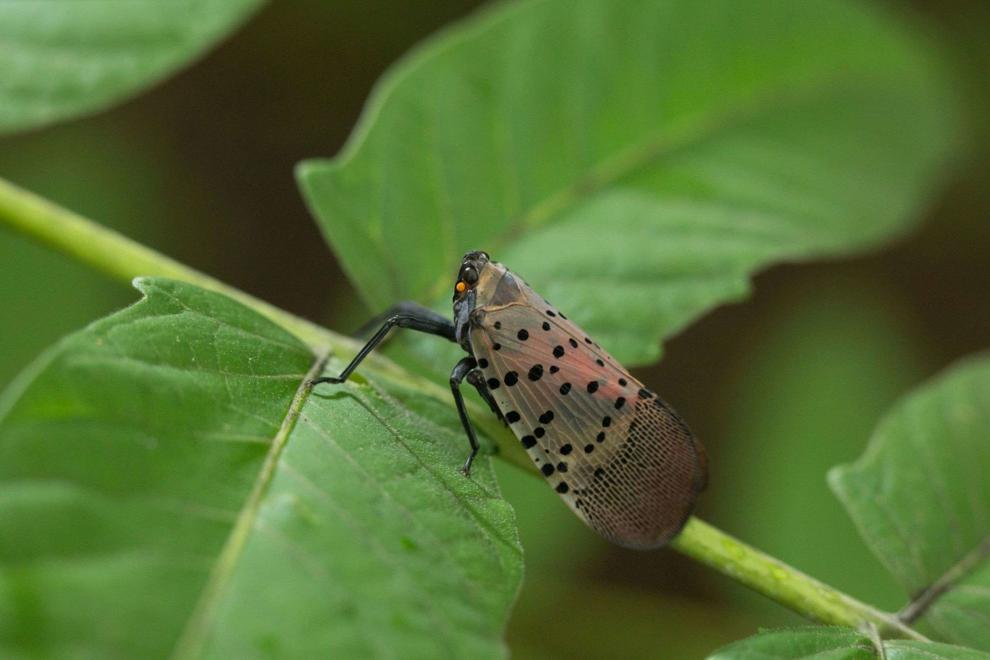 'People are fearful and angry'
Meanwhile, state agriculture and Penn State Extension officials are trying to calm a nervous public about the new invader that showed up for the first time in the United States in Berks County four years ago.
"People are fearful and angry, so they are looking for anything, and I mean anything, that might help," said Beth Finlay, a Penn State Extension Master Gardener coordinator.
"We've heard of people spraying kerosene and bleach on infestations. One lady insisted spotted lanternflies could be killed by firing shotguns into treetops."
State and federal agriculture agencies have trained both shotgun barrels on the colorful but destructive bug from Asia with no known natural predators in the U.S.
That's because they fear the Asian planthopper, if unchecked, has the potential to ravage Pennsylvania's grape, tree fruit, timber and nursery industries, collectively worth $18 billion to the state's economy.
Lancaster County in a quarantine zone
Lancaster County is one of 13 southeastern counties in a quarantine zone that affects how businesses can move equipment and products within and out of the zone.
And it's not just vintners and orchardists and loggers that are deservedly nervous.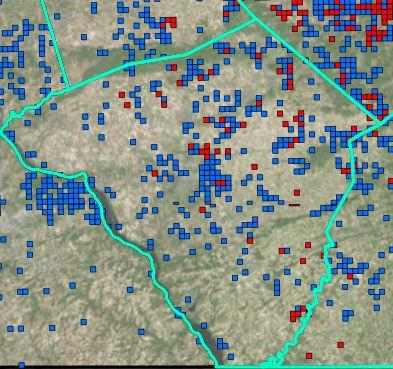 "Spotted lanternflies feed on over 70 different plants, which means nearly everything is at risk. We have reports of it damaging plants in gardens like basil, cucumbers and even horseradish," said Heather Leach, a Penn State entomologist who heads Penn State Extension's spotted lanternfly program.
"We also have reports of heavy feeding in black walnut, red and silver maples, and ornamental plants, including roses and peonies.
"I have yet to meet anyone who isn't affected in some way by this insect."
As proof that lanternflies are moving rapidly into Lancaster County, in just one recent week:
— A shopper found a lanternfly in the parking lot of a CVS Pharmacy store in the northwestern part of Lancaster city.
— Observers in the Blue Ball, Akron, Ephrata and Welsh Mountain areas of the county reported being "inundated" with the insects.
— A dozen lanternflies were found perched in the outdoor dining area of the Courtyard Cafe in Denver Borough.
— East Petersburg area residents flooded a Facebook neighborhood page with sightings that included the East Petersburg Elementary School and the drive-through of a burger restaurant.
"At least they don't bite," said one poster.
"We had one too in our pool," was another reply.
Drawing a line in the sand
State and federal officials are taking the outermost boundaries of Lancaster and nine other counties to draw a line in the sand and try to keep the lanternflies contained.
In Lancaster County,  the priority zone has been established in southern and western parts of the county where lanternflies have not gotten firmly established.
After sightings are confirmed in those two areas, officials from the U.S. Department of Agriculture may treat areas with high concentrations to destroy the insects, Leach said. Priority areas may include high-traveled areas, including rail lies, roadside stops and others." may treat areas with high concentrations to destroy the insects.
If it's on private property, and a landowner gives permission, the property may be sprayed with an insecticide.
"Keeping them contained and ideally pushing their population inward as much as possible is our goal," she said.
The state Department of Agriculture will handle containment inside the quarantine zone.
What can the public do?
"The biggest challenge is getting people to be aware of how big a threat this is," Leach said.
"We want everyone to squish the hell out of them!"