District Attorney Craig Stedman on Thursday provided LNP Media Group with 18 years of drug forfeiture reports, softening his position and maintaining that the released documents fully respond to the newspaper's open-records request.
The release of the documents — summary reports prepared by the county controller as part of his office's annual audits — came six months after LNP reporter Carter Walker made a Right-to-Know Law request.
But Kirby West, an Institute for Justice attorney representing LNP, called the release of the documents "a surprise move" that doesn't provide the detail sought in the open-records request.
"The Institute for Justice is going to continue fighting for LNP and for Carter Walker until they have the documents that they need to report on this important issue," West said at a news conference.
Stedman turned over the documents ahead of a scheduling conference with Lancaster County Judge Leonard G. Brown III.
Stedman is appealing a state Office of Open Record's decision in January that the forfeiture information LNP is seeking is a public record the district attorney has to release.
Audit summaries
The county controller forfeiture reports that Stedman released today are audit summaries providing an accounting of cash seized and the value of seized items sold, such as vehicles, phones and clothing. The reports also show how forfeited proceeds were spent.
Stedman said he conferred with the state Attorney General's Office and the controller to determine what may be released under the forfeiture law.
"We want to give the maximum we can give as allowed by law and not jeopardize public safety or investigations," Stedman said.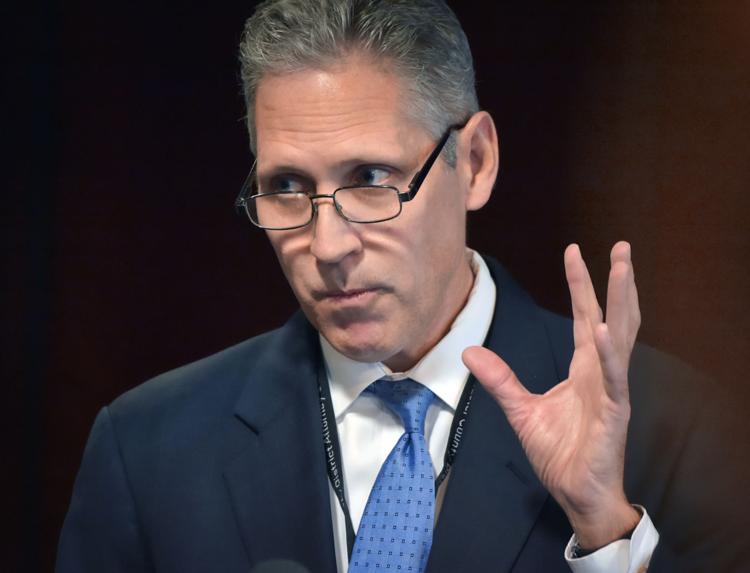 Jennifer McDonald, a senior researcher for the Arlington, Virginia-based public interest law firm, called the records released "somewhat helpful" in that they show "the total amount of property that's forfeited every year, as well as what's spent out of forfeiture proceeds across broad categories."
"But they have nowhere near the level of detail necessary to truly keep police and prosecutors accountable," McDonald said.
West said LNP is seeking receipts documenting what specific seized items were sold and what items were bought with the proceeds.
"I think it's clear from the Office of Open Records decision that the request refers to these specific pieces of information," West said.
Walker at the news conference said Chester County's district attorney has provided checks, receipts and emails explaining purchases.
Stedman said most items are sold at an annual auction, and the auctioneer, not his office, would have the sale records.
Tom Murse, an LNP managing editor, said at the news conference that seeking the records isn't about media access, but about citizen access.
"Every resident of Lancaster County, every resident of Pennsylvania should be able to walk into the District Attorney's Office and request and receive these records," Murse said. "We feel that the district attorney's office should share very detailed expense reports with us. To date, they have not."
Civil asset forfeiture ended
McDonald, at the news conference, said the district attorney in 2017 had nearly $2 million in its forfeiture account, but it's not known whether it came from a large drug-ring bust or "from innocent motorists who had their cash seized when they were pulled over."
Stedman, however, said that several years ago he ended civil asset forfeiture in Lancaster County so that property is no longer seized from people who were not charged or convicted.
He said that his office only seeks forfeiture on cash and property after the accused is convicted. An exception, he said, is when the accused is not in custody and the two-year statute of limitations on forfeiture is about to expire. Another exception is when an item's value may quickly depreciate.
"Forfeiture pre-conviction is still consistent with the law, but it is no longer the practice in Lancaster and has not been for years," Stedman said.