Three-year-old Angelina Johnson-Hatton wants a Disney Frozen ice castle for Christmas and she's jumping up and down with excitement about it.
No one has the heart to tell her that it's probably not going to happen this year since her daddy went to jail in August and her mother, Andrea, is now shouldering all the responsibilities for their three children.
Andrea is working hard to make ends meet, she just landed a job as a customer service rep, but she has a lot more pressing issues than a Disney Frozen ice castle.
"To be honest, I do consider myself a single mother," said Johnson-Hatton, whose husband, De'Angelo Hatton, has been in and out of jail for the last six years on charges relating to his drug addiction. He's currently serving a prison term in Chester County for retail theft.
Some families pushed into poverty because of an incarcerated parent.
"I just wish there was a support group for the kids, especially for my oldest daughter, she's 10. And I wish there was some sort of transportation for caretakers to take children to visit an incarcerated parent."
Things may get a little easier next year for Johnson-Hatton and other caretakers like her - the moms, dads, grandparents, aunts, uncles and friends who are taking responsibility for as many as 3,000 children in Lancaster County who have a parent in county or state prison.
County commissioners are set to vote Dec. 3 on a two-year pilot program to fund a family services advocate to track and support children in Lancaster County who have an incarcerated parent.  At this point, all three county commissioners said they support the program that would ensure children, whose parents are incarcerated, get access to services they need.
The $66,000 for the salary, benefits and incidental expenses of the person in the position would be paid from Lancaster County Prison commissary monies - in essence the prisoners themselves would pay for it.
"I know that when someone is incarcerated, there is a ripple effect on the family and there is a definite impact on the kids," said Commissioner Scott Martin, who said he supports the program. "I did a lot of work in the juvenile justice system and I know that healthy familial contact is good for the inmate and good for the children. It creates stronger family connections and gives the inmate a better chance of not falling into recidivism."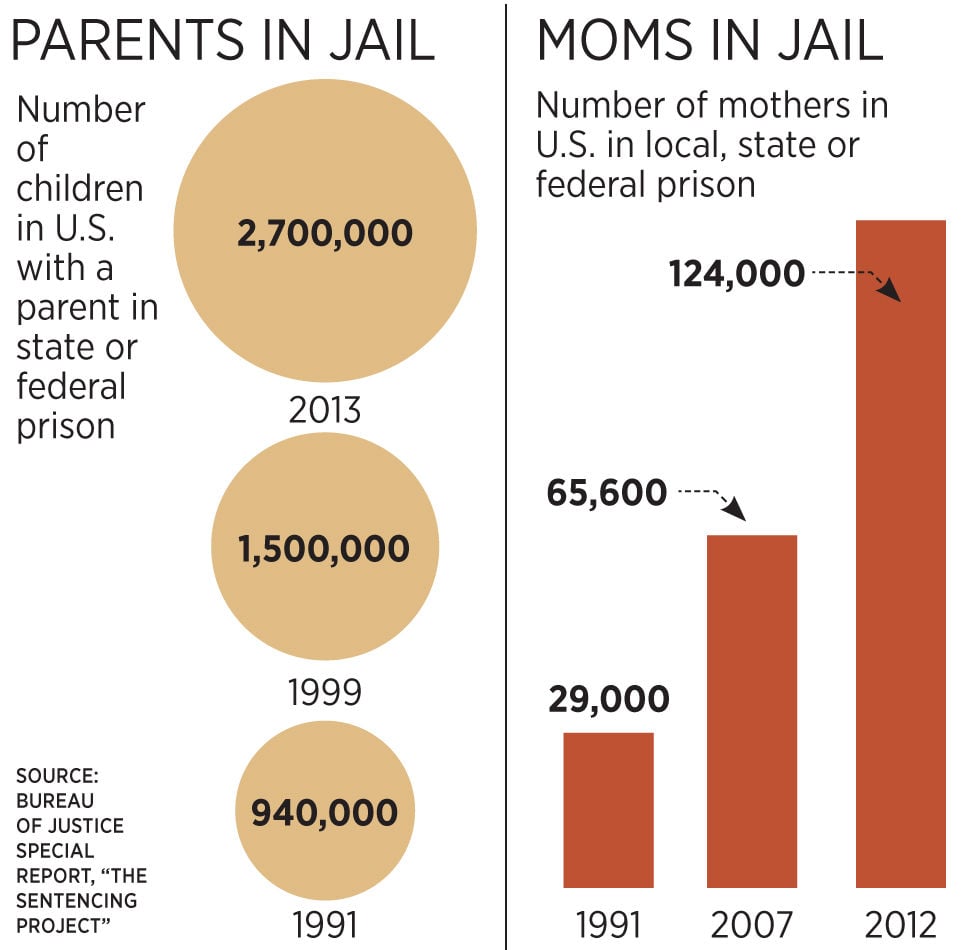 For a long time in Lancaster County and elsewhere, when a parent went to prison, the children were tossed to the wind. Not only did prison intake questionnaires not even ask if there were any children in the family, relatives were often left scrambling to provide care on short notice.
In 2012, a local constable was charged but then acquitted when he arrested a mother, leaving her two young children unattended in the home.
The proposed pilot program would be one of the first in the state - Allegheny County has something similar.
Starting in 2015, the advocate would provide "social services and assistance to improve the social and psychological functioning of children whose parents are incarcerated, including the academic function of the children," according to a draft of the contract.
Johnson-Hatton was disappointed to find out her husband's latest incarceration had such a strong effect on her son, who attends kindergarten in the School District of Lancaster.
Her 5-year-old, Denzel, began acting out in school, running out of the building at times. Last week he got an out-of-school suspension for spitting on a teacher.
This from a little boy his preschool teachers described as quiet and loving, his mom said.
"He was close with his dad and one of the hardest things was to tell the children that he's gone again," said Johnson-Hatton.
Research by the Pew Charitable Trust shows children of incarcerated parents are five times more likely to be suspended or expelled from school than are other children.
Bob Cooper was the spark behind the idea of a family advocate for the children of incarcerated parents after he began meeting with a group of social workers and guidance counselors more than three years ago.
"We have a huge job ahead of us," said Cooper, coordinator of Ambassadors for Hope (formerly Children of Incarcerated Parent Network of Lancaster County). "Nobody pays attention to these kids. They tend to have attendance problems, behavioral problems and slipping grades, and nobody is made aware of this traumatic event, even the schools don't usually know."
Trinity Lutheran Church has a support group for family and friends of those in prison or jail. It meets every first and third Wednesday of the month from 6 to 7:30 p.m. in the cafe, located in the Parish House, 31 S. Duke St., Lancaster. It is a time of fellowship, encouragement and support for those experiencing the stress of a loved one in prison or jail. Childcare is available.
"Society accepts divorced parents but not incarcerated ones," Cooper said. "The whole family is condemned when someone goes to prison, from the neighbors to the playground bullying. When the child is older, because they looking for security, they're more likely to enter a gang."
In a study by the Osborne Association, a group that concentrates on issues relating to the criminal justice system, children of incarcerated parents "experience a two-fold increase in risk for mental health problems, and higher rates of major depression and attention disorders, than the general population of youth."
In about half of the cases where mothers are incarcerated,  the grandparents become the caretaker.
But children of incarcerated parents often do not receive services for which they are eligible, either because a caretaker is unaware of services or families do not want to admit the shame of incarceration, said researchers.
According to the National Institute of Corrections, there are more than 2.7 million children under the age of 18 with a parent in local, state or federal prison. About half of the men and two-thirds of women in the U.S. prison population have dependent children.
Black children were almost eight times more likely than white children and nearly three times more likely than Hispanic children to have a parent in prison, according to the NIC which also reports that 1 in 15 black children in the U.S. have a parent currently in prison.