The Conestoga House & Gardens, a marvel of colonial revivalist architecture in Lancaster Township, is headed for a sale.
The owners, the James Hale Steinman Conestoga House Foundation and members of the Steinman family, have reached a tentative agreement to sell the property at 1608 Marietta Avenue to a company controlled by real estate broker Daniel Berger, according to documents submitted to the township.
Berger's plans for the property are unknown. When reached by telephone Friday afternoon, Berger declined to comment.
More than 75 people packed a planning commission meeting Wednesday night where an architect for Berger proposed a "lot add-on," a technical change in boundaries within the property that would move some land from a lot owned by the Steinman Foundation, which includes Conestoga House, to a lot owned by several Steinman family members. The adjoining lot to Conestoga House is comprised of 9.7 acres of mostly grass, but includes a tennis court.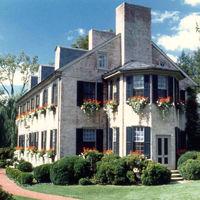 The proposal would result in the removal of a greenhouse and a woodshed. A swimming pool, which will not be impacted, would move under the adjoining lot.
The adjoining lot is "intended for future further subdivision and residential development," according to a review letter from a township engineer who has met with the developer about the plan.
Planning commission members did not vote on making a recommendation Wednesday night, asking for additional information before taking action. Final say on the proposal will be left to the board of supervisors.
The James Hale Steinman Conestoga House Foundation is a private foundation currently funded by The Steinman Foundation, which in turn was funded by the companies that comprise Steinman Communications; those companies include LNP Media Group.
Jason Best, an architect with Lititz-based Engineers Landscape Architects Group, presented the proposal and called it a "minor, simple thing." When Lancaster Township Planning Commission Vice Chair Glenn Ebersole asked for additional details for the proposal, Best replied, "Not at this time."
Several residents requested more information about the plan, including one resident who asked whether approval of the proposed boundary configuration could be contingent on knowing the intended use of the property.
"We have a process that we have to follow," township Zoning Officer Tom Daniels said. "They are obligated to provide the information that they need about this plan. We are obligated to process it," he added. "What they do next is not in our purview."
Shane Zimmerman, president and treasurer for the Steinman Foundation board, deferred comment to Berger, adding "we are not involved in the process they are undertaking or the creation of any plans they may be contemplating."