An estimated 250 people worried about the newly discovered presence of Chronic Wasting Disease on a deer farm near Denver bombarded officials with questions Tuesday night at a public meeting at Middle Creek Wildlife Management Area.
Pennsylvania Game Commission officials opened the refuge's visitors center early to accommodate the large crowd.
It was the first opportunity for the general public to ask questions and  find out more about CWD since two whitetail deer were found with the deadly disease from a private deer farm near Denver.
To try to stop the disease from spreading into wild deer — if it hasn't already — the Game Commission created a quarantine zone around the deer farm in parts of Lancaster, Berks and Lebanon counties. It is now one of three CWD quarantine zones in the state.
Hunters in the Chronic Wasting Disease Deer Management Area 4 now face restrictions such as not removing parts of deer hunted in the zone. The general public is barred from feeding deer.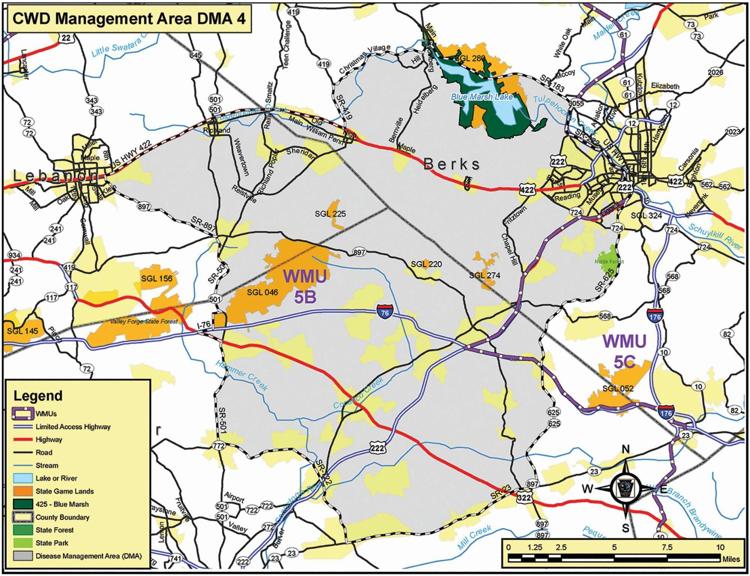 CWD can decimate a deer herd, raising widespread implications for hunting and Pennsylvania's hunting-related economy.
Hunters dominate hearing
A majority of those at the public meeting — a second one will be held at Middle Creek from 10 a.m. to 3 p.m. Saturday — seemed to be hunters, said Greg Graham, a game warden serving northern Lancaster County.
Top questions asked of five Game Commission officials included boundaries of the quarantine zone, restrictions on handling deer parts once a deer is shot within the zone, and where collection bins will be located as part of a voluntary program to test deer heads.
Many people wanted to know if deer from the area would be safe to eat this hunting season.
"We say, there's no known transmission  to humans at this point in time. We do recommend you do not consume meat from CWD-infected deer," Graham said.
Captive deer to  be killed
Graham said the 38 deer still living inside a fence on the Greenville Whitetails deer farm in West Cocalico Township will be killed. That hasn't been done already because officials are following procedures to compensate the owner, he said.
Graham said a number of people were angry to learn the owner of the deer farm might  be compensated. They felt, rather, he should be fined.
There is no evidence that CWD has spread into surrounding wild deer but the Game Commission is ramping up testing of local deer to find out.
All road-killed deer are being tested and the Game Commission is shooting any deer that appear to be sick, Graham said.
Test results of deer from the area have not been received, he said.
Graham said officials in multiple townships in the three counties have been considering steps such as requiring double fencing to prevent escapes of farmed deer from coming in contact with wild deer.
"One township I heard was going to make it unlawful to have a deer farm in the township," Graham said.
In West Cocalico Township, where the deer farm is located, supervisors are expected to discuss an ordinance requiring extra fencing for deer farms when they meet Thursday.