Don Murphy, the local entrepreneur spearheading multiple revitalization initiatives in Columbia, is taking on another of the borough's key redevelopment challenges. 
In a news release, Murphy said he has joined forces with a developer from New York state, Paul Guillaro, to revive the blighted former Hotel Columbia and Hotel Locust properties on the 300 block of Locust Street.
Murphy and Guillaro will work with a local architecture firm "to create a mixed-use commercial complex with market-rate living," the release said. 
The two buildings are well over a century old and total nearly 23,000 square feet. A passage connects them. 
"This is an amazing opportunity to bring these significant buildings back to life," the statement quoted Murphy as saying.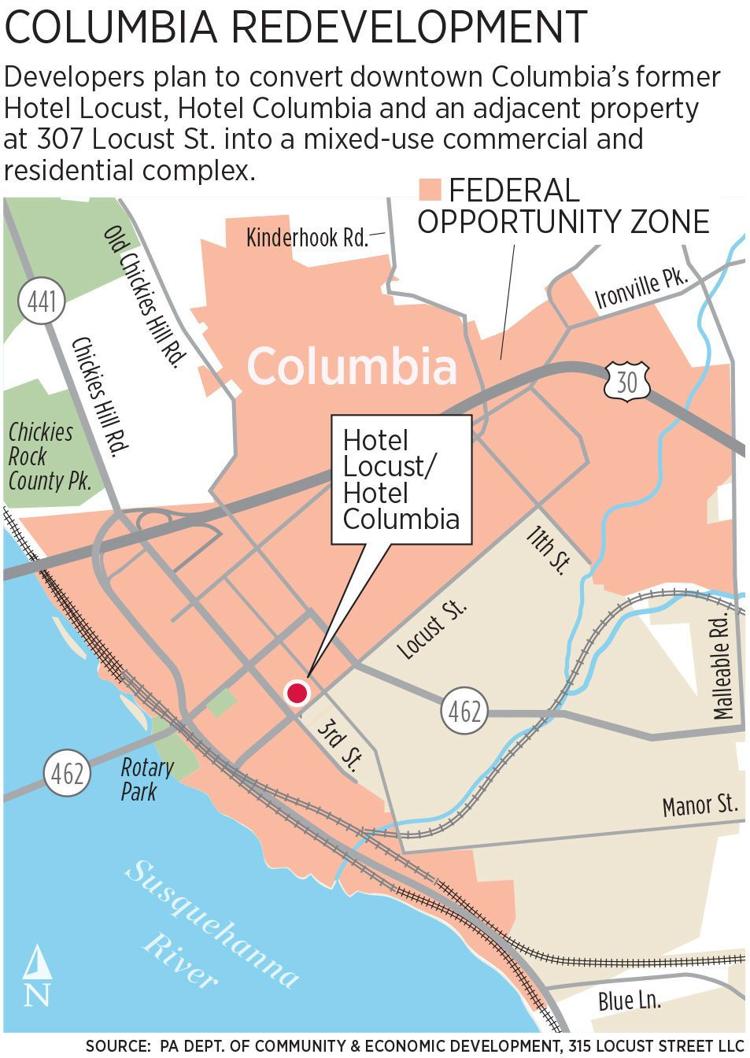 The plan includes a third property, 307 Locust St., a former jewelry store. All three are vacant and run-down.
The news release did not provide further details of what's envisioned. Calls to Murphy were not immediately returned Monday.
Key site
Columbia Mayor Leo Lutz said he's thrilled. The two former hotel properties are considered vital to downtown Columbia's revitalization, he said, and their transformation will go hand in hand with other recent and upcoming projects.
Among those involving Murphy and his company, Cimarron Investments, are the recent redevelopment of Hinkle's Restaurant; the planned Clarion Hotel at The Chip Factory; and the Cimarron Center project at the former Kahn-Lucas building at 430 Walnut St.
In 2018, Cimarron sold 401 Locust St. to CHI St. Joseph Children's Health, which is building a child care center there, the St. John Neumann School for Children and Families.
Meanwhile, CHI St. Joseph is partnering with the borough this year to revitalize the Columbia Market House.
Opportunity zone
The hotel properties were owned by the Columbia Economic Development Corp. It had marketed them as redevelopment opportunities since acquiring them in 2014.
However, prospective developers couldn't make the numbers work, EDC executive director Janice Nikoloff said.
Then, she said, the establishment of a federal opportunity zone in Columbia changed the dynamics, and attracted Guillaro's interest.
Part of the Trump administration's 2017 tax law, the opportunity zones are designed to spur investment in distressed areas by offering significant tax breaks on capital gains. Besides Columbia's, there is one on Lancaster city's south side.
Guillaro looked into opportunities in both zones. During a tour of Columbia last fall, he met Murphy and the two hit it off, Nikoloff said.
Guillaro and his company, Unicorn Contracting, have decades of development experience. The pairing of him and Murphy is ideal, Nikoloff said.
To reap maximum benefit under the opportunity zone law, properties had to be acquired by the end of last year. County records show the Columbia EDC sold the two hotel properties on Dec. 30 for $213,800 to 315 Locust Street LLC, a company formed to take ownership of the site for the redevelopment. Columbia Investment Partners sold 307 Locust St. to the same company for $82,500, also Dec. 30.