Colby Itkowitz will never forget the boy on the hill.
When the young Intelligencer Journal reporter arrived to the scene of the West Nickel Mines School shooting in 2006, police already had barricaded the immediate area surrounding the school.
Itkowitz, then 23, scanned the area for bystanders. She spotted two Amish boys sitting on a nearby hill, watching the flurry of activity around their school. She took a seat in the grass beside them. One of the boys was Aaron Esh Jr., at 13 the oldest student in the classroom invaded by the gunman.
Itkowitz gently asked Esh what had happened. Charles Carl Roberts IV brought a gun into the Amish schoolhouse, ordered that the boys and adults leave, and tied up the girls, some as young as 6. He shot eight of them and killed five.
"You could just tell they were shell-shocked. … He kind of described to me what he had seen and what happened: The man came in and left and came back again and told them all to leave, and how they ran," Itkowitz, now 36, said.
Itkowitz never forgot that meeting with Esh or the way his brown eyes looked lost on that October morning. Throughout her career, she has made it a point to return to Nickel Mines: first on the shooting's five-year anniversary when she was a reporter for the Allentown Morning Call, and again on the 10th anniversary for The Washington Post, where she works as a national politics reporter.
These days, Itkowitz is at the heart of covering the biggest story in the country: the impeachment of President Donald Trump. She contributed to the Washington Post's front-page story Thursday following Trump's impeachment by the House of Representatives.
In September, she and a colleague released a yearlong investigation about Congress' failure to act on the fentanyl epidemic. And before her current assignment, she spearheaded the Post's "Inspired Life" blog and worked with celebrated columnist Al Kamen on "In the Loop."
But despite her many accomplishments, the story she's proudest of from her time at the Post brings her back home to Lancaster: that 2016 story about the 10th anniversary of Nickel Mines, in which she wrote about the friendship between Esh and the late mother of the gunman.
---
Early life
Itkowitz attended school in the Conestoga Valley School District until second grade, when her family moved to Manheim Township. Her parents still live in Lancaster County, and she visits home often with her husband, Chad, and 2-year-old daughter, Evelyn.
"I often tell people in D.C. that I'm like an ambassador for Lancaster because I'm constantly telling people to go there for the weekend," Itkowitz says.
Her fourth-grade teacher noticed her flair for writing. Itkowitz's first foray into journalism happened when she and a friend "published" a hand-written newspaper.
Itkowitz's love of politics came later, as a high school senior, when she read a story about the 2000 presidential election between George W. Bush and Al Gore.
"I just felt really passionately about some of the issues I was reading about, and I started just asking questions that my parents didn't really know the answer to," Itkowitz said.
---
Picking a path
At Hofstra University, Itkowitz was conflicted between her interests in politics and journalism. She struggled with choosing a focus, even serving simultaneously on the staff of her student newspaper and student government. Realizing the conflict of interest, she knew she had to pick a path.
She consulted her journalism professor and mentor, Steven Knowlton, for advice. Like other classmates, Itkowitz had made a habit of visiting Knowlton during his office hours. There, the young reporters would pitch story ideas to Knowlton.
"I remember sitting in his office and him saying, 'There's more power in being the watchdog and holding people accountable than it is being the person making the decisions,' " Itkowitz said. " 'You want to be the person who's holding their feet to the fire.' "
She quit student government shortly after the conversation and served as the paper's editor-in-chief the following year.
Knowlton has kept in touch with Itkowitz and often reads her stories in the Post. He retired from Ireland's Dublin City University this year.
"I don't think, in the 30 years that I taught school ... I don't think I can recall someone who was more clearly headed for serious professional accomplishment as a reporter," Knowlton said.
While a student, she interned at the Intelligencer Journal in Lancaster and Newsday in Queens, New York. She worked for Newsday's D.C. bureau for a semester during her senior year. That's when she fell in love with her future home.
"I will do whatever it takes to get back here someday," she remembers thinking. "It might not be for a decade, but I will get back here."
---
Off to London
After graduating from Hofstra, Itkowitz moved to London to be with a boyfriend she had met during her semester in D.C.
Shortly after her arrival in London, a series of Islamist terrorist suicide attacks targeted commuters on London Underground trains. Her boyfriend suggested she contact Newsday to let her know she was in London in case they needed additional coverage. She was hired on the spot on a freelance basis.
"I learned so much in those four weeks about how to be a reporter on the ground," Itkowitz said.
She also learned something about herself: She knew she had to go home to give a professional career in journalism a real chance.
---
Back home and Nickel Mines
Once she was back in Lancaster, finding a full-time job proved more difficult than she expected. Exasperated, Itkowitz reached out to John Cassidy, the assistant news editor at the Intelligencer Journal. She was hired shortly thereafter.
"She was always very bright," Cassidy said. "You could always tell she was going to be really good at what she did."
Itkowitz was at the Intelligencer Journal for just a year when the Nickel Mines shooting happened.
"Quite honestly, for the most part, you don't really turn to really young reporters for something as devastating as Nickel Mines," Cassidy said. "But there was no hesitation with Colby because you knew she would approach the people very professionally, and she knew what she was dealing with."
Five years later, when she checked in with Esh for a story for the Morning Call, she was surprised he remembered her. At the 10-year anniversary, she revisited Esh and Terri Roberts, the mother of the shooter, for The Washington Post.
It's the story she's proudest of in her six years at the newspaper. For one, she felt she could write with a sense of authority given her experience. But she also felt an immense responsibility to get it right because she said feels Nickel Mines is often overlooked in larger conversations about school shootings.
"Sandy Hook was horrific, but it was not the first time that elementary-age kids were killed in school," Itkowitz said. "So, I just felt this responsibility to get that story out to a national audience in a powerful way."
---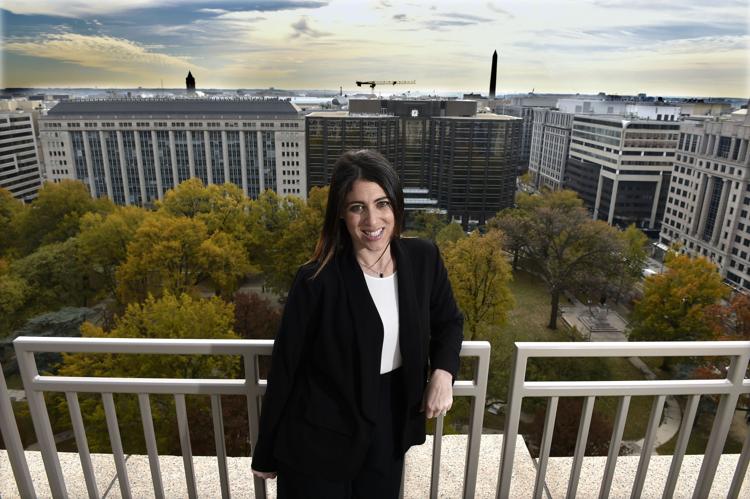 The next steps
Shortly after her initial coverage of Nickel Mines for the Intelligencer Journal, Itkowitz took a job at Congressional Quarterly, a publication featuring reporting focused on Congress. There, she attended Nancy Pelosi's first swearing-in ceremony as Speaker of the House, attended several State of the Union addresses and covered transportation policy.
Her next gig was at the Morning Call in Allentown, where she reported on state politics from D.C. She also got to travel around Pennsylvania while working on stories, affording her a newfound appreciation for her home state.
"I came to understand Pennsylvania and love Pennsylvania more than I already did (while) covering it for Allentown," Itkowitz said.
---
Joining The Washington Post
Four years after joining the Call, she said she believed she was ready for a new challenge.
She joined The Washington Post staff to work side-by-side with Al Kamen, founder of the long-running political column "In the Loop." It's an insider's look at all of Washington's weirdness, as Itkowitz describes it.
"We just had this instant, bantery rapport," Itkowitz said. "We just got each other."
The pair were expected to update the blog four times a day and then put together the best pieces for a print column for the following day's paper. She said Kamen taught her how to be critical without being mean, how to be skeptical and, most importantly, how to have fun.
"He had been doing this job for, I don't know, 50-plus years, and if I got a tip or I had a really good idea, he would react with the enthusiasm of a child. … He'd be like, 'This is so fun,' " Itkowitz said. " 'Have you ever had this much fun in your whole life?' "
Sitting near Kamen had other benefits, too, like overhearing his conversations with Bob Woodward when the Watergate journalist visited the newsroom.
While working on "In the Loop," she also did political features, including a story about then-presidential candidate Trump when he visited Iowa at the beginning of his campaign.
"I'm very proud of that story," Itkowitz said. "The story basically said that Trump was serious, that Trump was launching an aggressive ground game in Iowa, and people who said that it was a clown show are mistaken because people on the ground in Iowa really liked him."
At the time, other major publications only covered Trump's campaign in entertainment sections. But Itkowitz had a sense he was serious about his political endeavors and spoke to him for 20 minutes during that visit to Iowa.
She was eager to do more in-depth reporting, but "In the Loop" was a demanding assignment.
" 'In the Loop' was like, these kind of shorter vignettes about life in D.C., and I felt I wanted to stretch different muscles," Itkowitz said.
Itkowitz then led the human-interest heavy "Inspired Life" blog. Instead of filling it with feel-good fluff, she challenged herself to find hope in more difficult stories, particularly those about mental health. She said she misses talking to everyday folks.
"When you interview politicians, everything's through a filter," she said.
---
Reaction mode
Itkowitz began covering politics as a breaking news reporter in March. She said it's the fastest-paced job she has ever had. Her deep understanding of politics from years of covering the topic helps her make sense of big developments quickly.
"You're constantly in reaction mode," Itkowitz said. "You're reacting to the latest Trump tweet or the latest squabble on the campaign trail or the latest turn of the screw in the impeachment drama."
Since the impeachment proceedings began, Itkowitz said, the job's intensity has only increased.
"My job has basically been dispatched to do impeachment all the time. … This is obviously a moment in history that we are, as a newspaper, investing a lot of resources into," Itkowitz said.
Itkowitz works Tuesdays through Saturdays. While on the clock, she's often monitoring the proceedings from her desk, alternating scrolling through Twitter, checking her email, communicating with colleagues on Slack and watching C-Span.
It's hard to turn off the intensity when she gets home.
"My husband would like me to put my phone down because it's so addictive. … But it's really hard for me not to look at Slack and Twitter when I'm off because it also feels like if I don't look, I could miss three news cycles by the time I come back to work," Itkowitz said.
The modern divisive political climate and its effects on how Americans perceive journalists aren't lost on Itkowitz. All her colleagues want to do is get the story right, she said, and that's a mission sometimes made challenging by the current administration.
"When you have an administration that often speaks in inaccuracies or makes a misleading comment, when your job as a truth-teller is to correct the record, that can often look biased. … We don't see ourselves as adversaries to the White House," Itkowitz said. "If a Democrat made a false statement, we would do the exact same thing."
She credits some of her colleagues' reporting for being the reason why there is an impeachment inquiry in the first place. She also understands the history of her paper —the institution that broke the Watergate Scandal — and the importance of journalism's role in a democracy.
"The reporting that gets done in this building, it changes the course of history, and that is humbling every day," Itkowitz said. "So, to have even a small part of that, that's not lost on me — the gravity and the responsibility that comes with that."