The lights are out and the street sweepers are getting a workout on the bridge connecting Columbia and Wrightsville during the annual blitz of mayflies from the Susquehanna River.
Fans were set up at the entrance to the Turkey Hill Experience to protect visitors and floodlights on the ground of Penn Medicine Lancaster General Health's Columbia facility were darkened by dead bugs.
At a recent stand-up paddleboard class in the river at Shank's Mare Outfitters at Long Level, not a single student fell off — perhaps because they would have splashed into a slithering sheen of newly hatched mayflies.
This is the fourth summer that massive hatches of suddenly prolific hexagenia bilineata mayflies have swarmed man-made structures near the river — and people if they stand still.
The smothering hatch in June 2015 garnered worldwide headlines and went viral on social media with images of bulldozers scooping up the mayflies piled as deep as a heavy snow on the Veterans Memorial Bridge.
Three motorcycles wiped out on the gooey mess and the smell of rotting insect carcasses was a nose-wrinkler.
Since then, Columbia and Wrightsville officials have taken preemptive action to blunt the effects of the locust-like swarms.
Beginning June 17, the Art Deco lights on the bridge have been turned off — except for a 10-day interval for Millersville University students and their professor studying the phenomenon and possible ways to lessen impacts.
Street sweepers were used to clean up layers of the insects last Thursday and Friday on the bridge and at the parking lot at the Columbia Crossing River Trails Center and boat launch along the river.
Still, the hatches have been "hit or miss" so far and not in the intensity of recent years — at least not yet, anyway — said Jake Graham, Columbia's public services manager.
The hatch of this particular species of mayfly usually ends around the beginning of August, Graham said, though there are less-intense hatches of other mayfly species up and down the river during June, July and August.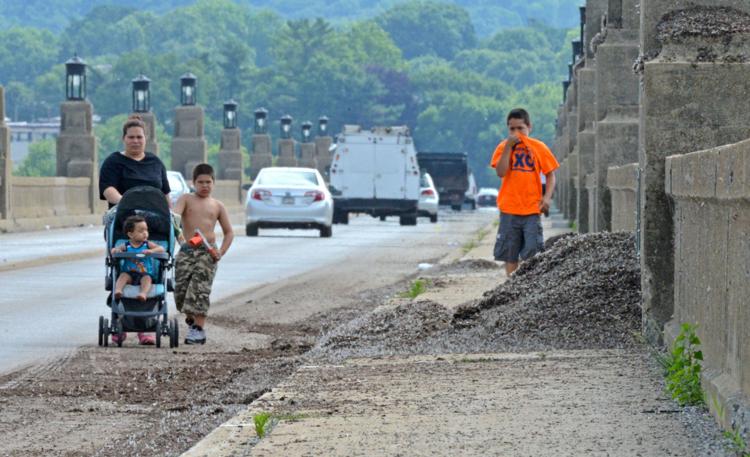 At Shank's Mare, there have been four recent large hatches of the mayflies, beginning two weeks ago, that have covered the headquarters building, stored kayaks and canoes, and trees on the grounds.
"The trees were so heavy with them if you walked by or rustled anything, you just had clouds of them lifting off," said co-owner Liz Winand.
"The good news is they're pollution intolerant, so it's a good thing. They are a phenomenon and it's an interesting thing to watch. It's nature at work and it's short-lived, so we can deal with it."
John Wallace is a Millersville University biology professor who is doing preliminary research into the mayfly hatch at the request of worried Wrightsville Borough Council.
He thinks the extreme hatches in recent years reflect not only improved water quality in the Susquehanna but also increased sediment habitat from dams. The mayflies burrow into soft mud.