In the market for some old traffic lights? Or a hitching post from the early 1900s?
How about the old clock from Penn Square?
The city of Lancaster is getting rid of surplus vehicles, bikes, office furniture and more at a public auction today at the former Streets Department Building, 750 Fairview Ave.
Items are collected from all city departments over several years and auctions are held as needed, said Megan Baum, bureau chief of procurement and collections for the city.
The last auction was held in 2017 — when roughly 150 bidders bought items such as a 1989 Mack fire truck, she said.
Bidders will have the opportunity to preview the items from 8 to 9 a.m., with the auction starting at 9 a.m. Vehicles will be auctioned starting at noon, with bikes following directly after.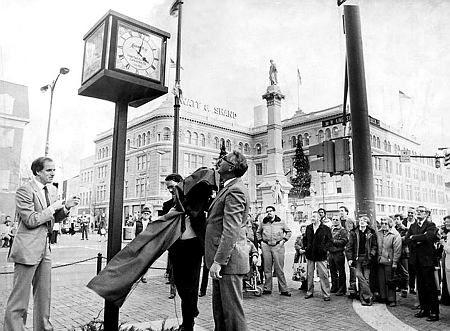 A notable item is the clock that stood in Penn Square since the early 1980s, when it was donated by the Hamilton Watch co. It was removed during the square's renovation.
Other unusual items are 98 leftover VCR tapes from the city's 250 anniversary celebration, several lamps from Southern Market, old printing silks for street signs and an old central market sign.
There are also 10-15 motor vehicles being auctioned and approximately 200 adult and children's bicycles.
The auctioneer, Ron Funk, of Gordonville, is also the event's food vendor.
A list of items being auctioned can be found at the city website.