It's been nearly 300 years since Benjamin Witmer built his namesake tavern along what is now Old Philadelphia Pike.
Enlarged in 1773, the oldest part of the 2½-story blue limestone tavern just east of Lancaster dates to 1725. It was one of the first to operate along the stone turnpike that opened between Lancaster and Philadelphia in 1794.
While the 4,700-square-foot Witmer Tavern continued to operate as an inn through the mid-2000s, the last decade has been tough on the property, which went into foreclosure in 2009 and then fell into a period of neglect.
By last fall, the situation had become dire. A blue tarp did little to keep water from getting into the building where it soaked the insulation, began to rot some of the wood and caused ceiling joists to come undone in one of Lancaster County's oldest buildings.
"Years of owner neglect, and inadequate municipal planning and protective actions, have left it crumbling and exposed to the weather," Gene Aleci, a Lancaster architect and president of Community Heritage Partners, wrote in a December post on his group's Facebook page.
Aleci, who specializes in historic preservation, said he thought it would take between $600,000 and $800,000 to restore the property to historically accurate standards, a daunting pricetag for any would-be buyers.
"People aren't going to pay a half million dollars for a house that's on a busy road, that's huge, and that's on a small lot," said Caleb Ringelberg, who put in a low-ball offer for the building in December.
---
Taking on the challenge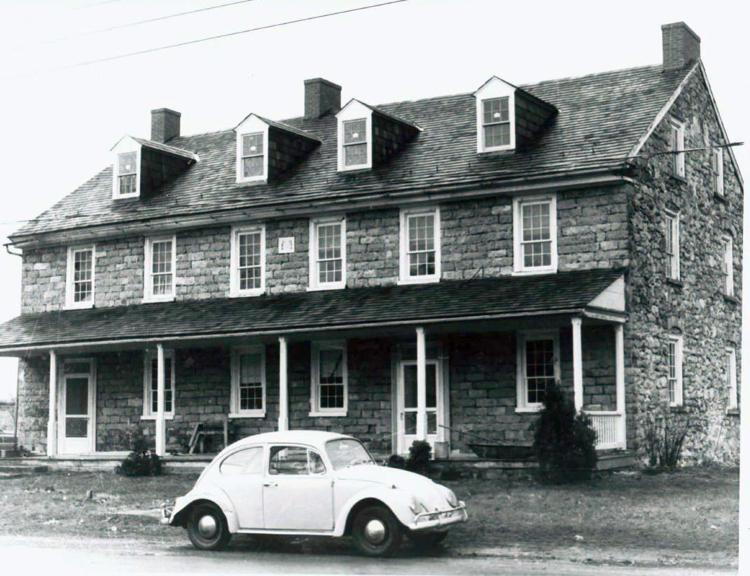 Despite the odds against it, restoration work is now underway at the former Witmer Tavern, where a new roof was installed in February.
Overseeing the project — and doing much of the work himself — is Ringelberg, who eventually raised his offer by around $20,000, buying the property Jan. 31 for $92,500. He said he could spend another $200,000 on renovations.
"In life if you are not challenged, you're not truly living," Ringelberg said. "This place comes with a high amount of risk, but with my background, I'm mitigating a lot of the risk."
Ringelberg grew up on a farm in northern Michigan and then spent four years studying HVAC engineering technology at Ferris State University in Big Rapids, Michigan. He moved to Harrisburg to take a job at Schneider Electric, where he manages energy-saving retrofits at schools and state buildings.
The 35-year-old Ringelberg said he wants to move to Lancaster because of the city's social scene. He said he wasn't necessarily looking to own a historic home, but saw good value in the former tavern.
Ringelberg said he hopes to be living on a third-floor suite by fall as he continues restore the rest of the building. He plans to eventually have roommates.
For now, Ringelberg keeps a daunting schedule. He works on jobs in Alabama and Tennessee, flying out of Harrisburg International Airport early Monday morning and returning late Thursday. He then spends his three-day weekend at the Witmer Tavern.
While East Lampeter Township doesn't have any special requirements for working on historic properties, Ringelberg is doing his renovations with an eye to its history.
"It's paying homage to the past while making it useful in the present," he said.
Aleci, who has worked on numerous historic renovations and recently toured the property earlier this month after being invited by a reporter, came away approving of Ringelberg's approach.
"I think it's terrific that he's making this effort," he said. "I'd like to clone him about 100 times and we'd save a lot more buildings in this county."
---
For more business news