Members of the Pennsylvania Chautauqua voted decisively Friday to purchase 18 acres of land near Mount Gretna Lake & Beach in order to preserve the property from development.
The site includes historic Soldiers Field, the summer home of the Pennsylvania Army National Guard from the mid-1880s until 1940.
Supporters were confident they would have a majority, but the vote's wide margin, 185 to 51, made them "extra happy," said John Feather, a Mount Gretna resident and co-chair of the Committee to Save Soldiers Field.
Friday's vote authorizes the Chautauqua to enter into a sales agreement with the current landowner, Eastern Enterprises. The sale price is $975,000; adding in closing costs pushes the total to just over $1 million.
So far, the purchase initiative has raised $810,000, and there are some additional pledges pending, Feather said.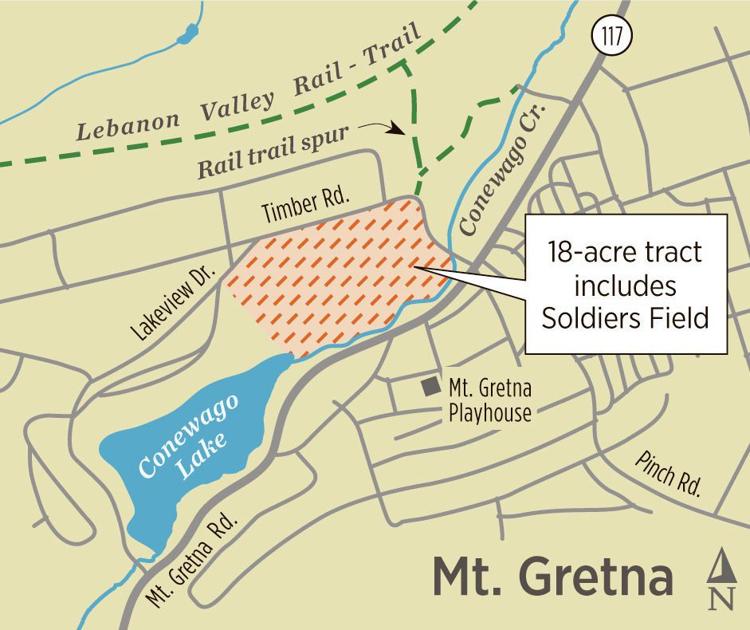 The Chautauqua plans to take out a loan to cover any remaining portion of the cost, paying it off with proceeds from its popular annual art show.
The organization has spoken to a couple of lending institutions already, and there is a private individual who might be able to lend the money "at a very favorable interest rate," Feather said.
The sale agreement calls for the deal to close within 60 days of the stockholders' vote.
Eastern Enterprises' president, Dr. Gene P. Otto III, said the organization is "delighted" that the Chautauqua will buy the property and preserve it.
"That's certainly compatible with our goals," he said. "I wish the new owners well."
Supporters believed strongly that keeping the property as undeveloped open space was essential to preserving Mount Gretna's distinctive character for future generations. Feather said the purchase has been "five years in the making."
The Chautauqua will create an advisory committee with other area nonprofits to discuss plans for the property, he said.
Goals include promoting recreation, environmental and historical study, providing overflow parking for Mount Gretna events and creating a riparian buffer to protect Conewago Creek and the lake into which it drains.