Saturday night's difficult seven-hour extrication of a teenage Boy Scout from a southern Lancaster County cave was at least the fifth rescue at the cavern since 1993.
As in the past, the latest incident at Wind Cave — also known as Cold Cave — has renewed discussion over whether the cave should be open to the public.
An estimated 60 rescuers from as far away as Harford County, Maryland, participated in the rescue amid a snowstorm to reach the stuck youth nearly a mile from the nearest road.
The boy, who was with a group of Boy Scouts and adults from Elizabethtown, was freed shortly before midnight. He did not suffer serious injury but was admitted to Lancaster General Hospital and is expected to be released Monday.
The group of 16 was about 350 feet into the cave south of Pequea when the youth slipped while crawling through a passage and became wedged by a large jutting rock around 3:30 p.m., according to Tony Williams, a spokesman for the Rawlinsville Fire Company.
Should the Wind Cave be open to the public?
This was not the group's first time in the cave, officials said.
Group members tried to free the youth for two hours, but that caused pain in the boy's back and hip.
Rescuers, arriving in the dark, chiseled away at the rock and used rope pulleys and a harness to free the boy. Warming pads were used to keep the trapped youth warm in the cold air.
"Hypothermia was a real issue," Rawlinsville Fire Chief Carl Strickler Jr. said.
The boy was carried through the woods on a Stokes stretcher amid snow and mud to a waiting physician and  ambulance.
Volunteer fire crews were on the scene until 4:30 a.m. Sunday retrieving specialized rescue equipment.
Popular with spelunkers
The cave is well-known among cavers as being the largest tectonic cave in the Eastern United States, and perhaps the nation. Unlike the majority of U.S. caves formed from water erosion of limestone, Wind Cave was formed by a violent crack in the earth's crust.
Most tectonic caves are small. Wind Cave has almost 2,000 feet of passageways and rooms.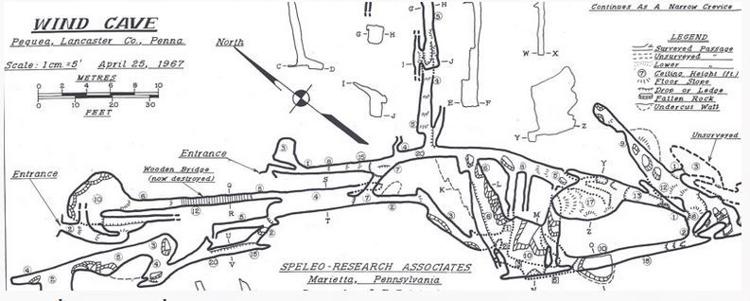 It was named Wind Cave because a prominent breeze constantly blows between its two entrances. It is known to some as Cold Cave because it is cooler year-round than other caves in Pennsylvania.
The remote cave is not technically difficult for spelunkers, but it can be slippery, dark and confusing, with tight spaces and channels that require climbing to access.
The cave sits along the Conestoga Trail System, one of the most popular trails in Lancaster County, on land long owned by PPL and currently owned by Brookfield Renewable. However, the land is expected to be turned over to the Lancaster County Conservancy sometime this year for long-term stewardship.
At least one local outfitter leads paid tours of the cave.
Potential problems
In addition to its popularity by both serious caving enthusiasts and the general public, its remoteness attracts drinking, fires and spray-paint vandals.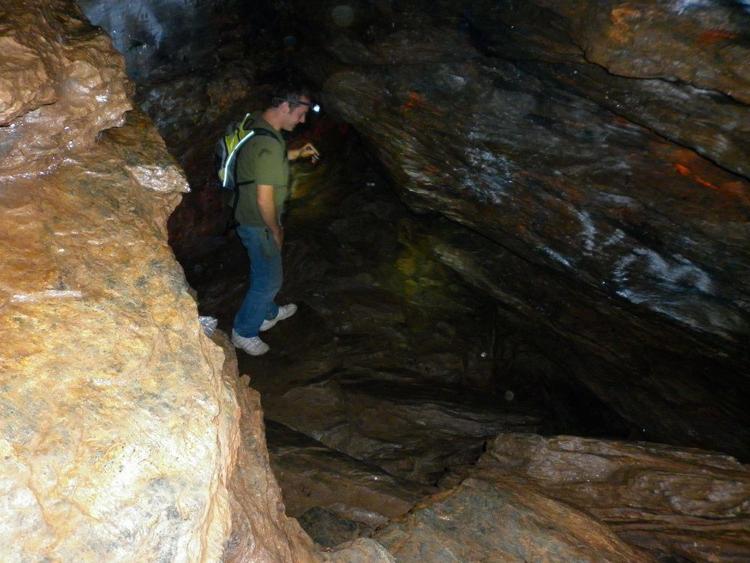 In April 1993, after a 3 a.m. rescue that involved drinking, PPL decided to keep the cave open but charge those who use the trail and cave "irresponsibly" with trespassing.
In a statement to LNP Sunday, Brookfield Renewable spokesman Brian Noonan said, "We are well-aware of the situation and are investigating fully. We look forward to working with our friends in law enforcement to ensure another situation like this doesn't happen again. Public safety remains Brookfield Renewable's highest priority."
Strickler said he is no expert on whether the cave is safe for the public, but added, "As a public safety guy, if that cave wasn't there, it would not break my heart.
"It's a great natural resource, but the way I see it,  it's a hazard. "
As for who will pay for the massive rescue effort Saturday, Williams said, "We're all volunteers and use donation drives. We never charge."