Doug Rice connects to satellites using an antenna he made from coat hangers, leftover screws, a furring strip and a camera tripod he found in the trash.
Now, the 46-year-old Lancaster man uses the handmade contraption — and a handheld radio that cost nearly $500 — to talk to people around the world.
He and other members of the Red Rose Repeater Association — call sign W3RRR — set up their gear and opened communications Saturday afternoon for a 24-hour Field Day showcasing their craft.
The event is on the grounds of Thaddeus Stevens College of Technology and is open to the public.
"Primarily, it's for us to come out and show off our emergency preparedness," said Audra Wilder, 46, of Mount Joy.
If the wireless network goes down or power is interrupted, ham radios still work, she said.
"A ham radio relies on no infrastructure whatsoever," Rice agreed. "You don't need internet access. You don't need the power grid. And we can deploy radios like this anywhere."
When Hurricane Maria struck Puerto Rico in September, Rice said it was a ham operator on the island who first contacted the outside world while other forms of communication were still down.
"Here in the States, ham radio operators were standing by, waiting to hear from them," Rice said.
Story continues after photo.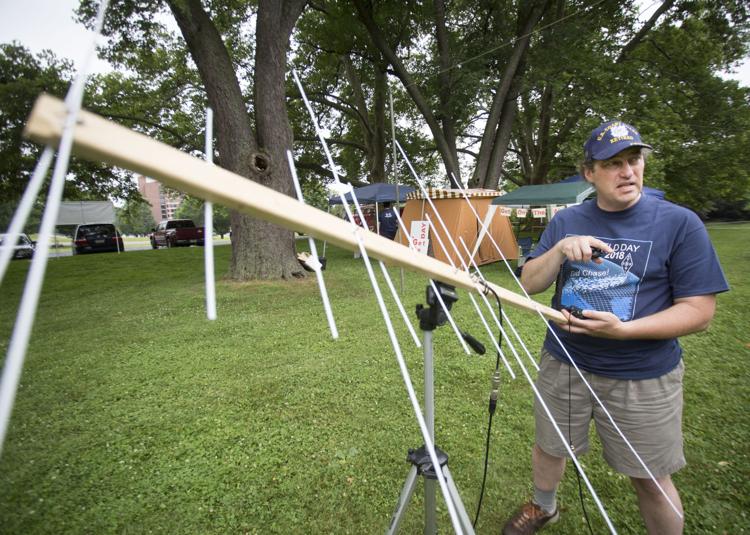 'For the camaraderie'
The Red Rose Repeaters have about 50 members, Wilder said, ranging in age from 20 to over 90.
Field Day, Rice said, is a chance to show off their gear and their skills while socializing and introducing the hobby to visitors.
"People don't realize how much fun it is," he said. "The misperception is that it's outdated technology, but that isn't true. We use some of the same skills and technology as the military."
Club president Allen Showalter has been active since 1980.
The 76-year-old Lancaster Township man — known to other operators by the call sign AB3NE — said he migrated from CB radios because there was so much in-fighting among users. Ham radio users, he said, "behave like gentlemen."
"I do it for the camaraderie," he said. "Most of these people are very nice. I mean, occasionally there's a stinker, but that's true with anything."
Showalter's furthest call made it to Saudi Arabia, he said. Once, he said, a missionary in Central America reached out to a Red Rose Repeater and asked him to let his family know he was OK.
Story continues after photo.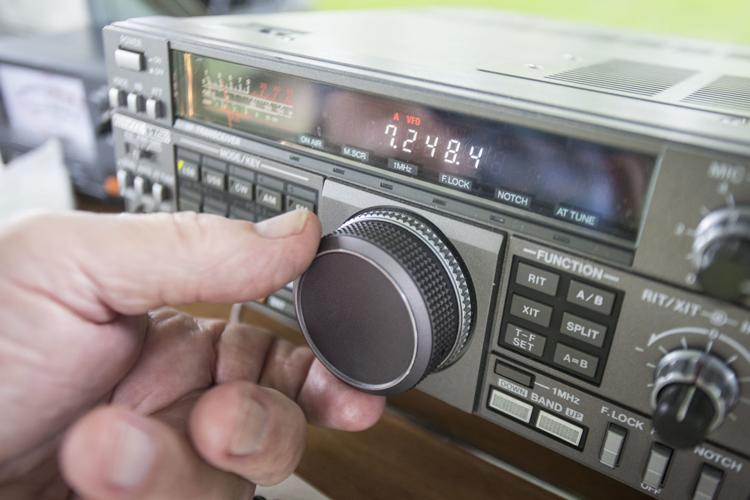 'Coolest thing ever'
Rice, call sign W3COB, has been active with the local group since 2016. He said his interest was piqued when he attended a Boy Scout jamboree at Long's Park that featured a demonstration.
"I heard voices from all over the country," he recalled. "It was the coolest thing ever."
Later, while serving with the U.S. Coast Guard on an anti-narcotics cruise in the Caribbean, a ham radio operator made it possible for the crew to call their families back home for Christmas.
After retiring from the Coast Guard, he attended a Field Day event, similar to the one this weekend, and was hooked.
Wilder — aka KD3K — said she's been active for more than a year. She was turned onto ham radios by an uncle, who's been a licensed operator for more than 50 years.
"When I was a kid, women weren't encouraged to do this," she said. "Now I'm a little older and I realized, what's stopping me?"
Different aspects of the radio appeal to different people, Wilder said. Some just love to "ragchew" — chat with people they meet on the airwaves — while others make a game of contacting people from greater distances, or filling in a global grid of radio locations.
(Lancaster, by the way, is FN10 on the grid.)
Wilder said her broadcasts have reached as far as Hawaii and Russia. Rice has gotten to Germany, Russia and Norway.
Jim Adams, 59, of Salunga — aka N3ROC — has been broadcasting since 1995.
Struggling Saturday to overcome a low cloud cover that was interfering with his transmissions, he said he enjoys the challenge of ham operation.
"With my cellphone, I talk to my wife or my daughter," Adams said. "With my radio, it's fun to see how far I can go."