Wrapping herself in blankets and reclining in the passenger seat of her Kia, Jolena Bonsall, 47, settled in for a frigid, dismal night.
Her husband, Allan Bonsall Jr., 55, a truck driver too ill to work, curled up in the back seat.
It was January 2014, the middle of a desperate winter.
Bonsall was depressed and worried about Allan, a conscientious family man and provider she had always leaned on. An immune-system disorder was shutting down his liver.
Evicted in early December 2013 from their townhouse in Exton, Chester County, because they were late with rent, the Bonsalls alternated between staying in their car and at an $84-a-night hotel a few miles from their former home.
They needed a cheaper option.
After a final night in their frost-coated car, the Bonsalls headed west on Route 30 into Lancaster County and turned in a narrow drive to the no-frills Paradise Motor Lodge, where owner Indira Periyasamy had good news: a room for $225 a week.
Bonsall has lived at the motel ever since.
It became her husband's last home.
Last-resort housing
In Lancaster County and around the country, it's not unusual for budget motels to become homes of last resort for people who encounter barriers to rental housing.
Some stay for months.
The reasons vary, but a common theme is how people of limited means struggle to set aside enough money for the security deposit and the first month's rent landlords routinely require before accepting a tenant.
Lancaster County is a hard place for even working families to find an apartment. A 2013 analysis of the housing market here placed the median rent at $834, suggesting that the typical renter needs about $1,600 to get a foot in the door.
The analysis, conducted for nonprofit Lancaster Housing Opportunity Partnership, found rental units in short supply. Lancaster County's slim vacancy rate of only 5 percent puts upward pressure on rent, compounding the affordability crisis.
The hunt for housing gets even tougher for those who landlords reject for bad credit, a criminal record, a spotty work history or a lack of credible references.
"That is like a life sentence to poverty," said Nate Hoffer, director of Ephrata's Good Samaritan Shelter for homeless women and children. Apartments are cheaper than motel rooms, he said, but remain out of reach.
Officially, not homeless
The Lancaster County Coalition to End Homelessness is aware of the problem, but has little to offer people living in cheap motels.
The U.S. Department of Housing and Urban Development requires the federally funded coalition to target services only for those who meet a narrow definition of homelessness: those living on the street, in emergency shelters or in places not fit for human habitation.
Living in a motel does not make the cut.
The coalition, for that reason, does not include motel residents in its twice-a-year count of the homeless.
"It's really hard to get at who are at the motels," said Jen Koppel, coalition director. "The motels don't tend to share that information."
Liz Hersh, director of the Housing Alliance of Pennsylvania, which advocates for solutions to the affordable housing crisis, said people staying in motels or "couch surfing" in the homes of friends and family are living "under the radar" of homelessness prevention initiatives.
"The homeless numbers are dropping. We are seeing some progress because of new strategies," Hersh said. "At the same time we know that the economic recovery has not benefited the lowest income people. Low-wage workers and people on fixed incomes are struggling. The shortage of affordable and available units is bigger now" than before the Great Recession.
Hersh called low-cost motels "a livable alternative," but only as long as they are clean, safe and not exploiting the poor.
"In my view," she said, "the worst possible thing is for people to be on the streets, in unsafe situations and moving from place to place."
Motel blues
Jim Patel, who has managed the 19-room Blue Note Motel on Route 441 near Marietta for three decades, said he is seeing a trend of more hardship guests.
"It's not epidemically bad," he said, "but especially the young couples — they are having more problems."
The Blue Note offers weekly rates — last year it was $250 — between November and March when daily reservations fall off, Patel said.
"It does help with cash flow," he said.
The Red Rose Motel in Rheems, south of Elizabethtown, receives frequent inquiries about weekly rates, said manager Michelle Patel, Jim Patel's daughter-in-law.
"A lot of times they have bad credit, or they don't have enough to put down a deposit and the rent," she said. "That's why they continue staying week to week here."
The Red Rose Motel became home for Kay Campbell, 58, and daughter, Alice, 36. On April 1, they began sharing a room not much bigger than its double bed.
They lost their federally subsidized, two-bedroom apartment in Elizabethtown, they said, because of a dispute with the landlord over having "too much stuff."
From Social Security Disability payments totaling $1,500 a month, the Campbells said they pay the motel $1,200 a month.
An Elizabethtown church paid the rent the first two weeks, they said. Now they are on their own.
"I feel stuck," Kay Campbell said. "The room's hot. We don't know how to work the air conditioner. It made a funny noise, so I said, 'Forget it. Let the door open.'"
She said she didn't know how to change her living situation.
Ronald Beck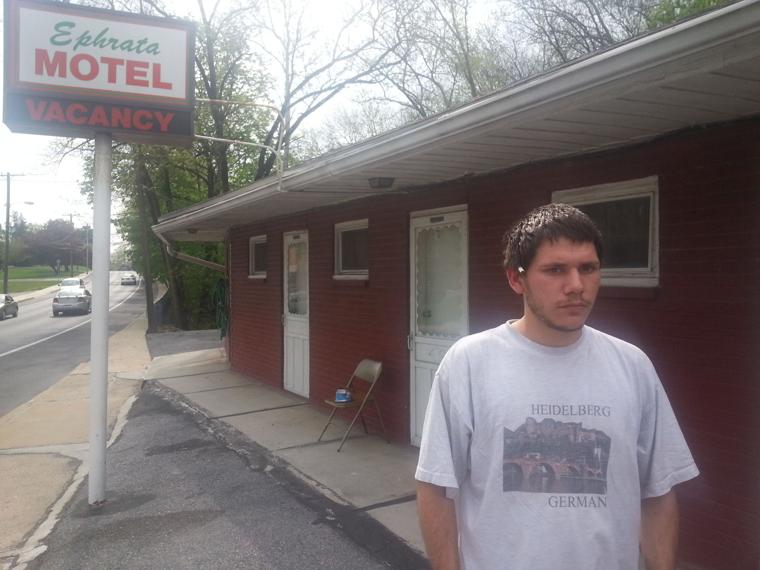 On a recent afternoon, 21-year-old Ronald Beck had little good to say about his meager accommodations at the Ephrata Motel, a forlorn refuge for people down on their luck.
"There's no fridge. No microwave," said Beck, paying $200 a week from his Supplemental Security Income check. "It really does suck."
Recently released from Lancaster County Prison, after an arrest for theft, and looking for work, Beck said he can't stay with his mother because he's not on her lease.
"He's in a bad way," said Sheldon Thorpe, a human resources executive from Reamstown who met Beck through the faith-inspired outreach he and his wife, Sandy, offer to motel residents.
Thorpe said he didn't understand their challenges at first.
"But go try to rent an apartment if you don't pass a credit background check, even if you have the money," he said. "If you lost a car, go try to get back on your feet when you can't get to where work is available."
"Ronald could tell you all the bad decisions he has made," Thorpe said. "You hug this guy and wonder when was the last time he had a friend."
Paradise Motor Lodge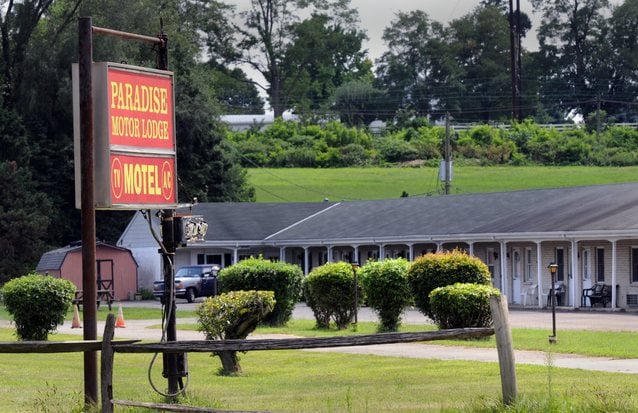 One less budget motel will be available in Lancaster County when the 19-room Paradise Motor Lodge closes June 15. The owner said closing is necessary because she and her husband are in poor health.
The pending closing adds urgency to Jolena Bonsall's housing search.
She needs a place not only for herself, but for her daughter, Nicole Harris, 31, and Harris' children, Samantha, 14, and Matthew, 12, all of whom were displaced in the December 2013 eviction from the Exton townhouse.
Harris and the children stayed at a Chester County motel for about 10 days in December 2013 until a friend opened her Coatesville home to them.
But that friend fell behind on bills, the electric company cut off service, and Harris and her children in February 2014 joined the Bonsalls at the Paradise Motor Lodge in a room one door down.
On weekday mornings Bonsall drove Harris 26 miles to an Exton restaurant where she was a waitress.
On April 24, 2014, Allan Bonsall was stricken as he slept in the motel and died at Lancaster General Hospital.
Related story: Homeless students on the rise in Lancaster County
Two weeks after his death, Harris and the children moved into Room 11 with Bonsall.
Samantha is an eighth-grader who enjoys reading and was making the honor roll at Pequea Valley Intermediate School, where she has been a student since October 2014.
She has few complaints about motel life. "As long as I was with my family, I was pretty much OK," Samantha said.
Her brother, Matthew, a student at Paradise Elementary, said, "I try to make the best of every situation."
Indira Periyasamy, the motel owner, described the Bonsall/ Harris family, like other families and individuals who have been long-term guests at the motel over the years, as respectful, "decent people who fell on tough times."
Periyasamy is planning a flea market Friday, May 22 through Sunday, May 24 at the motel with the proceeds going to the Bonsall/ Harris family.
Jolena Bonsall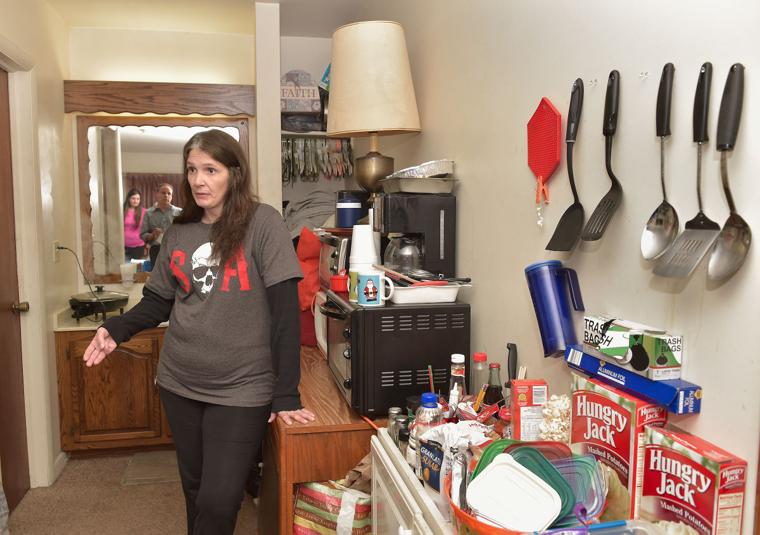 At supper time recently, Bonsall boiled spaghetti in an electric skillet in their motel room, drained it in the bathroom sink, microwaved sauce and served the spare meal to the family gathered around a card table between the two double beds.
The four bowed their heads, and Bonsall said grace.
The room was tidy despite clothing, games and other belongings stored in piles along the walls. Three spatulas and two cooking spoons hung on the wall.
Bonsall asked her grandchildren about school. Matthew said he needed a form signed for a field trip. Samantha chided Matthew for his interest in pit bulls.
Bonsall promised she'd bake brownies later in the evening using a countertop oven.
In an interview, Bonsall said she tries to make things as normal as possible for her grandchildren. She struggles with feeling she let them down.
"I watch them sleep," she said, "and think, 'God, how do I make it better for them.' If we just had a home, I know that we can do it. I know it. It's just getting there."