The rear door of the big, 200-year-old house opened to John J. Snyder Jr.'s kitchen, where he cooked crab-stuffed flounder and other dishes he shared with Sukey and Gwinny, his coddled English springer spaniels.
It's also where he kept seven rare, 8-foot-tall grandfather clocks, any one of which could have been a living room focal point.
Snyder, of Washington Boro, had a reason for seven clocks in the kitchen: He had filled up the rest of his house.
A small, mildly eccentric bachelor with a tidy mustache and inquisitive mind, Snyder was an independently wealthy antiques scholar with a thing for early Pennsylvania tall case clocks.
By the time of his death at the age of 67 in December 2013, he had collected 112.
Many were in storage. But 66 clocks stood, often shoulder-to-shoulder like colonial infantry, throughout Snyder's painstakingly restored, six-bedroom brick house he called Toad Hall.
Clock parts lay here and there.
Each clock plays a role in Snyder's $9.7-million legacy, one that will benefit museums and historic preservation as far as North Carolina for years to come.
But there was more than clocks.
Snyder also filled his home, built in 1813, with dozens of early American pieces, such as tables, desks, cupboards, chests and chairs. In drawers and cabinets he stockpiled antique china, silverware, ceramics, jewelry, cane handles and more.
A two-story carriage house to the rear was similarly packed, but friends say Snyder wasn't a hoarder. He was a man on a mission.
He wanted to study and save for future generations the best work of inland Pennsylvania furniture makers between 1760 and 1810. Journals and magazines published his research.
But as his health failed, friends grew concerned. They urged the heirless Snyder to decide what pieces should go where upon his death. Time ran out before he tackled the task.
It fell upon the three co-executors of Snyder's $9.7-million estate to decide what pieces to sell and what to offer to museums.
They gave the best of the best to 17 museums, historical societies and historic homes. It took a year to inventory and distribute everything.
"It's about all I did," said Jamie Price, 61, of Carlisle, an antiques dealer who befriended Snyder four decades ago. Price worked with attorneys Paula Leicht and Elyse Rogers.
The biggest beneficiary was Rock Ford Plantation, the 18th-century home of General Edward Hand, south of Lancaster. It accepted 300 items, including 30 tall case clocks.
Donated tall case clocks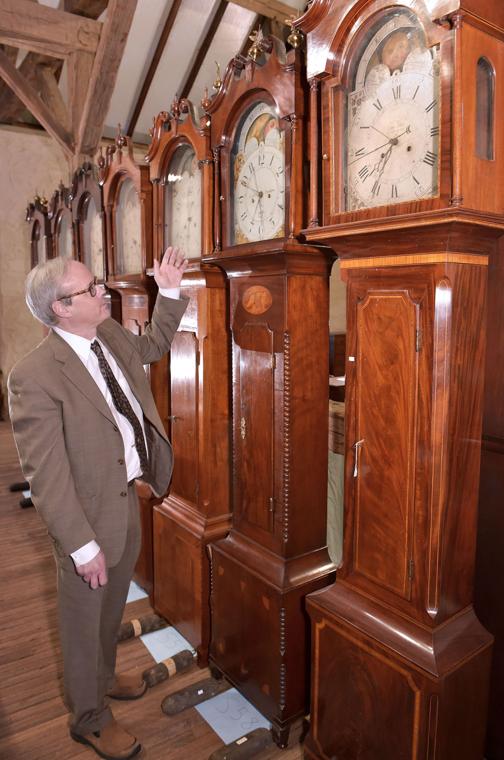 Fourteen clocks went to York County Heritage Trust in York, 12 to Berks History Center in Reading, and nine to the National Clock and Watch Museum in Columbia.
The celebrated Winterthur Museum in Delaware, where Snyder had studied, got pieces, as did Old Salem Museums & Gardens in Winston-Salem, N. C.
"We were very pleasantly surprised," said Robert Leath, chief curator at Old Salem, which received an 1804 chest of drawers.
Berks History Center is planning a two-room exhibit based on 29 pieces from Snyder's collection. Executive director Sime Bertolet said the acquisitions "elevated our collection immeasurably."
Snyder made clear to the co-executors he didn't want his Pennsylvania clocks sold to collectors and closeted in their mansions.
He wanted them on public display in the counties of their origin, where scholars could discover more about their makers.
"He has set the bar for other collectors," Price said. "It's a challenge to those of us who have collections to also make prudent decisions on how to pass them on."
But a challenge of a different sort fell upon Rock Ford.
Samuel Slaymaker, Rock Ford executive director, initially declined Price's offer of dozens of clocks and other pieces.
In part, because Snyder had donated items over the decades, the Georgian-style mansion was furnished with historically accurate pieces and had no space for more.
"That's too bad," Slaymaker remembers Price saying. "He really wanted these things to go to Rock Ford."
Rock Ford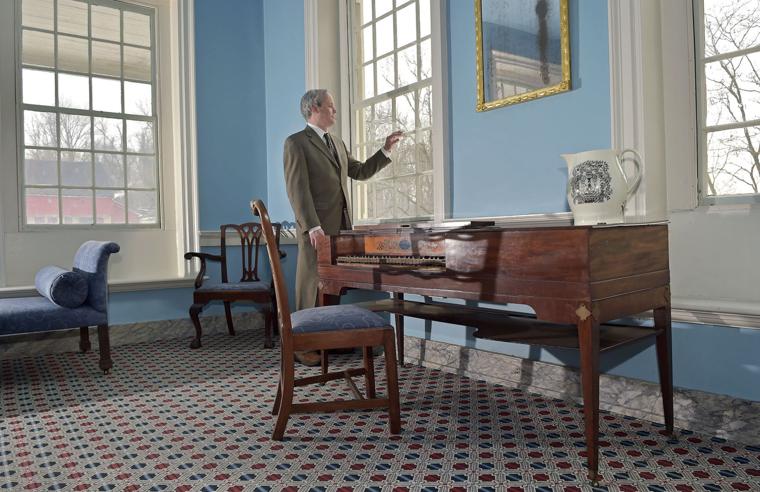 But the more Slaymaker and the collections committee considered the offer, the more they felt an obligation to honor Snyder's life work by accepting a slice of his collection.
"The easiest thing is to say we're sorry," Slaymaker said. "But what would have happened is … the collection John put together would have been scattered to the four winds."
The Rock Ford board decided to turn an 18th-century barn uphill of the mansion into a museum of early Americana. It will feature furniture and rifles made in Lancaster County during the time Hand lived.
"I wouldn't be honest not to admit to a certain amount of trepidation," Slaymaker said, because of the money that must be raised. "This is not the easy solution, but we think it's the right one."
Not everything Snyder collected went to museums. More than 1,000 pieces went on sale at Conestoga Auction Company in Manheim for three days last September and one day last November.
The sale netted more than $900,000, contributing to the more than $5 million of Snyder's estate dedicated to the preservation of historic buildings. The money is in two trust funds managed by Lancaster County Community Foundation.
One fund provides grants of up to $75,000 to community benefit organizations in Lancaster and Cumberland counties with a historic structure. The money is for what Snyder called "unglamorous" maintenance projects. The first grants will be awarded in September.
The other fund specifically benefits maintenance at Rock Ford and Old Zion Church of Brickerville, which dates to 1813.
Snyder's research and collection will cement his legacy, but those who called him friend will have memories to cherish.
A cabinet maker in Colerain Township who restored many of Snyder's pieces, David A. Weaver, 65, remembers the fun of auctions with Snyder.
People surreptitiously followed Snyder, Weaver said, to see what interested him and might have value.
Snyder was aware of the attention he drew, and Weaver asked if he ever considered feigning interest in a piece. Snyder's response was memorable.
"Yes," Snyder said, "it would be tempting. But it wouldn't be right."
John J. Snyder Jr.