Super heroes are awesome. They show up rain or shine to complete their mission, whether it be fighting the forces of evil or bringing some joy into the life of a child.
The Central PA Avengers, a non-profit group of costumed volunteers, descended on a very wet downtown Lancaster Saturday, to fight the evil forces of Dr. Doom, along with their super-hero friend, Taiven Schopf.
Taiven, 8, is in treatment for a rare form of brain cancer called ependymoma.
Knowing the child was a fan of the crime-fighting Marvel Comics characters, Jason Johnson, the president of the Central PA Avengers, organized a whole day for Taiven and his parents, Dean and Tammy Schopf, of Dover, that allowed the third-grader to rescue superheros, solve puzzles and ultimately conquer the forces of evil.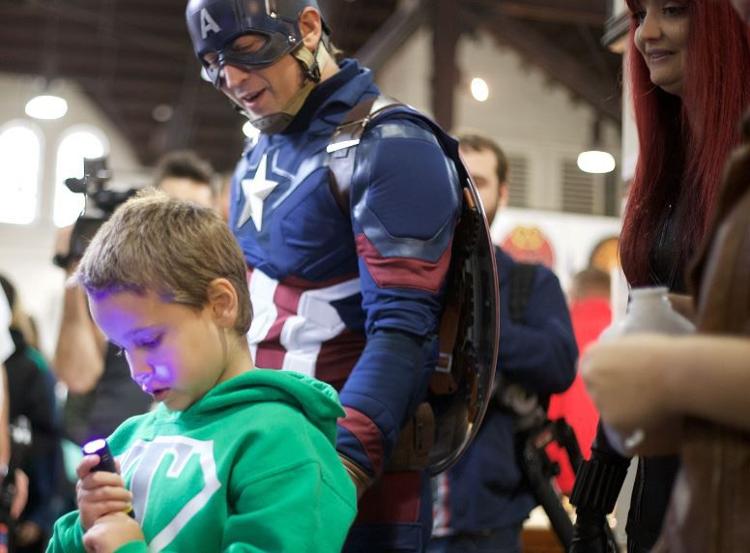 "We try to put a smile on the face of a child," said Johnson who stars as Captain America in most of the events the group organizes, including Saturday's.
Central PA Avengers has staged events at York Rescue Mission, YWAC of Greater Harrisburg, Mom's House of Lancaster, Swatara Police Department and Schreiber Pediatric Rehab Center and visited ailing children in homes and hospitals.
Taiven might have been a tad overwhelmed as he first met the real-life characters of Captain America, Johnson, Iron Man, Tom DeShong, War Machine, Robert Cruz, and the Black Widow, Nicole Brennan, on the third floor of Altana Restaurant on West King Street.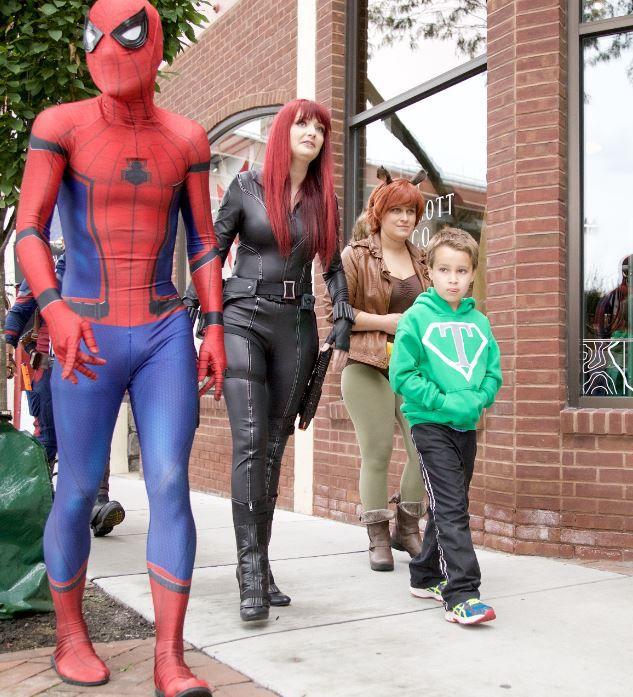 But after a little conversation, he was happy to receive his initial instructions for the day, along with a handy lazer gun.
"I like Captain America the best," said Taiven of the Marvel Comic characters. "He has a shield and armor that protects him, in case anyone tries to hurt him."
The analogy was not lost on Taiven's parents who were thrilled with the outing for their son.
"It's a dream come true for this kiddo," said Tammy of her only child, who was first diagnosed with childhood ependymoma, a disease where cancer cells form in the tissues of the brain and spinal cord, two years ago.
His parents said their son underwent brain surgery in early 2015 and is still "battling" the disease.
Taiven got more involved in the fun when he untied Dr. Strange, played by Nicolas Duncan and Elektra, played by Kristen Miller, and sifted through potions to get his first clue at the Spice and Tea Exchange on West Orange Street.
Then it was off to Lancaster Cupcake next door where he met another character, Squirrel Girl, Marie Mortimer.
The growing group of superheros ushered him into Central Market stops, The Visitors Center, where they were joined by Mockingbird, Karen Okumura and Aurora Films.
Dr. Doom, played by Aaron Lunger, was waiting for the entourage, but they got a helping hand from Spiderman, Patrick Michael Brown, to defeat him.
Taiven also got to meet the characters Deadpool, played by Jay Phillip, and Hawkeye, played by Matthew Bovino before he returned to the Escape on Queen to round down the day.
It was clear the characters were having as much fun as Taiven vanguishing their enemies.
But the focus was all on Taiven, who was beaming at the experience.
"He may not even yet realize how once-in-a-lifetime this is," said his mom, Tammy. "But it's wonderful."