The builders of the controversial Atlantic Sunrise gas pipeline have received their final three environmental permits and could begin preliminary construction within a few weeks.
In Lancaster County, earthmoving for the pipeline across 37 miles could begin from mid to late October, said Williams Partners spokesman Christopher Stockton.
That's because early construction work to clear trees will take place in many of the nine more wooded counties north of Lancaster County, Stockton said.
Completion is expected by July 2018.
The state Department of Environmental Protection announced Thursday that it had approved stream crossing and erosion and sedimentation permits for the project. A needed dredging permit was granted by the U.S. Army Corps of Engineers on Tuesday.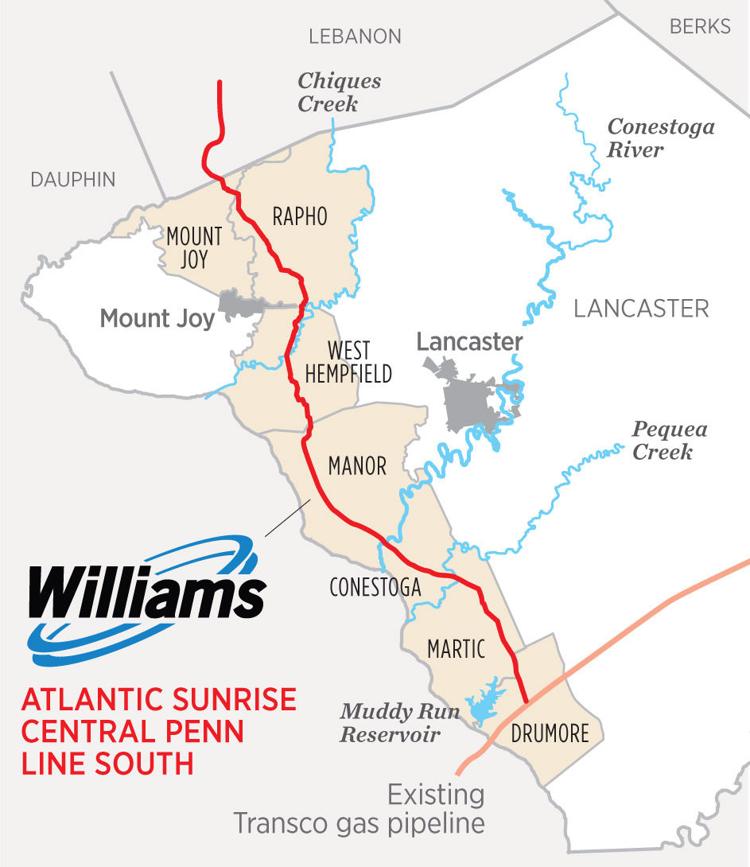 Stockton said Williams would immediately ask the Federal Energy Regulatory Commission for a notice to proceed, which could take several days to two weeks, Stockton said.
FERC approved the 197-mile, $3 billion project on Feb. 3, saying environmental impacts from the project would be in "less than significant levels."
Much of the project involves a shortcut pipeline to connect the interstate Transco gas pipeline with gas from wells in the Marcellus Shale region of northeastern Pennsylvania. The gas would be sold to markets from New York City to Alabama and for export overseas.
The new pipeline would run from Susquehanna County to the main Transco pipeline in Lancaster County near Holtwood.
"We are very pleased to have reached these important milestones for the Atlantic Sunrise project," said Alan Armstrong, president and chief executive officer for Williams.
"This vital project will leverage existing infrastructure to deliver economic growth and help millions of Americans gain access to affordable Pennsylvania-produced clean-burning natural gas."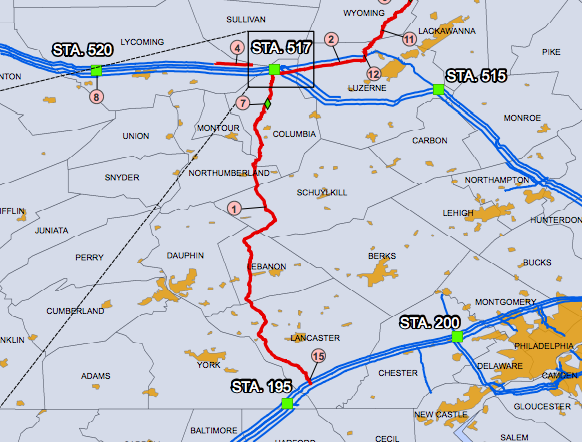 In granting the permits, DEP said it had thoroughly reviewed the project and added conditions.
"DEP undertook a thorough review of these permit applications, and factored in thousands of comments from Pennsylvania residents," said DEP Secretary Patrick McDonnell in a news release.
"DEP's technical staff reviewed the comments in evaluating the revised plans and final permit conditions that must be met throughout the construction process of this pipeline."
DEP is requiring Transco to alert homeowners of activities near their homes and water supplies. The Mariner East 2 gas pipeline in Pennsylvania was recently stopped briefly by DEP over leaks and water contamination episodes.
A federal judge Wednesday gave the builder of the Atlantic Sunrise gas pipeline immediate po…
DEP also is stipulating that Transco offer to pre-test private water supplies along the Atlantic Sunrise route so that any impacts from construction can be quickly identified and remediated, McDonnell noted.
"This is not the end of the DEP oversight of this project," he said. "DEP will continue to hold the project accountable to regulatory standards that protect the environment and ensure the health, public safety and welfare of local communities."
Opponents of the pipeline had clung to the hope that the state agency would deny environmental permits as New York state has done recently for two large gas pipeline projects.
"We are not New York. New York takes more pride in the environment than does Pennsylvania," Malinda Clatterbuck, a Martic Township resident and co-founder of Lancaster Against Pipelines said Thursday after learning of DEP's approval. "We know that DEP just pushes things through.
"We are not surprised but it's still a slap in the face," Clatterbuck said. "The system is skewed in favor of allowing an industry to damage and violate. The only way that is going to change is if we have people stand in nonviolent mass action and say, 'This is unjust and has to change' and that is what we will be doing in the coming weeks."
Six construction crews Williams has contracted for the work will now be mobilized and undergo environmental and safety training on all the specific requirements in permits from the state and federal agencies, including FERC, Stockton said.
Staking of the pipeline route and 125-foot construction zone is not yet complete in the 10 counties.
Once work begins, crews will work on the entire pipeline route through the winter.
DEP has not yet given approval to Transco's plans to offset 106 tons of smog and soot pollutants caused by the pipeline construction in Lancaster County by paying for reductions of pollutants in Harford County, Maryland.
The Tulsa-based company Williams Partners wants to build a 50-foot-wide pipeline right of way through 35 miles of Lancaster County, involving …
But Stockton said the company expects approval from DEP soon. DEP has already granted an air quality permit for the project. The emissions plan is just one part of that.
Nor will a freedom-to-practice-religion lawsuit against Transco and FERC by a Catholic order of nuns near Columbia block pipeline construction from starting along other stretches here and elsewhere, Stockton said.
The pipeline runs through a portion of property owned by the Adorers of the Blood of Christ, who oppose the pipeline on grounds that it violates their mission to protect the earth.
A simple, open-air chapel the nuns allowed Lancaster Against Pipelines to build in a corn field in the pipeline right of way has attracted worldwide media attention.
The pipeline will be built through Lancaster, Lebanon, Schuylkill, Wyoming, Columbia, Luzerne, Northumberland, Lycoming, Clinton and Susquehanna counties.