The Dewey Decimators compiled a training montage to show just how serious they are about the competition.
The montage — featuring several employees of the Lancaster Public Library, including executive director and team leader Heather Sharpe (see below) — shows them doing pushups, running obstacles and cracking books with tireless enthusiasm.
They hope to be ready to show their mastery Tuesday evening when they compete against 16 other teams in "Are You Smarter than a Librarian?" — billed by the library as "the ultimate trivia competition."
"We've been studying up," Sharpe said Monday.
"I don't know if I want to give away all of our secrets, but I'm feeling good," she added.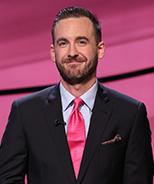 Brad Rutter — a Lancaster native known for being the highest-earning contestant on the game show "Jeopardy!" — will serve as celebrity host of the competition.
Rutter has long been an advocate of the public library system.
"We were looking for events to boost awareness of the library and generate some much-needed funds," Sharpe said.
"We were chatting about trivia in general, and this just sort of grew organically out of that," she said. "Public librarians are asked a lot of questions, so we're exposed to a broad range of information on a regular basis."
Each team, consisting of four to eight members, paid $25 to enter the contest.
Prizes include $300 for the highest-scoring team (with a $100 bonus if they beat the librarians) and $50 to the team with the most creative name.
Contestants will attempt to answer 10 questions in each of seven categories in a traditional pub-trivia format, Sharpe said.
Questions were purchased from a trivia company and will be handled by an outside party until the competition begins, she added.
"We have no idea what the categories are, or what the questions are," she said. "If you can find out, I'd love to know."
Sharpe said she hopes the competition will become an annual event, with winning teams returning to defend their trophies.
"I'm looking forward to a lively and fun-filled competition," she said.
Volunteer and outreach coordinator Leigh Kaliss said Lancaster Public Library generates more than 60 percent of its operating budget each year in-house.
Spectators are asked for a $10 donation to watch the contest unfold. Anyone showing a Lancaster library card will get a 10 percent discount on food orders during the event.