For more than a month, Alec Kreider kept quiet, concealing his involvement in the May 12, 2007, stabbing deaths of a close friend and the friend's parents in a Manheim Township home.
Investigators were baffled, and residents of the quiet Blossom Hill neighborhood were scared as the triple murder of Tom, Lisa and Kevin Haines appeared likely to go unsolved.
Then, 16-year-old Kreider — who hanged himself in prison on Friday — confessed the horrific deed to his father, and his father turned him in to police.
Intent to kill
According to affidavits, Kreider — a Manheim Township High School sophomore at the time of the murders — told his father, Timothy Scot Kreider, that he went to the Haines home that night with a plan to smother Kevin, who was described in court documents as Alec's "best friend."
Once he was inside the house, however, he used a hunting knife to kill the family.
According to reports at the time, Tom Haines, 51, was stabbed several times in the chest, and his wife Lisa, 47, was slashed across the face and stabbed in the abdomen. Both died in their bedroom.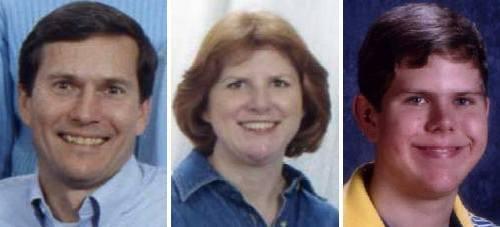 Kevin Haines, 16, struggled out of his room and died in a hallway after being stabbed and cut more than two dozen times, investigators said.
Meanwhile, 20-year-old Maggie Haines woke to screams and the smell of blood, according to court documents. She went to her parents' bedroom, where her stricken mother told her to get help; Maggie fled to a neighbor's house and called police.
Threatened suicide
After the murders, Kreider continued his studies. He, along with 150 other students, was interviewed by police, even suggesting possible suspects. He watched TV coverage of the investigation.
In a journal recovered from his room after his arrest, however, Kreider wrote that his "want/need to kill people increased," and "Never once did I believe killing a man is wrong."
In another entry, he wrote, "Ever since I was young I was defiant of rules and their consequences, which of course laid the foundation for my current anger, depression and violent nature."
About a week before his confession, on June 6, 2007, Kreider threatened to commit suicide and was involuntarily committed to a mental health facility.
It was there, according to newspaper records, that he told his father about the murders.
He also told his father where to find the blood-stained knife he had used to kill the family, which was hidden in his bedroom.
Timothy Kreider sat on his son's confession for two days before calling police, according to reports.
Kreider was arrested at his home on June 16, 2007.
Donald Totaro, who was the Lancaster County District Attorney at the time of the murders, called it "an intentional, premeditated, deliberate crime."
Kreider was charged as an adult because of the nature of the crimes, Totaro said, noting that the U.S. Supreme Court had banned the death penalty in cases involving a juvenile.
Three life sentences
Kreider pleaded not guilty to three counts of criminal homicide and one count of burglary in August 2007.
Then, in June 2008, he entered a guilty plea and was immediately sentenced three consecutive life sentences. He never gave a motive for the killings, stating in the packed courtroom that "there is none."
District Attorney Craig Stedman, who prosecuted the case, said Kreider told a fellow inmate at Lancaster County Prison that his friendship with Haines made the murder "more interesting," and that he would have tried to rape Maggie if he'd known she was in the house.
During Kreider's sentencing, Stedman told Judge David Ashworth that the teenager was cordial in public, "but he's evil."
Kreider's appeal — asking for the life sentences to be concurrent, rather than consecutive — was rejected in July 2008.
His case, along with the cases of a dozen other local killers, was scheduled for re-evaluation after the U.S. Supreme Court ruled against mandatory life-without-parole sentences for juvenile killers.