Call it the Airbnb of storage.
That's how 21-year-old Paraj Mathur describes his tech startup, SimplyStow, an app that helps people find a nearby space to store their stuff.
The app takes advantage of a barrier that Airbnb, an online home-rental service, broke by giving strangers access to somebody else's personal space.
The young entrepreneur got his idea for SimplyStow this spring, at the end of his junior year at Franklin & Marshall College. Yet again, he found himself lugging his belongings to the house of friend and classmate Ionela Turcin in Reading.
"Every year at the end of the year I say, 'Now I have to move out of this dorm. What am I going to do with all this stuff?' " said Mathur, who is from India and has spent his college summers in California.
This year, more friends started talking about finding storage. That's when Mathur, a business and computer science major, realized there was an opportunity.
He began talking to professors and mentors at F&M to develop a business plan. As the idea took shape, Mathur started programming the app. He and Turcin, a 21-year-old double biology and Spanish major, came back to campus halfway through the summer to keep working on it.
In November the app will go live.
"Our goal is that no college student or anyone ... (who has more stuff than space) will need to suffer through self-storage again," Mathur said in a recent interview.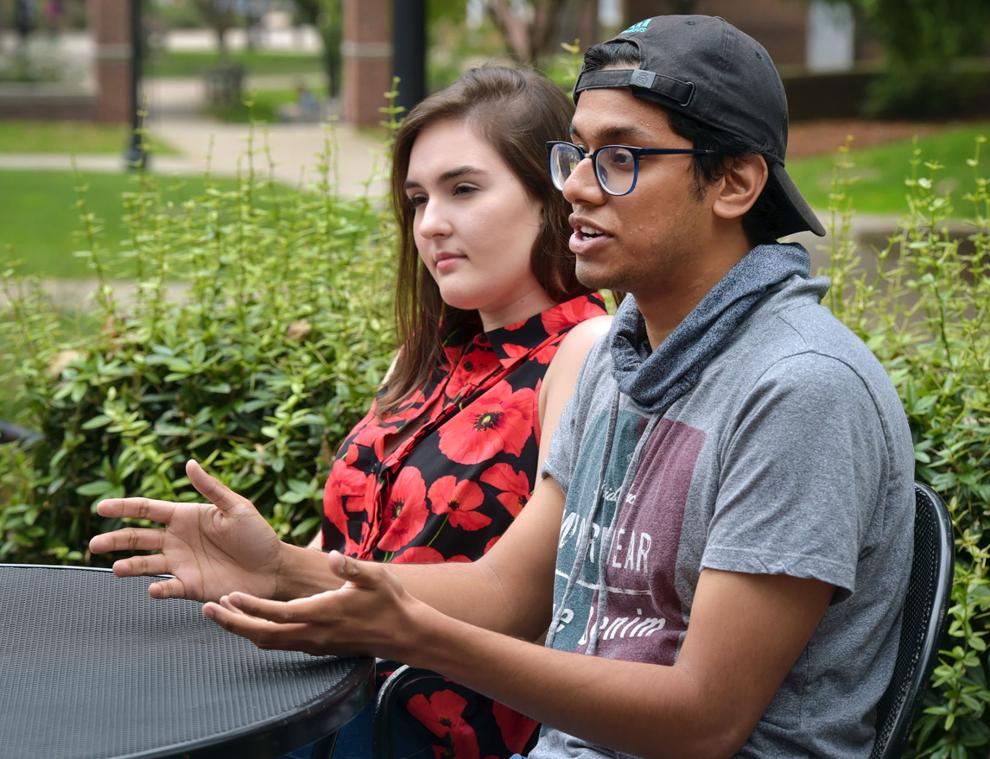 How it works
There are two roles in SimplyStow: listing a space and storing your things, according to Mathur.
The first involves listing a space with a description and photos. App users must have their account verified by a social profile.
People listing their space can set their price. For instance, the price for a 5-by-5-foot space could be $20 to $30 per month. There won't be size constraints: Spaces could be as small as a corner of a room or as big as a garage.
The other side of the process is the person looking for storage, who can find a place by looking at the listings on the app with ratings and reviews.
From there they can choose a time and date for pickup, which can be as soon as within a day. SimplyStow will pick up, pack and deliver the belongings and keep a digital inventory.
Sign up for our private beta @ https://t.co/zLvxdXpIT6 to make money by renting & save money by storing #beta #startup #storage #makemoney

— SimplyStow (@SimplyStow) August 8, 2017
A pickup and delivery fee will be added depending on the distance between the two locations and amount of items. SimplyStow also plans to charge a transaction fee. The amount is being finalized but could be 15 percent, Mathur said.
A request can be made for pickup of all or some of the stored items at any time.
Mathur said the company will insure the stored items for loss or damage.
About 250 people have signed up for early access to the app — 60 percent who want to share their space and 40 percent who want a place to store their stuff.
Getting it going
SimplyStow is seeking more investors and funding to get going, Mathur said.
One potential investor is Ben Franklin Technology Partners, a branch of the state Department of Community and Economic Development.
It provides early-stage funding for small technology businesses bringing innovation to Pennsylvania.
Several months ago, Mathur approached Steve Fafel, Ben Franklin's Lancaster representative, to run some business ideas by him.
"When he talked about SimplyStow, it really resonated," Fafel said. "I love ideas that are generated from people's personal needs. It's the ones where you and I sit around and say, 'Why wasn't I the one who thought of that?' "
Ben Franklin Technology Partners is determining whether SimplyStow is a good fit for funding.
Typical investments, in the form of unsecured loans, provided by the state-funded group range from $75,000 to $150,000, Fafel said.
Fafel continues to mentor Mathur.
"What's it going to take to build a real business here? Not a hobby, not a science project, but a business," he said.
SimplyStow is also seeking funding from Franklin & Marshall College and other investors, Mathur said. Startup costs include hiring employees to engineer the app and pick up and deliver customers' items.
He declined to say how much he has raised so far and how much he needs to raise.
Will it work?
The chair of F&M's business organizations and societies department and mentor to Mathur thinks it's only a matter of time until someone develops a product like SimplyStow.
"I think it's a great idea. And I think Paraj and his team are very well placed to create this and turn it into a successful business," Bryan Stinchfield said.
"If it's not Paraj and his team, it's going to be someone else who's going to do this," Stinchfield said.
Mathur doesn't plan to copyright the app. Copyrighting code is difficult because it can be replicated so easily. To make SimplyStow successful, he has to make his product better than any competitors'.
Stinchfield has known Mathur for about two years and has talked to him about several business ideas. SimplyStow will work, he said, because it meets a need using familiar tools.
"Paraj is doing the right things. … He's extraordinarily smart and motivated, and I think he's going to be the one who's going to get this off the ground first," Stinchfield said.
November launch
SimplyStow plans to launch the app Nov. 16. They expect the first users to be in Lancaster, particularly at F&M, and then at regional colleges and cities.
"Our goal at a larger scale is to bring the tech company ecosystem to Lancaster. That's a big part of who we are. ... Whatever our success comes as a company, it stays rooted in Lancaster," Mathur said.
Both say they enjoy the challenge and learning curve of the startup.
"It's been challenging but it's been fun," Turcin said. "It's a learning process and about managing time, which is something you have to get used to in college."
Mathur has been interested in startup business for years. He has spent time going over business plans with other entrepreneurs. SimplyStow is different.
"Now that it's my company, I have my own skin in the game," he said. "What's equally exciting is bringing this entire experience to Lancaster. … If we become successful, we will make sure that we will enable other entrepreneurs in Lancaster and F&M."